Sargent's passes, stingy D boost Kadena to Torii Bowl title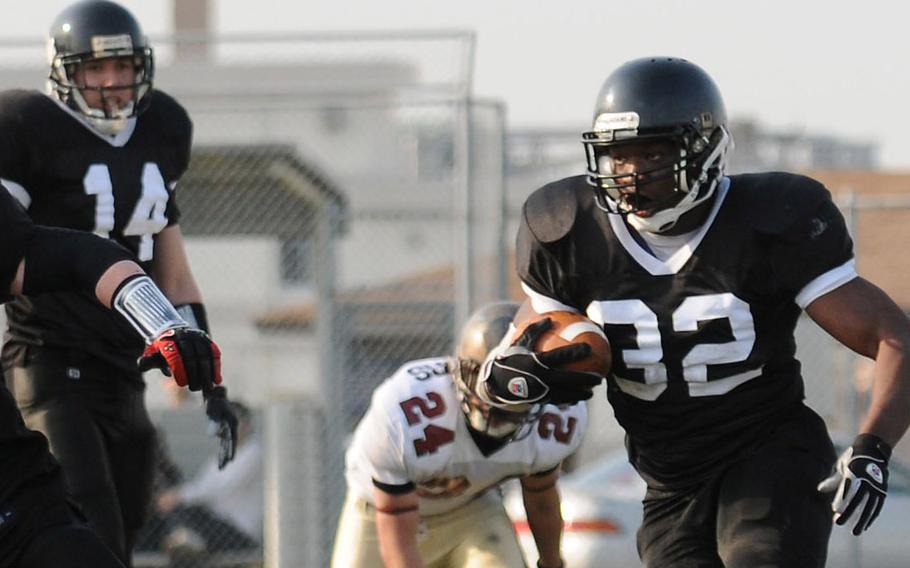 KADENA AIR BASE, Okinawa — Dallas Sargent and Kadena left nothing to chance in Saturday's Torii Bowl, earning redemption for a heartbreaking overtime defeat in 2016 by leaving nothing to chance in the 2017 U.S. Forces Japan-American Football League title game.
Sargent, named the game's Most Valuable Player, tossed two touchdown passes, and the Dragons scored once on defense to blank Hansen 26-0 and win their second league title in the last three seasons. Kadena lost the Torii Bowl 12-6 in overtime to Foster last year.
"My team deserved this; I only have five returners from last season, and to go undefeated," said coach Jermaine Baker, whose Dragons went 7-0, scored five shutouts, outscored opponents 138-12 and allowed just one offensive touchdown all season.
It was the third victory for Kadena over Hansen (5-3) this season, following on 32-6 and 22-0 wins during the regular season. Saturday's game was tense, physical and chippy; most players did not shake hands after the contest.
"It was a tough game in the beginning, but we slowly chipped away at their defense," Baker said. "My guys were prepared for war. Our defense played like monsters and the offense made great plays on the ground and in the air. It's hard to stop Dallas and (running back) Carl Williams."
Sargent found Donovin Beasley from 40 yards out for one touchdown and also passed 32 yards for a score to Riichiro Shinjo.
Brandon Stokes scored when he took a tight-end reverse 38 yards into the end zone. Kevin Petri returned an interception 20 yards for a touchdown for the Dragons.
Baker said he challenged his coaching staff to call the best games of their careers "and they all delivered," Baker said. "it shows the dedication of the great coaching staff I have."
The Dragons have won four military football titles in team history, added onto titles won in 2004 and 2005 in the old Okinawa Football League. It was the second defeat for Hansen in as many appearances in the Torii Bowl; the then-Hansen Wolf Pack lost 26-16 to Kadena in 2015.
"They (Kadena) played a great game. We did not execute and we beat ourselves," said Outlaws coach Dean McCown, adding that Hansen had players transferring and injured. "We will heal up and regroup and come back next year even hungrier."