'Samaritan shoppers' help keep groceries stocked for those in quarantine at Yokosuka
by
Caitlin Doornbos
August 13, 2020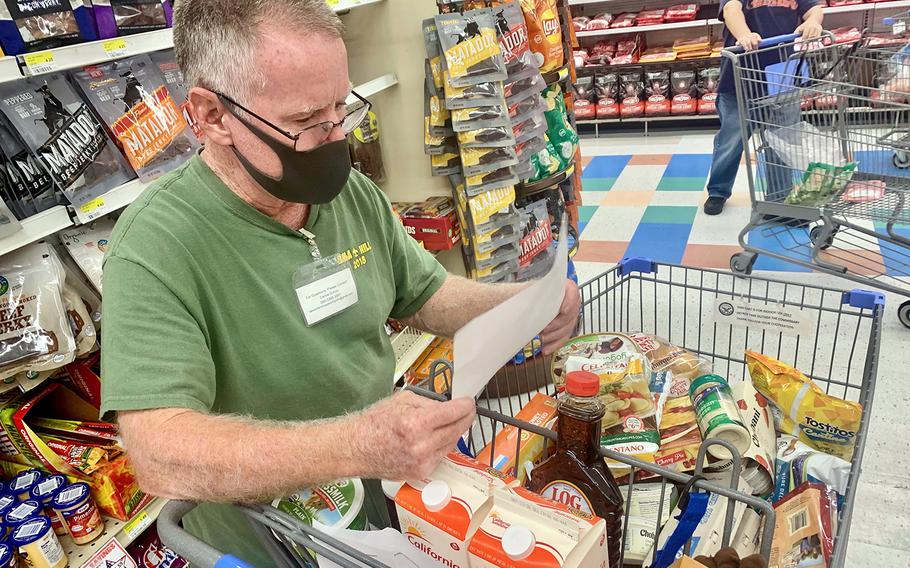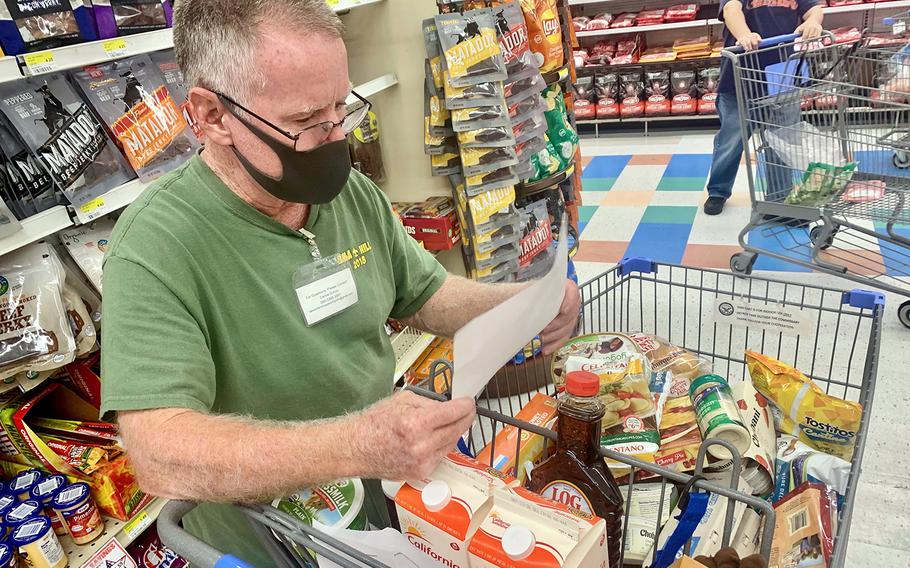 Stars and Stripes is making stories on the coronavirus pandemic available free of charge. See other free reports here. Sign up for our daily coronavirus newsletter here. Please support our journalism with a subscription.
YOKOSUKA NAVAL BASE, Japan — Single sailors and families stuck in 14-day quarantines after coming to Japan need not subsist on vending machine snacks in Yokosuka, thanks to a volunteer program run by the base's Chapel of Hope and commissary.
Since March, U.S. Forces Japan has required all personnel and families arriving in Japan from another country to quarantine as a precaution against spreading the coronavirus. For most, that means their first two weeks in Japan are spent in a hotel room with no opportunity to leave, even for a trip to the commissary.
That's where volunteers from Yokosuka's Samaritan Shopper Program step in. They take grocery lists from the quarantined folks, shop for and deliver the groceries to their doorsteps, organizer Mia Duhon said. The only thing the recipient is responsible for is providing credit card information to cashiers at checkout.
"Asking for help is very difficult, and these people have reached out to us," said Duhon, who also works as the chapel's Catholic religious education director. "I want to just hug them when they're struggling."
Sailors' commands are tasked with providing for most needs, but Duhon said the shopper program, which has filled more than 160 shopping requests since its start in May, helps fill in the gaps.
The name of the program comes from the biblical parable of the Good Samaritan, a man who stopped to help a beaten outcast whom others had passed along a roadside. But while the program is co-run through the chapel, there is no religious requirement to participating.
"I would not consider myself a religious person at all, actually," said the program's assistant coordinator, Megan Pyle McMechan. "I just believe in doing the right thing for our community and those around us."
The help is appreciated, said Navy spouse Jeremy Cazares. His family of six requested two shopping trips while staying in a base hotel room for two weeks last month.
"We try to eat fairly healthy, so having the Samaritans deliver food really provided an opportunity to eat healthy as opposed to ordering delivery for every meal with the only options being fast food," he said.
"What the Samaritans provide is nothing short of mental health services, as being in ROM — especially with kids — can be very stressful," Cazares said, referring to the period the U.S. military calls "restriction of movement."
Stuck in hotel rooms often without a kitchenette, the items requested are typically things one can heat up in a microwave, Pyle McMechan said. The average Samaritan grocery trip takes about an hour, she said.
Through the experience, McMechan said she's developed a bond with some of the people she's helped.
"I think these young sailors would survive on beef jerky and ramen if I didn't browbeat them into some fruit," Pyle McMechan said jokingly. "As my husband says, I would mother them to death if they would let me."
Now that his family has completed their quarantine, Cazares said he hopes to help others in similar situations, a phenomenon Duhon said she's seen several times.
"What I found that was really cool is after they use the program, they come back to pay it forward," Duhon said. "They stay in the group and they help the next set of people."
Pyle McMechan said the program also offers volunteers a chance to get out of the house and meet new people, something made more difficult amid a worldwide pandemic. Base commander Capt. Rich Jarrett on Sunday restricted those attached to the base from participating in nonessential activities off base after seeing an uptick in coronavirus cases.
The Samaritan Shopper Program is unique to Yokosuka, Duhon said. Anyone with base access and commissary privileges at Yokosuka can get involved by joining the Facebook group, "Samaritan Shopper Program."
"I was so excited to find something to do with my time that made me feel productive and helpful," Pyle McMechan said. "During this bizarre time in our shared experience, it is super nice to be able to help people in such a welcoming way."
doornbos.caitlin@stripes.com Twitter: @CaitlinDoornbos
---
---
---