S. Korean president urges Trump, Kim to make 'bold decisions' in nuclear impasse
by
Kim Gamel
September 11, 2018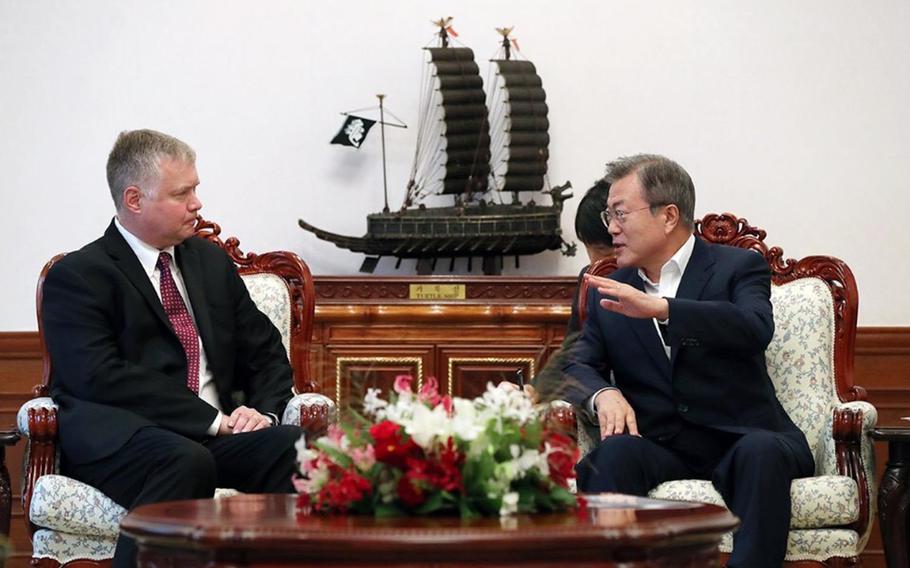 SEOUL, South Korea – South Korea's president called on the United States and North Korea to make "bold decisions" to put nuclear negotiations back on track as the White House announced planning is underway for a second summit between President Donald Trump and Kim Jong Un.
President Moon Jae-in, who plans to travel to Pyongyang next week for his own meeting with Kim, said he has no choice but to play mediator to promote dialogue between the longtime adversaries.
Talks aimed at persuading the North to give up nuclear weapons have stalled since Trump and Kim vowed to work toward the "complete denuclearization of the Korean Peninsula" at their June 12 summit in Singapore.
But Trump welcomed a North Korean military parade over the weekend that left out the usual long-range missiles and focused on peace and economic development in what was seen as a gesture toward rekindling talks with Washington.
Moon said Tuesday that the North must dismantle its nuclear weapons programs and the U.S. must take a corresponding step.
"If we would like to move to a higher level … bold ideas and decisions by the leaders of North Korea and the United States are necessary," he said during a Cabinet meeting, according to a transcript from his office. "In the process, both countries must end the deep-rooted, mutual distrust stemming from 70 years of hostile relations."
White House spokeswoman Sarah Huckabee Sanders said Monday that Kim sent Trump a letter with a request for a follow-up to their historic summit, which was a first for a sitting U.S. president.
She said the administration was open to the request and was "already in the process of coordinating that, although she said no details had been finalized.
Sanders also noted the parade, which celebrated the 70th anniversary of the North's foundation, "for once, was not about their nuclear arsenal" and "we consider that a sign of good faith."
The positive tone marked a shift back toward the diplomatic gains that began earlier this year, reversing months of tensions that raised fears of a nuclear war last year as the North test-fired three intercontinental ballistic missiles and conducted its sixth and most powerful underground nuclear test.
The Trump administration has praised Kim for taking steps toward denuclearization, including the fact that the North has not tested a ballistic missile in nearly a year and blew up its nuclear testing facility.
Sanders also cited the release of three Americans who had been detained in the North as well as the repatriation of 55 cases believed to contain the remains of American troops killed during the 1950-53 Korean War.
But the two sides are deadlocked over how to proceed as the North is calling for a phased approach that includes rewards for steps taken while the U.S. insists it won't ease punishing economic sanctions until denuclearization is achieved.
Trump called off a planned trip to Pyongyang by Secretary of State Mike Pompeo and new U.S. special envoy to the North Stephen Biegun.
Biegun arrived in Seoul on Monday as part of his first Asia trip in his new role. He met with Moon, the foreign minister and other senior officials.
"We have some hard work to do. But we also have tremendous opportunity," he said Tuesday. "We need to do everything we can to make the most of this moment of opportunity."
gamel.kim@stripes.com Twitter: @kimgamel