S. Korean president hopes for fourth summit with Kim Jong Un as soon as possible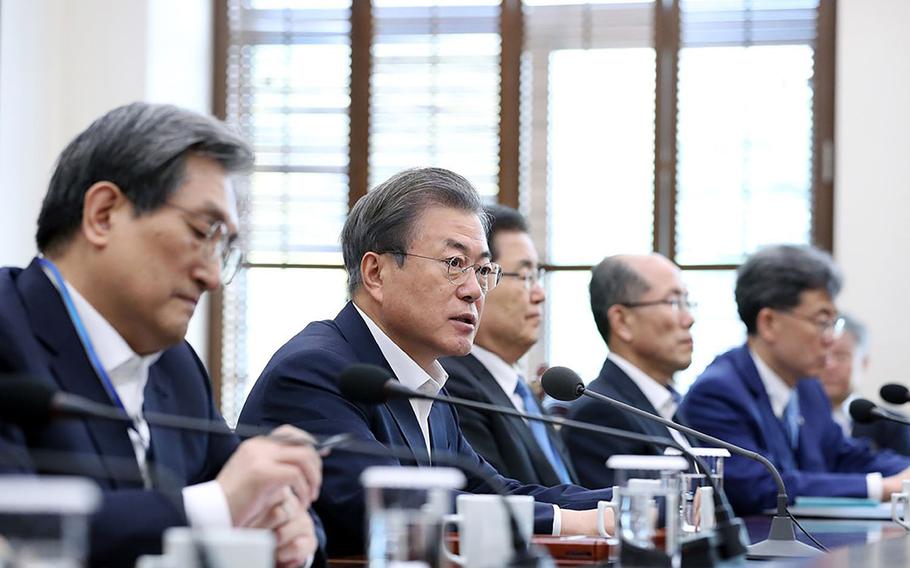 SEOUL, South Korea – South Korean President Moon Jae-in said Monday that he is ready to hold a fourth summit with Kim Jong Un, reflecting a growing sense of urgency in efforts to revive stalled nuclear talks between North Korea and the United States.
The comments came after Kim, the North Korean leader, issued a strong warning that the deadlock risked reviving tensions and gave the U.S. an end-of-year deadline to offer a mutually acceptable approach to the negotiations.
Moon is eager to keep the delicate peace process alive nearly a year after the first inter-Korean summit was held with fanfare in the heavily fortified border area of the divided peninsula.
He also met with President Donald Trump last week as the sides struggle to get diplomacy back on track after the second nuclear summit between Trump and Kim collapsed without agreement in late February.
"Now is the time to begin the preparations in earnest for an inter-Korean summit," Moon said in a meeting with senior aides in Seoul. "As soon as [North Korea] becomes ready, I hope the two Koreas will be able to sit down together, regardless of venue and form."
He called for "detailed and substantive talks" and promised to spare no effort to make sure the next inter-Korean summit "becomes a stepping stone for an even bigger opportunity and more significant outcome."
Moon has met with Kim three times since April 27, at one point rushing to the truce village of Panmunjom to persuade the North Korean leader to change his mind about canceling his first summit with Trump, which was held on June 12 in Singapore.
But his role as middle man has been called into question as Trump and Kim have established what they both insist remains a "good relationship" and talks falter over nuclear issues that the South Korean president can do little to influence.
Kim criticized Moon in his policy speech on Friday, calling him an "overstepping mediator" and demanding that he take the North's side and advance inter-Korean projects that have been limited by U.S.-led sanctions.
The North Korean leader left the door open for continued diplomacy with the United States and a possible third summit but only "if the U.S. adopts a correct posture."
"We will wait for a bold decision from the U.S., with patience till the end of this year," Kim said.
The two Koreas have separately agreed to a series of economic initiatives and goodwill gestures, including plans to modernize the North's railways, but those efforts are unable to move forward without U.S. agreement on lifting related sanctions.
Seoul and Washington, which have been allies since the 1950-53 Korean War, insist they remain in lockstep about the approach to nuclear talks with the North. But Trump administration officials have expressed concern about the fast pace in efforts to improve relations between the two Koreas.
North and South Korea have been divided since the war ended in an armistice instead of a peace treaty. Some 28,500 U.S. troops are stationed in the South.
Tensions spiked in 2016-17 as North Korea demonstrated strong progress toward its goal of developing a nuclear weapon that could reach the U.S. mainland with a series of missile and nuclear tests. Trump and Kim also traded threats of war.
But the situation has calmed since the North began engaging in the diplomatic progress and agreed to a testing moratorium.
Moon, who has seen his approval ratings rise and fall due to the faltering process, tried to maintain a balance between the two adversaries in his remarks on Monday.
South Korea and the United States "agreed to maintain close coordination to ensure a virtuous cycle between inter-Korean and U.S.-[North Korea] dialogues," Moon said, according to an English transcript from his office. "My government is clearly and firmly committed to steadily implementing the inter-Korean joint declaration, even in the face of any obstacles," he added.
The two Koreas announced ambitious plans to improve relations after their previous summits in Panmunjom and Pyongyang, including issuing a largely symbolic end-of-war declaration by the end of last year.
That didn't happen, but the two sides did begin mine clearing operations in the so-called Demilitarized Zone and a railway survey in the North.
However, those efforts have largely stalled since the collapse of the Hanoi summit.
The issue threatens to hurt Moon politically because he has focused on it at the expense of other domestic problems, said Jeung Youngtae, a military studies professor at South Korea's Dongyang University.
"South Korea has limits because it can't lift sanctions against North Korea so it basically has no leverage," Jeung said. "North Korea is pushing South Korea to stop trying to play the role of arbitrator and to side with North Korea instead because the two Koreas have blood ties."
Stars and Stripes reporter Yoo Kyong Chang contributed to this report.
Twitter: @kimgamel