S. Korea to buy 4 Global Hawk drones to monitor North
by
Yoo Kyong Chang Ashley Rowland chang.yookyong@stripes.com rowland.ashley@stripes.com
November 6, 2013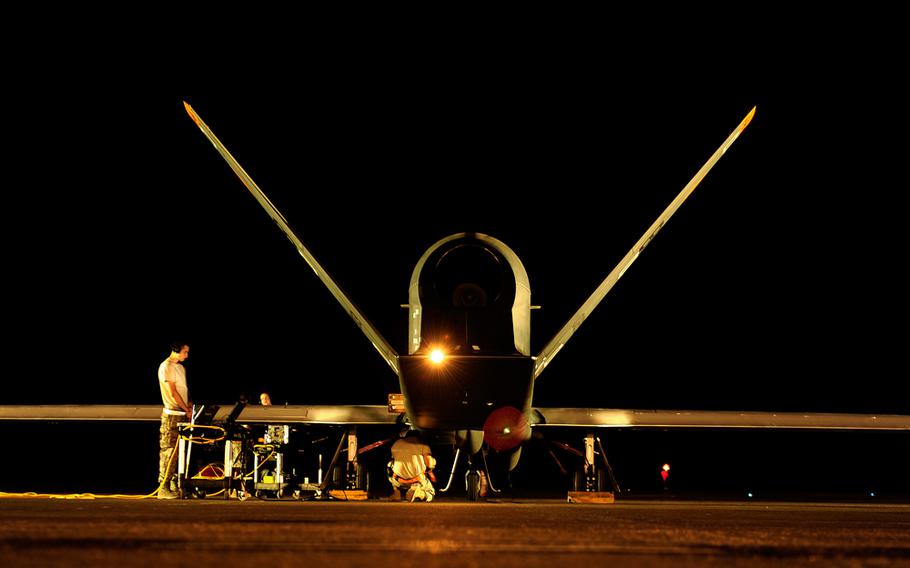 SEOUL — South Korea plans to buy four RQ-4 Global Hawk surveillance drones to monitor North Korea, though they will not start operating for several years, according to the country's Defense Acquisition Program Administration.
The announcement comes as Seoul continues with preparations to begin using a $22 million surveillance blimp along the disputed maritime border between the two Koreas, possibly within months.
DAPA spokesman Baek Youn Hyeong said the Global Hawks purchase will cost approximately 900 billion won, or about $847 million.
"We can get the results of our observations right away," he said. "We're going to have better surveillance ability if we have this kind of an intelligence asset."
Baek said the first Global Hawk will probably arrive in 2017, with one or two of the drones arriving each subsequent year. He did not know when they would begin operating due to testing and training requirements.
He said he believes the number of U.S. and South Korean soldiers stationed along the DMZ will not be affected by the aircraft.
A spokesman for the Ministry of National Defense declined to offer specifics about where and how the Global Hawks would be used, or how they might affect troop deployments. He said the drones are meant to watch North Korea and Seoul has no intention of using them to monitor activities in China — something Chinese officials have previously voiced concerns about.
Announcement of the planned purchase of the Northrop Grumman-built unmanned aircraft comes as South Korea prepares to launch a blimp, known within the military as an "aerostat," equipped with camera and radar equipment near islands along the disputed maritime border between the two Koreas.
"This will give us the ability to monitor what's going on in what are now dead zones, and to see farther," Baek previously told Stripes. The blimp was scheduled to go into operation this month, but Baek said it is still undergoing testing.
The border islands were the site of two North Korean provocations in 2010 –—an artillery barrage on Yeonpyeong Island that left four South Koreans dead, and the torpedoing of the South's Cheonan warship.
U.S. Forces Korea commander Gen. Curtis Scaparrotti told Military.com last month that he worries a confrontation in the crowded fishing waters along the border could escalate into a more serious conflict with the North, noting that more than 400 fishing boats, as well as Chinese, North Korean and South Korean navy vessels, were in the area due to blue crab season.