Rugby-mad Coast Guard officer wants to see more military kids playing popular sport
---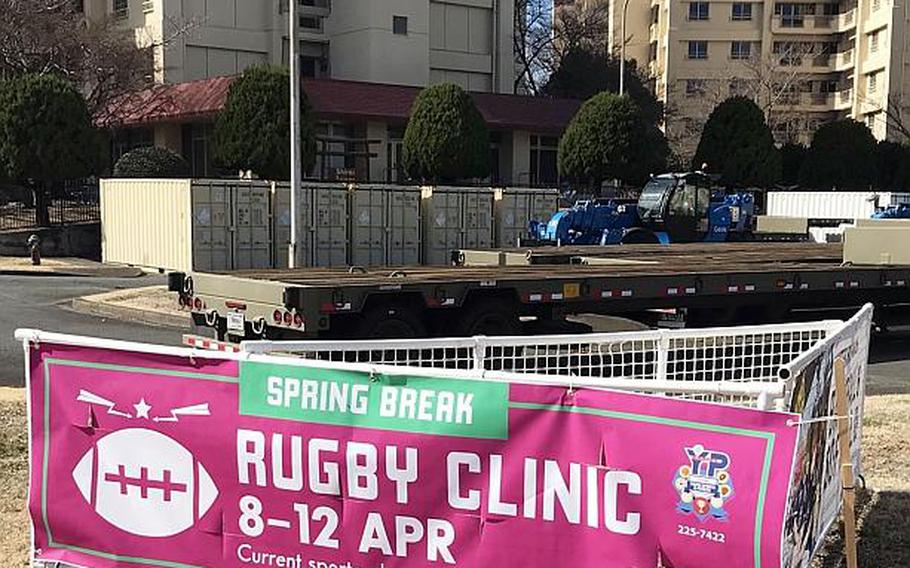 YOKOTA AIR BASE, Japan — A rugby-playing Coast Guard officer hopes to spark military kids' interest ahead of the 2019 Rugby World Cup with a clinic at the home of U.S. Forces Japan in western Tokyo.
"We're going to work on fitness, fundamentals and fun," Lt. Cmdr. Keith Wilkins, 37, of Hicksville, N.Y., said of the spring break clinic, which will run April 8-12 for ages 5 to 18.
Wilkins, who wrestled and played baseball at school, got hooked on rugby at the Coast Guard Academy. He played for some top U.S. clubs, including New York Athletic Club, Boston RFC and Golden Gate in San Francisco before joining the Tokyo Crusaders last year after moving to Yokota.
"I love the physicality and esprit de corps," he said of the game, which helped inspire American football with the addition of pads, helmets and the forward pass in the United States.
"It's not like American football where you have coaches calling plays every down," he said. "It is all about the 15 guys on the field."
The Rugby World Cup, which runs from Sept. 20 to Nov. 2, is making its Japan debut, and most games are selling out quickly. The world's 20 top teams, including the U.S. Eagles, will play dozens of matches leading up to the final at the 72,000-capacity International Stadium Yokohama.
Rugby teaches young people values such as camaraderie, sportsmanship and discipline, Wilkins said.
Kids who have fun at the Yokota clinic might consider joining the Crusaders' youth team, the Tokyo Squires, he said.
Squires coach Roy York, of Norfolk, England, said the team, made up mostly of non-Japanese children, played its first season against international schools and a Japanese high school over the winter.
The Squires train in Yokohama and would welcome any American kids who want to join their under-14 practice group or under-18 team ahead of the next season, which begins in September, he said.
The Yokota clinic, which costs $25, includes a session each day from 9 a.m. to 10 a.m. where kids ages 5 to 8 will get an introduction to rugby. A session for those up to 18 will run from 10 a.m. to noon. with the goal of getting the youngsters playing touch rugby, Wilkins said.
People who want to sign up can contact Youth Sports at DSN 315-225-7422, he said.
robson.seth@stripes.com Twitter: @SethRobson1
---
---
---
---