Rogers, Geitgey pace Hansen past Kinser, into Torii Bowl
by
Dave Ornauer
June 3, 2017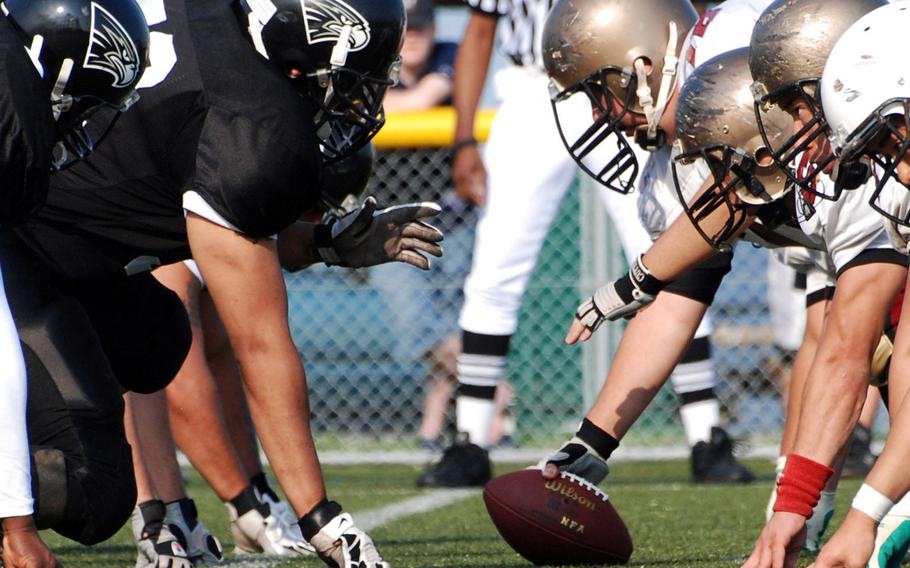 KADENA AIR BASE, Okinawa — Shijuan Rogers provided the fireworks with a pair of pickoffs. Shane Geitgey lit the match by accounting for both touchdowns. And then came the celebration for the Hansen Outlaws.
Geitgey ran for a touchdown and caught a pass for another and the Outlaws defense, with three total interceptions and six sacks, made the points stand up in Hansen's 13-0 shutout of Kinser on Saturday at Kadena's Ryukyu Middle School's Habu Field.
Rogers' two interceptions, each coming in the red zone and in the first half, set the tone for the Outlaws, who improved to 5-2 on the season and reached the U.S. Forces Japan-American Football League's championship Torii Bowl for the second time in three seasons.
"It turned the tide," Rogers said of his two pickoffs, one coming in the end at the start of the second quarter, the other at Kinser's 13-yard line midway through the first half.
"I did it for the team," Rogers said. I laid it on the line for my coaches and my teammates. They're family."
Two interceptions became three when Sean Ruskanen picked off a Kings pass and set up the Outlaws at the Kinser 42-yard line with 1:09 left in the half.
Following two 5-yard penalties against Hansen, Geitgey provided the only points the Outlaws would need with a 52-yard touchdown run off a scramble on a broken fourth-down play 27.2 seconds before halftime.
It stayed that way until the fourth quarter, when backup quarterback Corey Warren threw 63 yards to Geitgey streaking down the left sideline to cap the scoring with 4:33 left. Kinser finished 2-5 on the season.
It could have been a larger margin for the Outlaws, but Geitgey's 59-yard second-quarter pass to Benjamin Fuller in the end zone was called back on an ineligible receiver penalty.
Hansen moves on to the Torii Bowl next Saturday where the Outlaws face Kadena, which beat the Outlaws 26-16 in the 2015 Torii Bowl. The Dragons lost to Foster in last season's Torii Bowl.
"Marines vs. Air Force. Last game. No holds barred," said Outlaws first-year coach Dean McCown Sr.
Kadena (6-0) beat Hansen twice during the regular season, but coach Jermaine Baker said he was not taking the Outlaws lightly.
"I know they'll come out ready to play," Baker said. "It's difficult to beat a team three times in a season. One thing I always do is prepare my team. All I know is, it's going to be a war. They'll play at a higher level next week.
___
ornauer.dave@stripes.com Twitter @ornauer_stripes