Revised guidelines allow Japanese officials early access to some US military crash sites
by
Aya Ichihashi Matthew M. Burke
July 26, 2019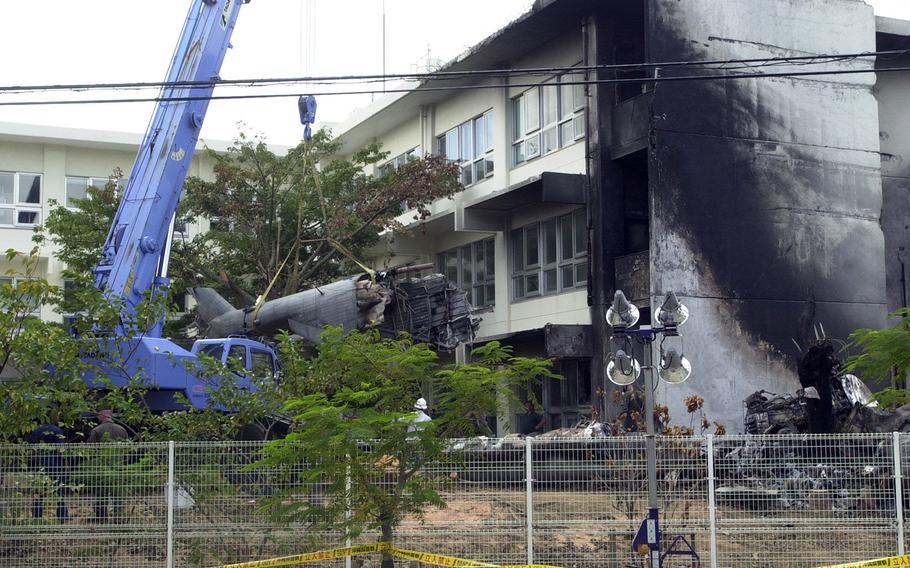 CAMP FOSTER, Okinawa — The U.S. and Japanese governments have revised their off-base U.S. military crash site guidelines to allow early access for Japanese officials.
The new guidelines, which are now in effect, were announced Thursday evening in a statement by Japan's Ministry of Foreign Affairs.
In addition to allowing government representatives or first responders "expeditious" early entry into the inner cordon, the new guidelines also require U.S. forces to provide relevant information on hazardous materials "as soon as practically possible," coordinate with landowners when wreckage removal could negatively impact the underlying property and share results from environmental surveys.
Japanese officials still need U.S. consent to enter off-base mishap sites, the guidelines state.
"We welcome Japan's efforts to improve this process with U.S. Forces," U.S. Forces Japan commander Air Force Lt. Gen. Kevin Schneider said in a statement Friday morning. "These revised guidelines will enable the Alliance partners to respond more quickly, improve our interoperability and strengthen our overall capabilities."
"Interoperability" is often-used term describing the ability of a nation's armed forces to use the training methods and military equipment of another.
Calls for change have been the loudest in recent years from the southern island prefecture of Okinawa, which hosts a large U.S. military presence.
Local officials protested after a CH-53E Super Stallion helicopter from 1st Marine Aircraft Wing made an emergency landing in a farmer's field outside the Northern Training Area following an inflight fire on Oct. 11, 2017. There were no injuries, but the aircraft was a total loss.
Okinawa Gov. Denny Tamaki — who was elected last fall on an anti-base platform — credited Okinawan officials Thursday for successfully lobbying for the revisions after the Super Stallion incident, yet he remained skeptical about their potency.
"Although the revisions say that U.S. authorities, Government of Japan authorities, or local authorities will conduct environmental surveys, the results will be shared within the [Japan-U.S. Joint Committee], however; committee meeting minutes are not disclosed," Tamaki said in a statement. "I am not sure if the survey results will be released to the public."
Tamaki said he would closely observe any incidents to see if Japanese officials are in fact granted expeditious early entry.
"All together, we will examine the revisions carefully and ask [the] central government if we have questions," he said.
The previous "Guidelines Regarding Off-Base U.S. Military Aircraft Accidents in Japan" were established on April 1, 2005, in the aftermath of the August 2004 crash of a Marine Corps CH-53D Sea Stallion on the Okinawa International University campus, the Ministry of Foreign Affairs statement said.
They allowed U.S. military personnel to enter public or private property in the event of a crash or emergency landing without prior authority from Japanese officials. Local authorities later complained they were kept from entering sites and pertinent information was withheld.
Japan's Foreign Minister Taro Kono told reporters Thursday evening that it took six days for Japanese authorities to access the 2017 site, according to a separate ministry statement.
"It won't take that long in the future," he said.
Kono said he began working on the revisions in April during bilateral discussions.
"Of course, having no accidents is most important, but this revision will improve the process if any accidents happen in the future," he said, according to the statement. "We believe that by solving each subject like this will reduce the burden on Okinawa."
Okinawan prefectural officials said in April that European countries such as the United Kingdom, Germany, Italy and Belgium all have stricter control over U.S. military forces operating in their countries. British police controlled the crash site of a HH-60G Pave Hawk helicopter in January 2014, for example.
burke.matt@stripes.com Twitter: @MatthewMBurke1
ichihashi.aya@stripes.com Twitter: @AyaIchihashi