Report: Remains retrieved from crash site of Marine choppers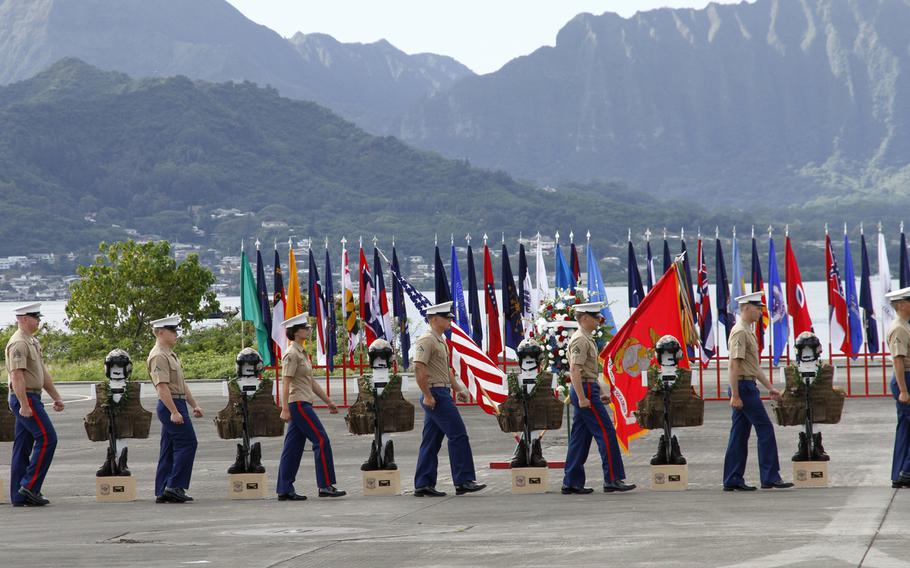 NOTE:A new story updates and clarifies this report to reflect that the "remains" referred to here were trace DNA elements found during a search and rescue effort following a Jan. 14 helicopter crash that killed 12 Marines.
____
Some remains have been retrieved from the site of two downed Marine Corps helicopters off Hawaii's North Shore, a Honolulu newspaper reported.
Twelve Marines died in the Jan. 14 crash, which remains under investigation.
The deceased Marines' families have been given information about the remains, according to the Star-Advertiser in Honolulu.
"We have a very detailed plan in place to handle any of our brother Marines as we retrieve them and then bring them back to their families, wherever they would like, in a dignified fashion," Capt. Timothy Irish, a Marine Corps spokesman, told the newspaper. He provided no further details about the remains.
The Marines did not immediately respond to Stars and Stripes' request for further information.
Debris from the two CH-53E helicopters is concentrated about two miles offshore from Waimea Bay, strewn in an area 300 feet beneath the surface. The North Shore is famous for its high waves, which have hindered search and recovery efforts.
A safety zone, encompassing waters extending a mile in all directions around the salvage operations, will remain in effect through Feb. 10, or until salvage operations are complete.
The Navy's USNS Salvor is leading the underwater salvage effort, and has been using equipment brought in from Key West, Fla., to assist divers, the Star-Advertiser reported.
Salvagers have the ability to mix gases for dives deeper than 300 feet, and divers have been acclimating to the extreme depth, Irish said.
The USNS Navajo, a Navy tugboat, is expected to assist with the effort, he said.
Officials want to preserve and retrieve debris so investigators can piece together what caused the helicopters to crash.
Salvor has sonar and a remotely operated vehicle aboard, but as of Saturday no decision had been made whether these would be used in the salvage, the newspaper said.
"The first step is to get the ship out to the site and to get the wreckage mapped, then a decision will be made as to how the recovery operation will proceed," Sarah Burford, a spokeswoman for the Navy's Military Sealift Command, told the newspaper in an email Saturday.
Roughly 80 Marines are assisting in the recovery.