Report: Cough-suppressant abuse on Okinawa still a problem, despite military efforts to stop it
by
Matthew M. Burke
September 25, 2020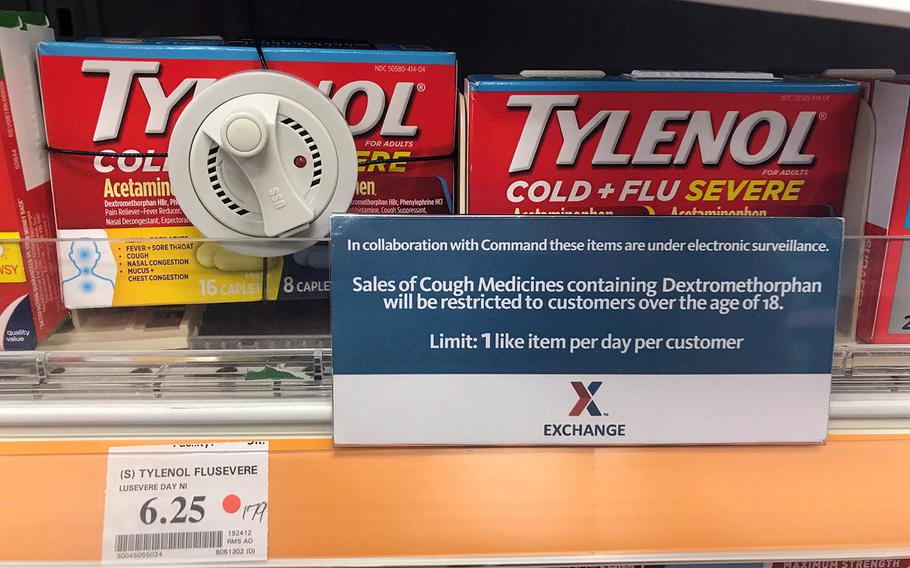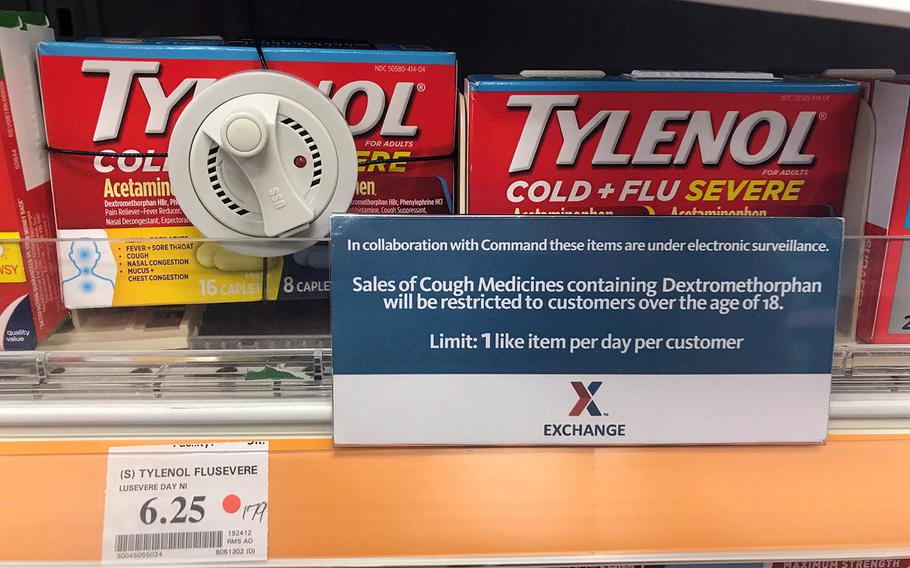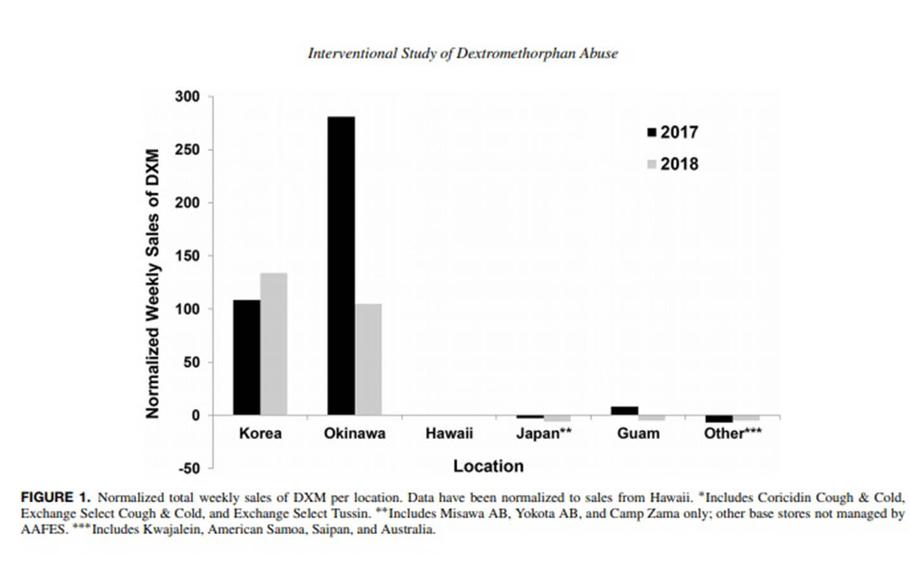 CAMP FOSTER, Okinawa — Researchers believe abuse of over-the-counter cough suppressants by U.S. service members on Okinawa is likely still a problem, despite aggressive efforts by the military to combat it, according to a study recently published in Military Medicine.
"Interventional Study of Dextromethorphan Abuse Within the U.S. Military Community in Okinawa, Japan" was written by Lt. Cmdr. Cody Armstrong, a Navy psychiatrist who focuses on inpatient mental health, and Michelle Kapolowicz, who has a doctorate in cognition and neuroscience. Armstrong was stationed at U.S. Naval Hospital Okinawa during the data collection portion of the study, he said Sept. 16 by phone on Okinawa, where he is stationed with 3rd Medical Battalion.
The report, in the August issue, focused on data from 2015 through 2018 and found that abuse of over-the-counter cough medicines containing dextromethorphan was far more prevalent by U.S. troops on Okinawa than elsewhere in the Pacific.
Dextromethorphan, also known as DXM, is a common cough suppressant found in more than 100 over-the-counter medications in the United States, despite research showing it may be an ineffective treatment, the report states. The medication is a synthetic morphine derivative that at high doses can cause a euphoric rush, produce visual and auditory hallucinations and induce a sense of floating and feeling detached from reality, similar to the effects of ketamine and PCP, according to drugabuse.gov. This has made these products attractive for abuse.
Dextromethorphan can cause dissociative and "psychosis-like symptoms," including delusions, hallucinations and paranoia, the report said. The most abused brands are Coricidin HBP and Robitussin.
However, the study found that sales of the most abused products were down by more than third at base exchanges in 2018, after control measures were put in place.
The number of patients treated in the naval hospital emergency room and referred for mental health treatment also dropped, according to the report.
Still, the report said the Marine Corps' most recent steps, like moving the medicines behind registers and installing electronic theft protection sensors, helped but ultimately had not gone far enough.
A Marine Corps Installations Pacific spokesman said the Marine Corps had dealt effectively with cough-medicine abuse before Kapolowicz and Armstrong released their report.
"In early 2018 medical professionals and substance abuse counselors identified a rising trend in the abuse of Dextromethorphan," Maj. Ken Kunze wrote Sept. 10 in an email to Stars and Stripes. "The referenced article describes multiple aggressive steps that were taken to stop this alarming trend well before it could become a widespread problem."
"Commanders across Okinawa and retail organizations worked together to implement prevention measures that have effectively eliminated the abuse of this medicine," he wrote.
Kunze said there have been no emergency room visits for dextromethorphan in the past 18 months. He said he was trying to obtain current sales figures on the products but had been unsuccessful.
Army and Air Force Exchange Service spokeswoman Julie Mitchell said the exchange had "no direct involvement" in the study and referred Stars and Stripes to the paper's authors.
Joseph Andes, a spokesman for U.S. Naval Hospital Okinawa, referred all questions to Marine officials.
Armstrong said dextromethorphan is "not terribly dangerous from a medical standpoint," so he believes the level of abuse has to be pretty high to spill over into the medical system.
"All the … spillover noticeable effects of it went down" after changes were implemented, Armstrong said. "The only thing that still shows that it's up is the sales and that's not necessarily an indication that people are abusing it … It may be that it's not being abused hardly at all, but there's no reports of it, so if it is, it's being done behind closed doors — people are buying it; they're abusing it; they're not being caught."
When pressed, Armstrong said he believes abuse is "way down" but "still happens."
'Rapid intervention' Armstrong and Kapolowicz began their research into dextromethorphan abuse in 2017 after 34 patients were admitted to the hospital's emergency room for dextromethorphan intoxication, the report states. Several of the patients — active-duty service members, dependent children and U.S. government employees — required further treatment in intensive care or inpatient mental health.
At the time, AAFES stores and Defense Department commissaries on Okinawa carried more than 70 brands of over-the-counter medications containing dextromethorphan, according to the study. Sales were limited to customers age 18 and older and to one medication per day, per customer, per store.
Going back two years, the study reviewed AAFES sales records from Japan, including Okinawa, South Korea, Hawaii, Guam, Kwajalein, American Samoa, Saipan and Australia, the report states. Okinawa had 3.25 times higher sales than Hawaii when adjusted for population, or 280 packages sold per week in excess of what was expected.
"These numbers are likely conservative, as the product was frequently stolen from stores, and stolen products were not included in the report," the report said. "Also, the product was frequently unavailable (sold out) because of its popularity, further limiting its sales."
Illicit narcotics are easier to acquire in Hawaii than Japan, which could have an impact on statistics, but lawful substances are attractive to service members due to drug testing, the report said. Kunze said sales could be higher in Japan than Hawaii because service members are much more likely to shop on base.
The study found that abuse of cough medicine was higher on Okinawa than elsewhere in Japan.
"In short, future investigations are needed to uncover why [dextromethorphan] use/abuse is more prevalent in Okinawa compared with other similar locations," the report said.
After talking to emergency room doctors at the Naval Hospital, Armstrong suspected DXM intoxication cases were underreported.
He and Kapolowicz found that treatment coding for DXM intoxication in health records was inconsistent and the 34 cases reported in 2017 was probably underreported, according to the study. Their research discovered that one to three patients a week were believed to be abusing cough medicine.
They also spoke with local high-school substance abuse counselors at Department of Defense schools on the island to see whether it was an issue there as well, the report said. At one school, 45 students out of 850 admitted abusing cough medicine; six from a different school had been hospitalized for abuse.
As many as 25% of the patients in the naval hospital's substance abuse treatment program, who are military personnel, reported abusing dextromethorphan, according to the report.
Persistent problem After military officials saw the early data from Armstrong and Kapolowicz, changes came swiftly at the beginning of 2018, the report said. Dextromethorphan was removed from smaller AAFES stores and moved to the registers at medium-sized ones.
At the larger stores, products were fitted with electronic theft protection sensors and placed under surveillance, the report said. They were moved to the registers at commissaries on the island as well.
The two researchers waited a year to revisit the issue. They found that sales of the most abused products were down 37% in AAFES stores in 2018, and dextromethorphan sales were down 19% overall. They looked at five commissary locations over a three-month period following the changes and saw sales had dropped between 31.5% and 57.8%.
Emergency room visits for DXM intoxication dropped by 65% in 2018 compared to the prior year, the report said. Admissions to medical units also dropped in 2018.
No children were seen in the emergency room for intoxication in 2018, and after April 2018, none needed substance abuse counselors, the report said. No patients screened positive for abuse in 2018. Consultations and admissions to inpatient mental health were also down.
"These interventions yielded remarkable outcomes, with a rapid decline not only in sales of [dextromethorphan]-containing products but also in hospital-related treatment from [dextromethorphan] intoxication," the report said.
However, the report stated, "the problem still persists in Okinawa, even if to a lesser degree."
Sales of products containing dextromethorphan were still in excess of 105 units per week in 2018, while they remained relatively even across Hawaii, elsewhere in Japan, Guam and other Pacific locales, the report said, citing AAFES and Defense Commissary Agency records.
With one exception: Sales in South Korea rose from 109 to 134 units per week from 2017 to 2018.
The authors surmised that Okinawa's new restrictions may have limited abuse by minors but that it could be still taking place among adults.
They speculated that factors like isolation from family and friends, less availability of other substances, limitations on ability to socialize and form relationships with the population outside of the military community because of cultural differences and restrictions on drinking, curfew and other freedoms, could be behind the statistics in Okinawa and Korea.
"Even stricter measures may still be needed to also successfully target abuse by adults," the report said.
Dextromethorphan abuse has been an ongoing problem in Japan and South Korea for at least the past two decades. Restrictions were put in place in Okinawa in 2008. Armstrong said that once past restrictions were lifted, abuse returned, which is why he is seeking more permanent remedies.
The report suggested removing the most abused products from shelves, expanding the role of base pharmacists to require in-depth interactions and approval before purchase and implementing all of the restrictions in South Korea as well.
"By refraining from implementing these stricter policies, we risk affecting the mission and safety of our military personnel and their families who are stationed overseas," the report's conclusion said. "Such restrictions would still allow for a plethora of [over the counter] cough medications to remain easily available that have minimal to no risk of abuse and/or intoxication."
burke.matt@stripes.com Twitter: @MatthewMBurke1