Report: Board finds no reason to separate USS Fitzgerald lieutenant for role in fatal collision
by
Caitlin Doornbos
January 13, 2020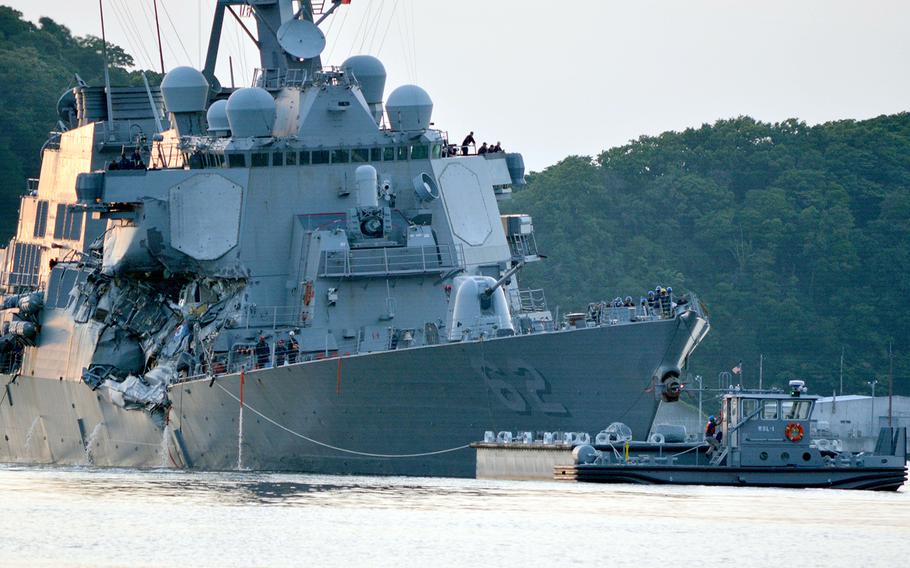 YOKOSUKA NAVAL BASE, Japan — A Navy lieutenant faulted for her role in the USS Fitzgerald's fatal collision will not be forced from the Navy but allowed to exit with an honorable discharge instead, a board of inquiry has decided.
Lt. Natalie Combs, a tactical action officer aboard the guided-missile destroyer, was censured in April for failure to perform her duties that day. The destroyer collided June 17, 2017, with a container ship, the ACX Crystal, about 60 nautical miles southwest of Yokosuka, where the warship was based. Seven sailors died in the collision.
A Navy board of inquiry on Thursday found no reason to force Combs from the Navy after 11 years of service, the Navy Times reported.
Navy officials and Combs' attorney did not immediately respond to requests for comment.
In 2018, Combs and her commanding office, Cmdr. Bryce Benson, faced criminal charges stemming from the collision, including negligent dereliction of duty resulting in death and negligent hazarding of a vessel. The charges were dropped last year.
Instead, the two received letters of censure from the secretary of the Navy.
The letter to Benson stated that his "ineffective leadership and poor judgment were causal factors in the collision."
Combs' letter accused her of demonstrating "incompetent and ineffective leadership" for "failure to perform duties," "ineffective communication and failure to make recommendations to the bridge watch team."
Censure letters are public rebukes that draw shame and acknowledge wrongdoing, but do not carry legal implications or impact retirement benefits or pay for the reprimanded officers.
Post-collision reports identified causal factors beyond the actions of the Fitzgerald officers. Several reports pointed to institutional failures.
A Navy report in late 2017 said the accident was "preventable," and listed crew exhaustion, skipped certifications, poor watch-standing and training and manning problems among the causes.
The service has since implemented about 100 changes, including tightened surface warfare officer qualifications, to address these issues.
An August post-collision report by the Japan Transport Safety Board said it was "somewhat likely" that the Fitzgerald was "not properly on the lookout" for ACX Crystal. That report also listed other contributing factors, including the ACX Crystal's failure to sound danger signals or contact the Fitzgerald before the crash.
The Fitzgerald crash was the first of two deadly collisions in the 7th Fleet in 2017.
Ten sailors died when the USS John S. McCain collided with the tanker Alnic MC near Singapore on Aug. 21, 2017. Confusion among McCain watch-standers led to a loss of steering control, and the destroyer crossed into the civilian oil tanker's path, according to a Navy post-collision report.
doornbos.caitlin@stripes.com Twitter: @CaitlinDoornbos