Remains of 64 South Korean soldiers to be repatriated this week
by
Wyatt Olson
September 26, 2018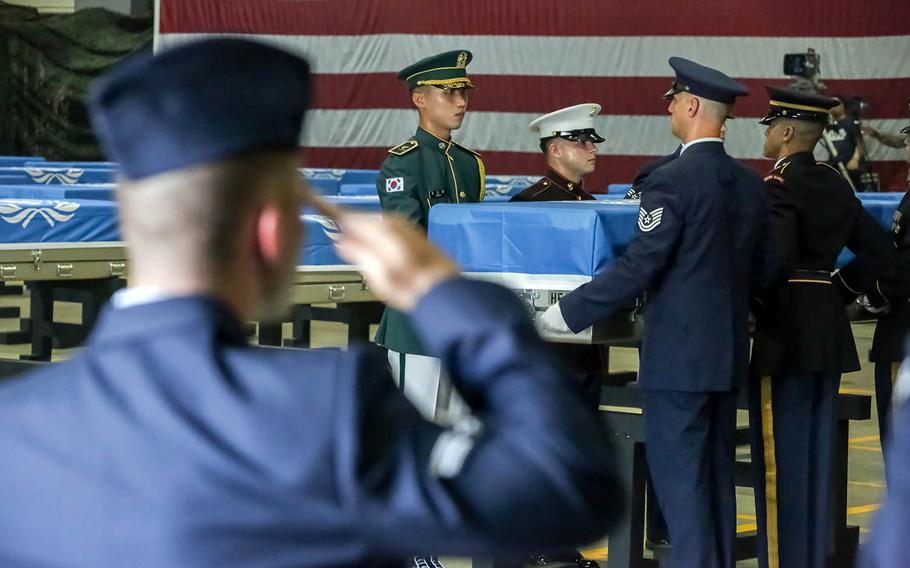 FORT SHAFTER, Hawaii — The remains of 64 South Korean soldiers will be returned home following a repatriation ceremony Thursday morning at Hawaii's Joint Base Pearl Harbor-Hickam.
South Korean officials and dignitaries will attend the ceremony to accept and repatriate the remains of the soldiers killed during the Korean War from 1950 to 1953.
The 64 boxes of remains will be flown home in a South Korean C-130 cargo plane.
The remains have not yet been identified by name, but American and South Korean forensic scientists working at the Defense POW/MIA Accounting Agency laboratories have determined they are South Korean soldiers.
"They haven't been identified but scientists were able to determine that they weren't American," said Lt. Col. Kenneth Hoffman, a DPAA spokesman.
The remains came from joint recovery operations in North Korea conducted from 1996 to 2005, Hoffman said.
"Those remains, when they were recovered, were heavily commingled with U.S. remains," he said.
The U.S. last repatriated South Korean remains in 2012, he said.
DPAA deputy director Rear Adm. Jon Kreitz will speak at the ceremony.
In July, DPAA received 55 boxes from North Korea containing the remains of an uncertain number of American servicemembers killed during the war. Remains in the boxes belonging to Army Master Sgt. Charles McDaniel and Army Pfc. William Jones were identified by DPAA earlier this month.
DPAA said last week that in the previous 12 months it had identified the remains of 191 servicemembers killed in conflicts dating to World War II.
olson.wyatt@stripes.com Twitter: @WyattWOlson