Remains of 15 S. Koreans, 2 Americans handed over 6 decades after deaths
---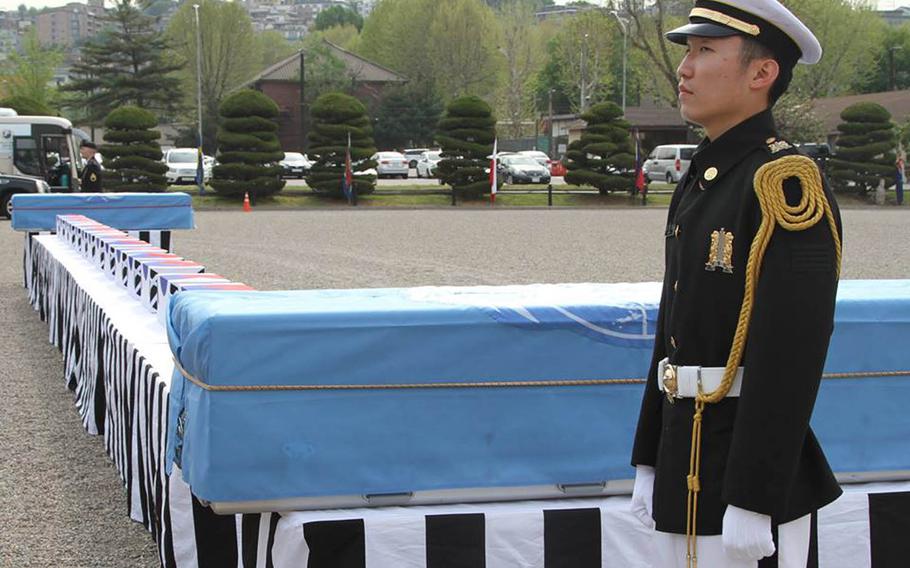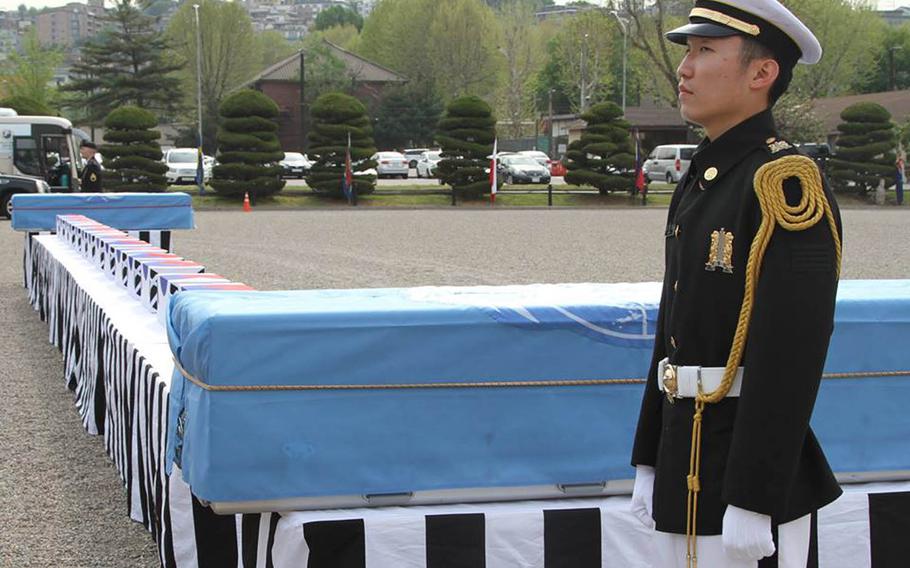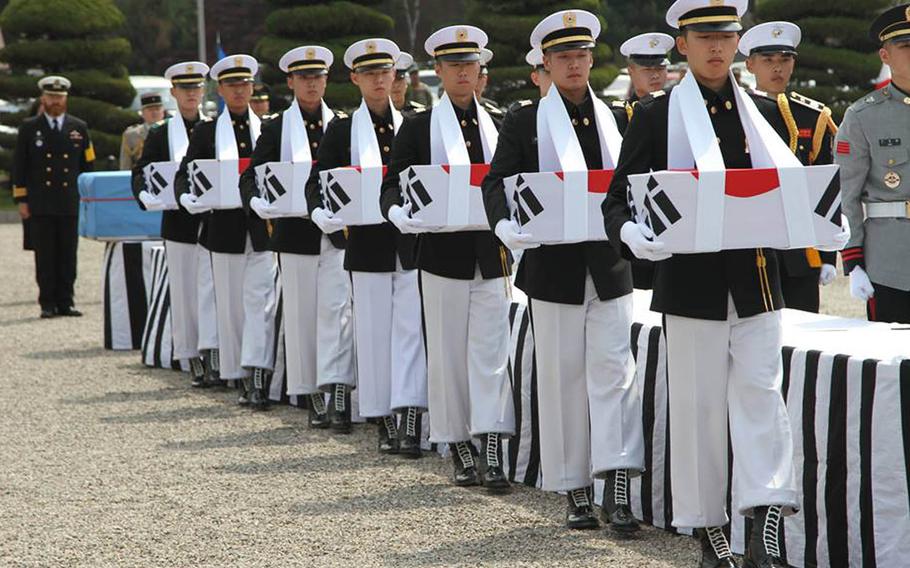 SEOUL, South Korea — The remains of 15 South Koreans and two Americans who were killed more than 60 years ago in North Korea were officially handed over Thursday.
The repatriation of South Korean soldiers killed while fighting in the North is relatively rare, as the bitter enemies remain technically at war after the 1950-53 Korean War ended in an armistice. However some remains were accidentally excavated by U.S. teams searching for their own dead under a now-defunct agreement with North Korea.
Gen. Curtis Scaparrotti, U.S. Forces Korea commander, said it is important to not forget the servicemembers killed during the war.
"Because of their sacrifice, the Republic of Korea is a thriving democracy and a prosperous economy," he said as he presided over the handover ceremony at U.S. Army Garrison-Yongsan's Knight Field that was attended by the South Korean defense minister and the head of the U.S. agency overseeing the search for POW-MIAs. "As we stand in their shadow, we hope that their return brings a sense of peace and closure to their families."
After a 21-gun salute and the sounding of taps, an honor guard reverently carried a casket, covered with a U.N. flag, containing the American soldiers' remains to a black hearse.
South Korean soldiers then collected the 15 boxes draped with their nation's flag from a long table and carried them to a white bus decorated with a yellow wreath.
South Korean search teams found the two sets of American remains last year in Yanggu province near the Demilitarized Zone, the site of fighting involving the 9th Infantry Division in the summer and fall of 1951. More than 7,800 Americans who fought in the war are still listed as missing.
The South Korean soldiers' remains were recovered by teams with the U.S. Defense POW/MIA Accounting Agency operating in North Korea in 2000-04. They were found in several places, including Kujang, Unsan and on the eastern side of the Chosin Reservoir, an area that saw some of the fiercest fighting of the war, the military said.
Forensic investigators in Hawaii determined the remains were not American and later confirmed they were South Korean, officials said, adding they were still working to identify individuals.
Retired Army Lt. Gen. Michael S. Linnington, DPAA director, said the repatriation stems from a memorandum of agreement signed last November confirming cooperation on recovering remains of soldiers from both countries.
The head of the South Korean Defense Ministry's excavation mission said the remains of some 40,000 South Koreans are believed to be buried in North Korea. "We are ready to bring them home if only North Korea would agree to it," he said in an earlier statement.
Joint U.S.-North Korea teams conducted about three dozen recovery operations between 1996 and 2005, but they were stopped after Washington expressed safety concerns. Talks to restart the effort began in 2011 but broke off after North Korea launched a rocket despite a ban on ballistic missile technology.
Tensions also have risen this year with the North staging its fourth nuclear test in early January and a long-range missile launch a month later, leading to a fresh round of harsh U.N. sanctions.
gamel.kim@stripes.com Twitter: @kimgamel
---
---
---
---