Rare heavy snowfall shutters Tokyo-area military bases for 2nd day
By
Erik Slavin James Kimber slavin.erik@stripes.com kimber.james@stripes.com
February 15, 2014
---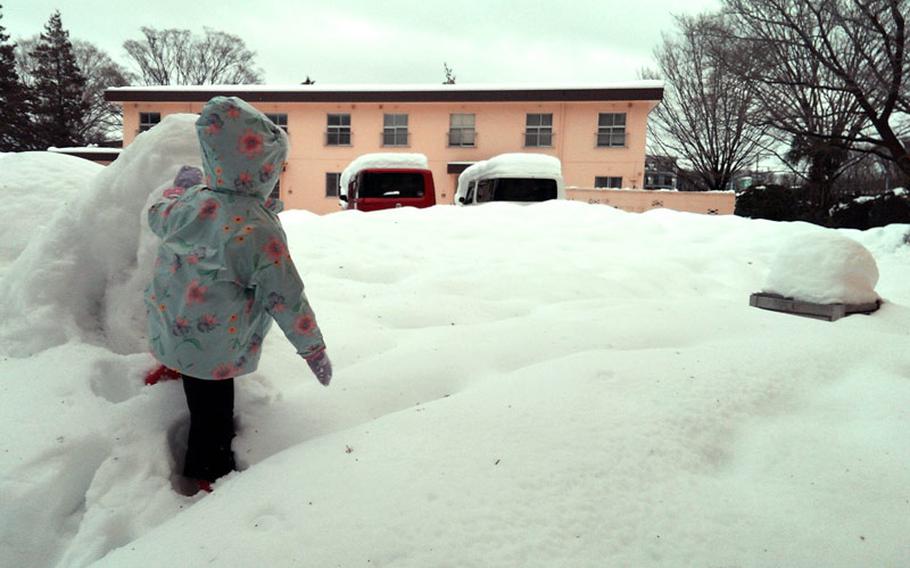 YOKOTA AIR BASE, Japan — For the second time in a week, U.S. servicemembers in the Tokyo area were digging out from possibly record snowfall Saturday.
Accumulation that began Friday night was measured as high as 2 feet at some parts of Yokota Air Base west of Tokyo, though official numbers have not yet been obtained.
Last week's snowfall, as recorded by the 374th Operations Squadron at 12.7 inches, broke a 45-year-old record.
Though the East and West gates were open Saturday, the base was effectively closed as shuttles buses were canceled, and AAFES facilities such as the commissary and base exchange were shuttered. The post office and other services were also not available Saturday afternoon. However, the Far East high school wrestling tournament was still running as scheduled.
Note to Japan subscribers: Delivery to Misawa impacted by weatherThe snowstorm, a rare occurrence in Japan's Kanto Plains region, also affected military personnel in Seattle, where the Air Mobility Command at Seattle-Tacoma International Airport delayed its Friday night flight to Yokota by at least 32 hours.
The Navy bases at Yokosuka and Atsugi were attempting to open for regular, though delayed, operations Saturday.
At Yokosuka area bases, most Navy exchange operations were set to open by noon. Green Bay Marina was closed, and breakfast and lunch service at on-base restaurants run by Morale, Welfare and Recreation was canceled. Purdy Fitness center remained closed, but the Fleet Recreation Center, wood and auto hobby shops and the library planned to open at noon.
Naval Air Facility Atsugi also experienced similar transportation difficulties off base Saturday, but public works was clearing snow from base roads and sidewalks.
"For your safety we recommend that you do not drive at this time," base officials said in a statement.
Most on-base facilities were closed as of 11 a.m. Saturday, although the mini-mart planned to open at noon. The Ranger gym planned to open at 3 p.m., and McDonalds remained open until 9 p.m. The post office and exchange were expected to open at noon.
U.S. Army Garrison Japan declared the roads in Camp Zama, Sagamihara Family Housing Area, Sagami General Depot, Yokohama North Dock and Hardy Barracks "black," meaning traffic was restricted for all but emergency vehicles. Commissaries there had planned to open no earlier than noon Saturday but may be closed all day. No other facilities were expected to open Saturday.
Kanto-area public transportation also was dealyed or suspended Saturday. Servicemembers can check JR East's web page for updates. Keikyu line service was also experiencing delays.
The Yokohama City Air Terminal buses to Haneda and Narita airports had been suspended as of 11:40 a.m.
The Yokohama-Yokosuka highway, the Honcho-Yamanaka toll road, Shuto B, Daisan Keihin, Yokohama Shindo, Tomei and Tokyo Aqua lines remained closed as of 10 a.m. The Shuto K1, K2, K3 and K5 highways remained open.
kimber.james@stripes.com Twitter: @James_Kimber
slavin.erik@stripes.com Twitter: @eslavin_stripes
---
---
---
---