Philippine troops credit US intel, training for helping them beat ISIS in Marawi
---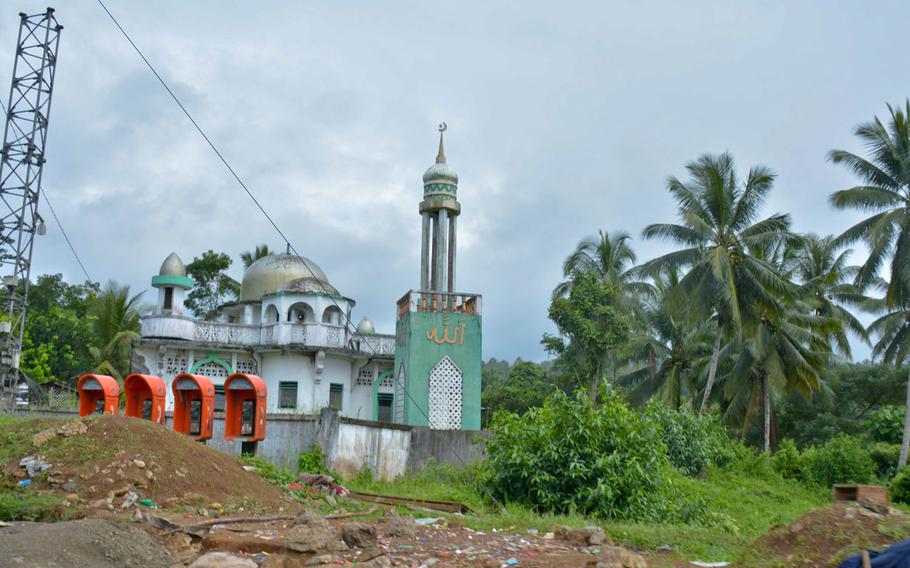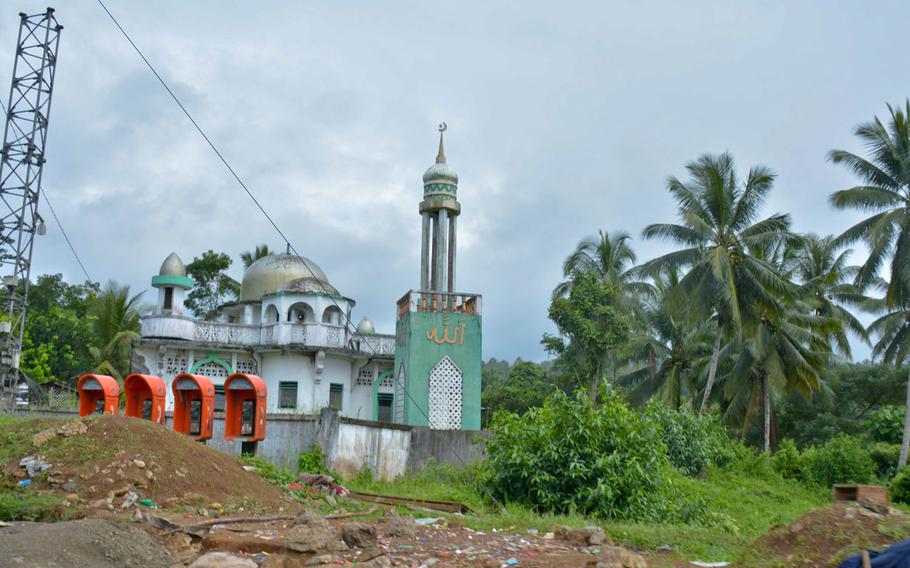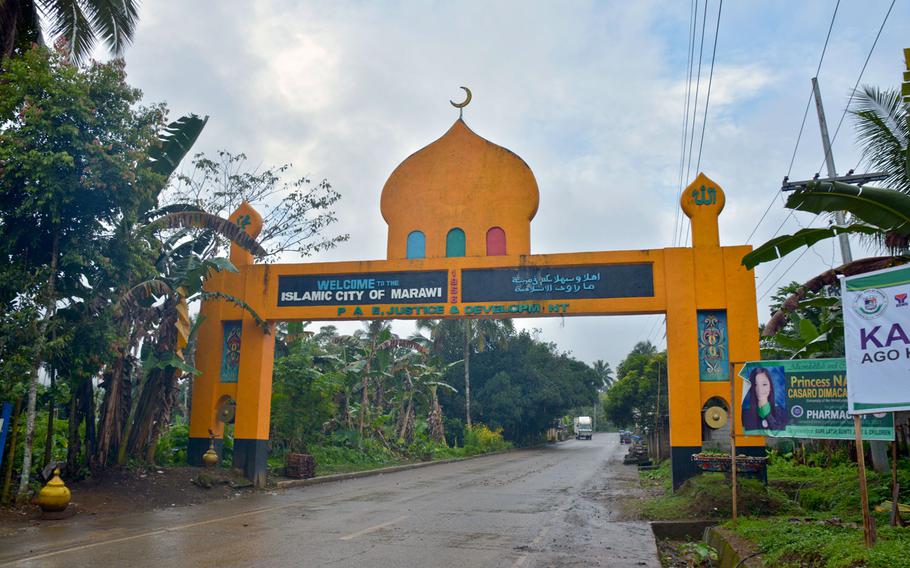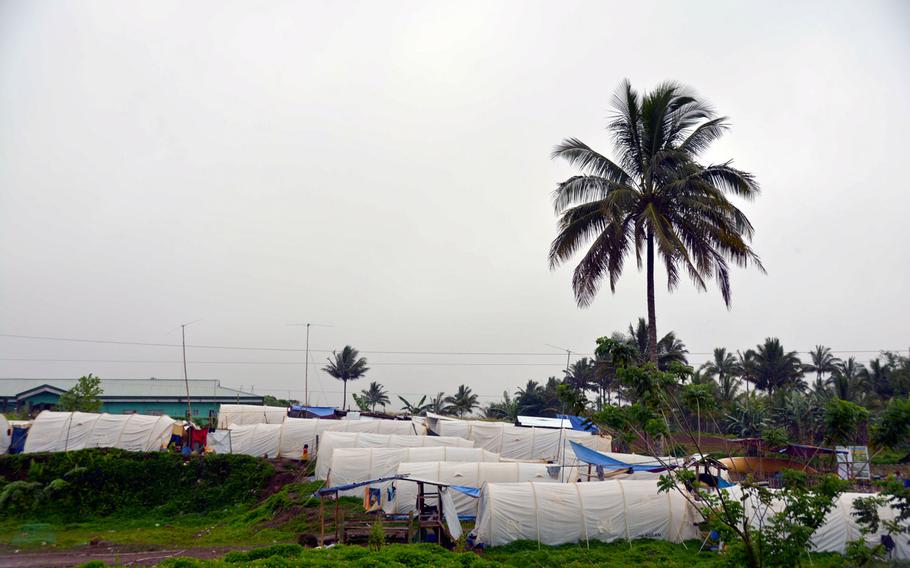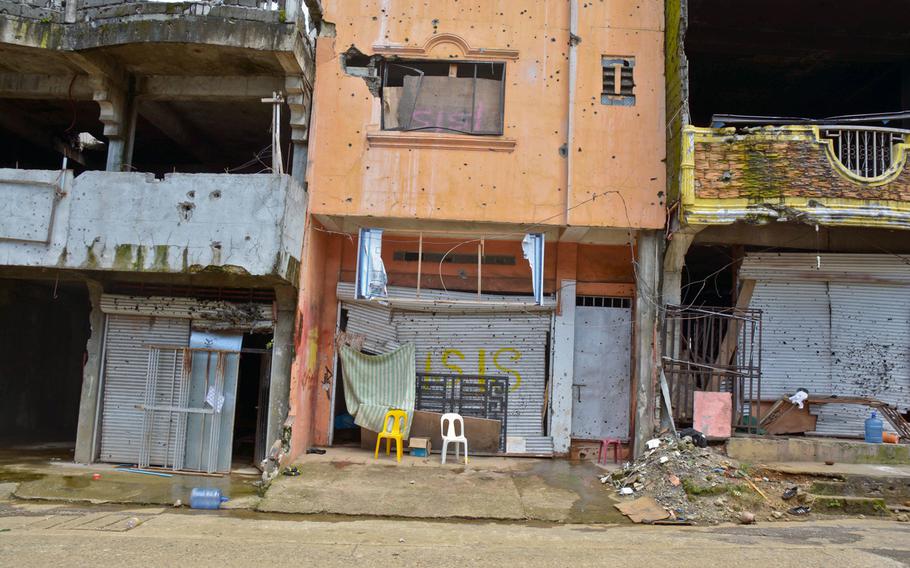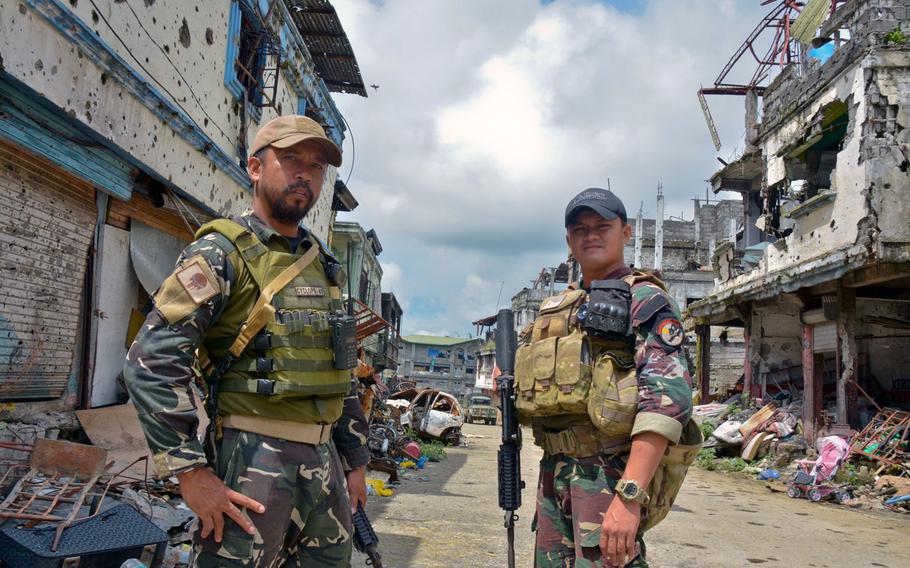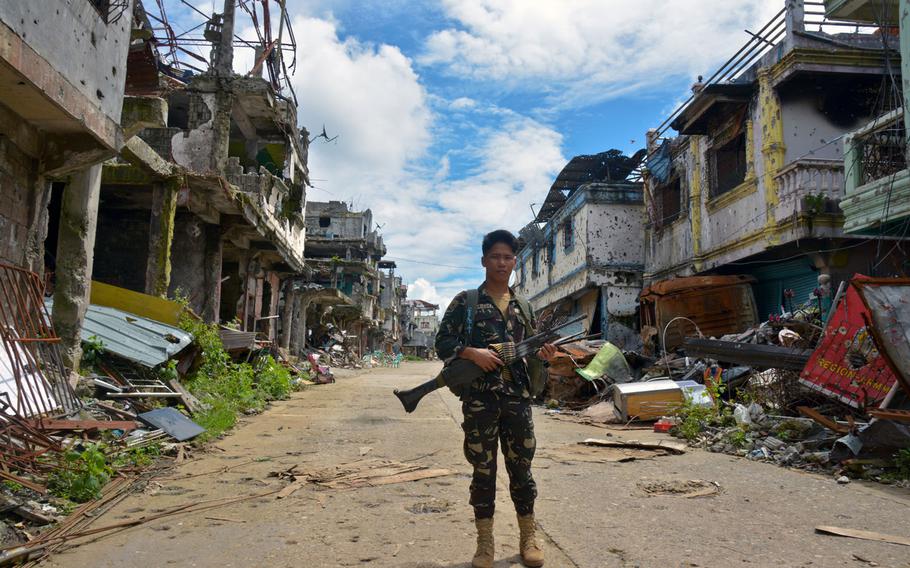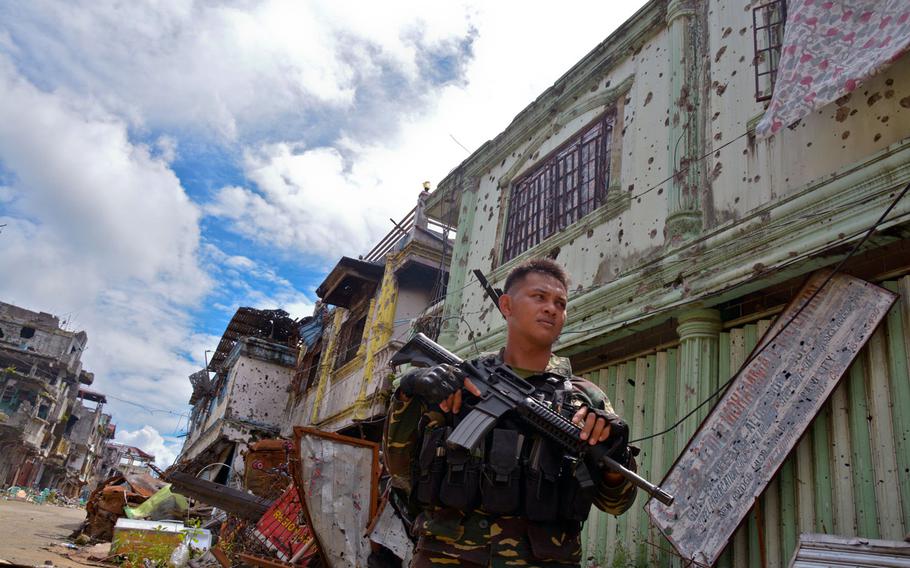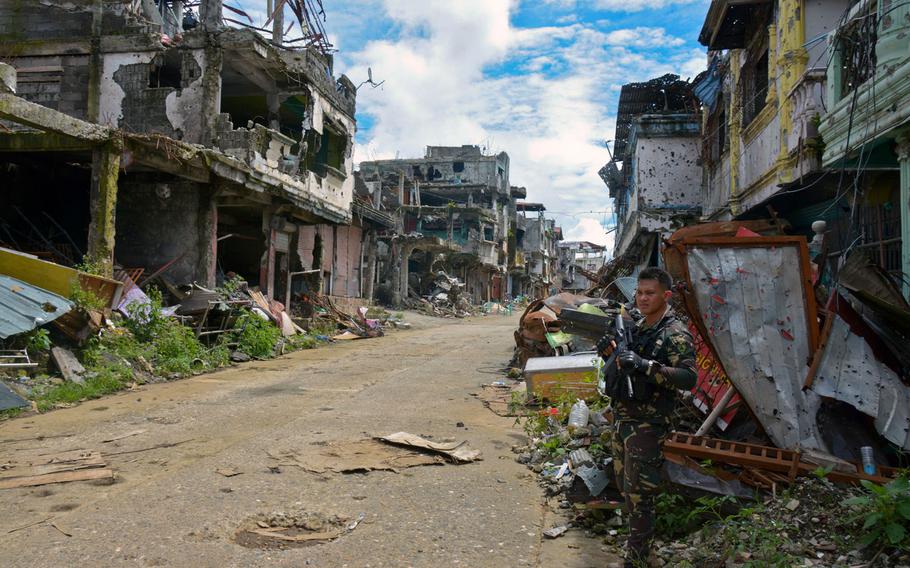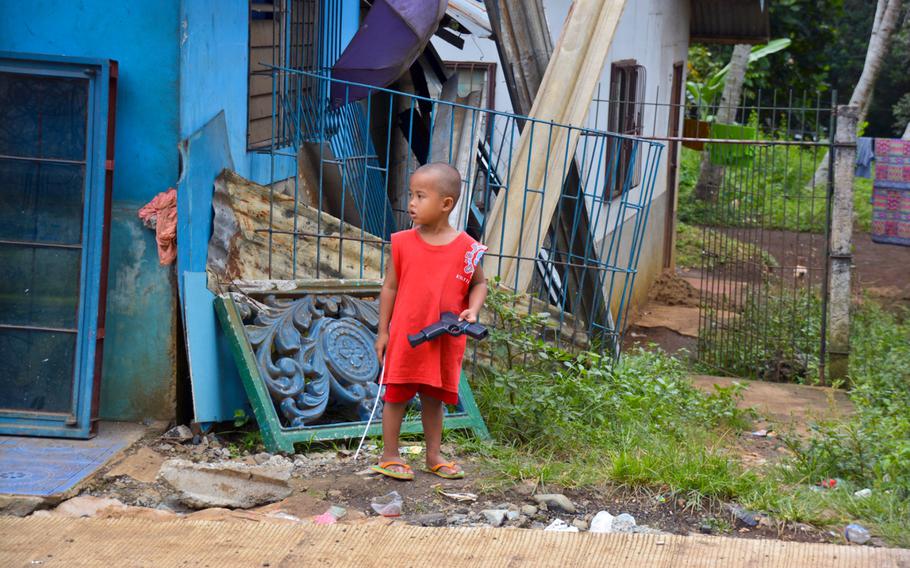 MARAWI, Philippines — Filipino troops guarding the ruins of a city freed from Islamic militants last month said American training and intelligence gave them an edge against the 1,000 insurgents who fought to nearly the last man.
The Marawi battle zone — encompassing about half of a town once home to 200,000 mostly Muslim residents — is Southeast Asia's version of Mosul, Raqqa or any other Middle Eastern city reduced to rubble by the Islamic State group's bloody reign of terror.
After five months of fighting, the Philippine government declared victory in Marawi; however, it might be years before life there returns to normal.
On Wednesday, houses and shops in the battle zone were pockmarked with bullet holes and blackened by fire. Streets were full of rubble, the rusting wrecks of damaged vehicles and the bones of the dead. Soldiers said they pulled 23 cadavers from the zone earlier in the week.
Standing beside a downtown bridge across the Agus River that 13 Philippine Marines gave their lives to secure, Capt. Alex Estabaya said skills learned from American Green Berets were invaluable during the fight.
The Philippine Scout Rangers are experts in jungle warfare; however, U.S. Special Forces, including veterans of urban combat in Iraq, taught them close-quarters battle tactics during annual training exercises, said the 37-year-old 1st Scout Ranger Regiment officer.
"They had experience in Iraq. They showed us how to clear rooms and the basic principles of close-quarters combat — things like entering with a small number of personnel and operating in small teams," he said.
Green Berets taught the Scout Rangers to exploit sensitive sites, a skill that helped them gather intelligence in Marawi, Estabaya added.
"We found documents in some of the buildings," he said. "We would cordon the areas and then exploit them and get all the available materials."
Col. Romeo Brawner, 49, deputy commander of the task force that liberated Marawi, said Americans also trained their army's only urban combat unit — the Light Reconnaissance Regiment — comprising about 700 troops involved in the Marawi fight.
The Green Berets didn't provide the Scout Rangers with counter-improvised explosive device training; however, they did teach other Filipino troops how to deal with booby traps and roadside bombs, Estabaya said.
Soldiers encountered 1,500 IEDs in the city, Brawner said. Insurgents detonated the bombs — made from conventional ordnance or fireworks and placed in alleys, doorways and windows — using pressure plates, cellphones or command wires.
American intelligence support was key to success against the militants who were targeted by 105mm and 155mm artillery and 500-pound bombs dropped by the Philippine Air Force's FA-50 Fighting Eagle jets, soldiers said.
U.S. and Australian P-3 Orion surveillance planes and U.S. drones flew over Marawi during the battle capturing images of the enemy.
America has night-surveillance capabilities that the Philippines lacks. U.S. personnel fed information to Philippine intelligence officers who passed it to ground troops, Brawner said.
"Their [intelligence, surveillance and reconnaissance] complemented ours," he said of the Americans.
"They gave us not only the positions of the enemy but they tracked them using heat signatures. That was very useful," Estabaya said. "They would say things like, 'There are two enemy in this building at this time.'"
The Scout Rangers developed their own tactic during the battle.
"We call it the four Fs: fire, forward, fortify and fire again," Estabaya said.
He demonstrated how the troops captured a neighborhood near the river by firing to suppress the enemy, advancing to a bomb-damaged building, taking cover behind a wall and firing into rooms to detonate IEDs.
Philippine soldiers had heard about tunnels the insurgents dug under Iraqi cities. They didn't find tunnels in Marawi, but the Southeast Asian rebels replicated the Iraqi tactic of blasting holes in walls to allow them to move inside buildings fortified with sandbags, he said.
Like the Iraqis, the Marawi militants employed small surveillance drones. Government troops shot down seven during the battle, Brawner said.
Capt. Ramse Dugan, 29, an operations officer with the Rangers, said the most intense part of the battle was the effort to kill the insurgent leaders Isnilon Hapilon and Omar Maute, who attempted to flee near the end of the fight. Both were shot dead on the battlefield last month.
"It was a concerted effort by four battalions," he said. "Our troops were very alert, and we prevented them from escaping."
One hundred and sixty-five Philippine troops were killed in action and another 1,800 were wounded in the country's bloodiest battle since World War II. Of the estimated 1,000 insurgents, 965 were killed and three were captured, Brawner said.
The faces of the few not accounted for appear on wanted posters at checkpoints surrounding Marawi.
Officials have identified the remains of about 40 foreign fighters from Indonesia, Malaysia and Singapore. They're working to identify several, apparently Arab, bodies found on the battlefield, Brawner said.
Philippine forces rescued 1,700 civilians from the battle zone, but the militants shot 47 in the early days of the crisis and forced others to fight on their side, he said.
Marawi's damaged neighborhoods will take years to rebuild, said Brawner, who recently returned from a course at the Army War College in Carlisle, Pa.
Some parts of the city are only lightly damaged. Residents have already returned to nine neighborhoods and will be allowed to return to two more over the next couple of weeks.
However, those who lived in the battle zone won't be going home any time soon, Brawner said.
One of the evacuees, Soraida Abah, 25, is living in a tent with her husband and 3-year-old son at a camp near Marawi. The displaced Muslims were guarded by Philippine soldiers and in good spirits.
"We want to go home but our home is broken," Abah said.
robson.seth@stripes.com Twitter: @SethRobson1
---
---
---
---