Philippine presidential front-runner could hinder US military ties
---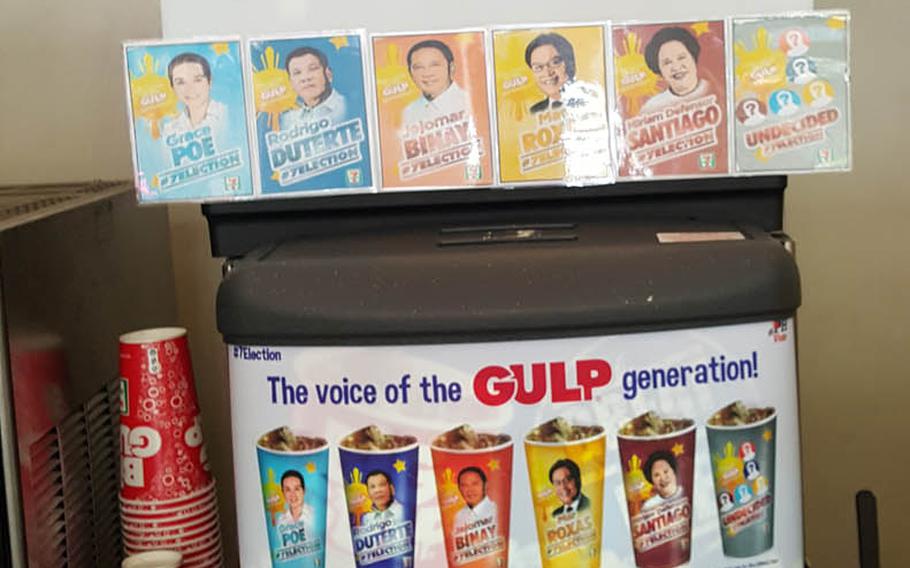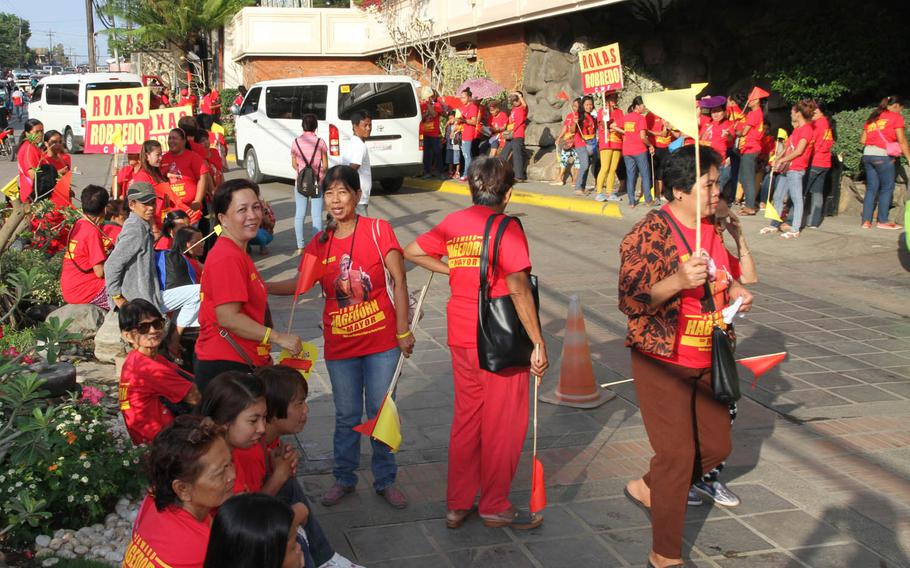 MANILA, Philippines — U.S.-Philippines military relations that have flourished under President Benigno Aquino III would likely weaken if Philippine presidential front-runner Rodrigo Duterte is elected.
With Filipinos set to choose among five candidates on May 9, Duterte, the incumbent mayor of Davao City who has said the U.S. "should not meddle in our affairs," holds a strong lead, according to the most recent poll released Sunday.
"Duterte is very popular now because people are sick and tired of the same old, same old," said Virginia Bacay Watson, a professor at the Asia-Pacific Center for Security Studies in Honolulu. "He's kind of a fresh face, fresh perspective, compared to the other elites who are running."
Duterte has presented himself to voters as a straight-talker who is not part of the Manila elite – someone who can get things done even if he needs to bend the rules to do so. That includes the country's foreign affairs.
"He feels that American influence is too strong, that we're too dependent on U.S. intervention in anything we do," said Babe Romualdez, an opinion columnist for The Philippine Star newspaper who has interviewed the candidates one-on-one about their platforms on the U.S. military and relations with China.
"He was an activist when he was a student and young lawyer," Romualdez said. "I get a sense that he's saying the same things that most of the militants say."
It was that strain of nationalism 25 years ago that led the U.S. to withdraw its military presence from the Philippines, which had served as an air-sea linchpin for America after World War II. Amid public pressure in the early 1990s, the U.S. turned over control of Clark Air Base and Naval Base Subic Bay.
But with China's assertive claims in recent years over tiny islands in the nearby South China Sea – which many Filipinos call the West Philippine Sea – and the more U.S.-friendly Aquino, the military relationship between the U.S. and the Philippines is at an all-time high.
In 2014, the countries signed the Enhanced Defense Cooperation Agreement, which the Philippine Supreme Court upheld in January as constitutional after a legal challenge. Soon after, it was announced that five military bases throughout the Philippines would be upgraded to host rotational U.S. troops and prepositioned equipment.
Two presidential candidates would likely continue the U.S.-friendly policies of Aquino, who cannot run for re-election because of term limits. Mar Roxas, leader of the ruling Liberal Party, has the president's endorsement. Grace Poe, a senator, expressed some skepticism about the EDCA when it was being debated, but is seen as someone who would maintain the status quo.
"In terms of leadership, it's clearly the case that [Roxas and Poe], because they've had extended periods of residency and education in the United States, have a much stronger appreciation of what the United States is and what we stand for," said Gerard Finin, a senior fellow at the East-West Center in Honolulu.
Duterte does not share that attitude.
In Romualdez's interview with the front-runner, the candidate said "we really don't need the Americans to deal with the Chinese because the Chinese want to talk to us alone."
"If I become president I'm going to reach out to the Chinese and talk to them alone without American intervention," he said.
Duterte publically opposed the Visiting Forces Agreement with the U.S. – of which the EDCA was an amendment – and claimed in 2013 that he had rejected a request by the U.S. to establish Davao as a base of operations for drones.
Earlier this year, he was quoted saying that although the country was now bound by the EDCA, he had "reservations about the presence of foreign troops." He added, "We will not allow the building of structures."
Carl Baker, an expert on the U.S.-Philippines alliance at Pacific Forum CSIS in Honolulu, said Duterte would be too local, too much of an outsider to garner support from an elite-controlled Manila and would have a hard time bringing about change. However, the new administration will have broad control over how enthusiastically the base-sharing terms of the EDCA will be implemented.
"The difference then lies in how warm or lukewarm the execution will be," Watson said. "Some candidates might decide to do it slower."
There is already momentum within the Philippine armed forces for modernization and upgrades, Watson said.
"You can't just put a stop to everything," she said. "It will potentially be divisive if extreme positions are taken by the new president."
Duterte's strongest talking points, however, are about crime, corruption, unemployment and poverty – not foreign affairs.
"He's out there speaking his mind – unedited for the most part and gets into trouble sometimes – but people say, 'Whoa, here's a man who's not afraid to stick to his guns and hopefully he'll walk his talk eventually,'" Watson said.
More than one observer has compared Duterte to a similarly unfiltered American presidential candidate: Donald Trump.
"People just want a change, and Duterte is saying the right things: we're going to remove this, solve criminality, corruption," Romualdez said. "He's like a Trump; he's saying the things that people want to hear."
Ferdinand R. Marcos, son of former President Ferdinand E. Marcos, whose dictatorial rule in the 1970s and '80s was marked by corruption, brutality and extravagant spending, is a frontrunner in the vice-presidential race – a seat elected separately from the president.
For many voters, the Marcos name signifies a change from all that Aquino represents, Romualdez said.
Some voters are tempted to believe the Philippines could move ahead faster, particularly with fixing traffic gridlock in Manila, if the country returned to a more authoritarian form of leadership, Finin said.
"There are a certain number of people attracted to that, forgetting perhaps the lessons of the martial-law era and the Marcos administration, when human rights suffered, the economy suffered, and the Philippines was certainly not looked upon as one of the group of nations in the world that adheres to the rule of law," he said.
olson.wyatt@stripes.com Twitter: @WyattWOlson
---
---
---
---