PETA urges Marine Corps commandant to end 'crude killing of animals' during Cobra Gold
by
Joseph Ditzler
March 4, 2020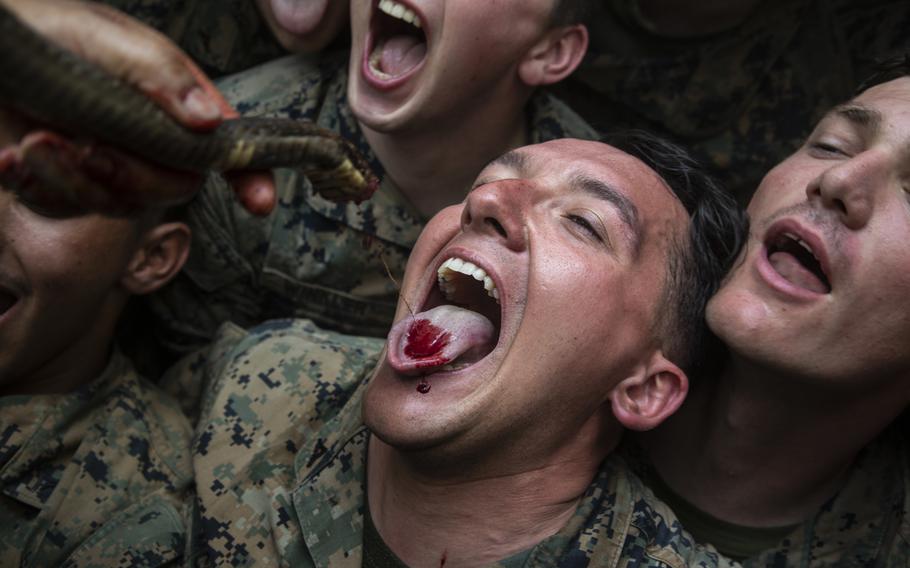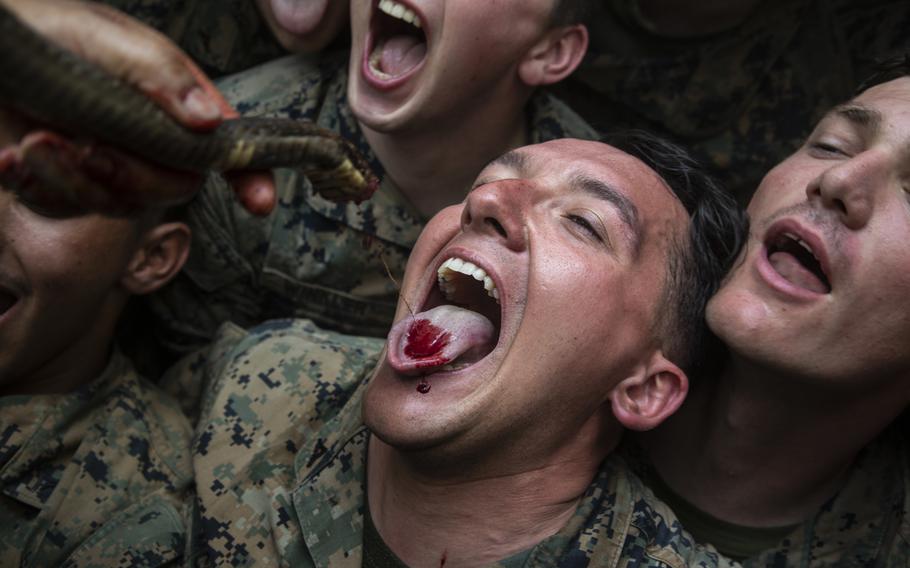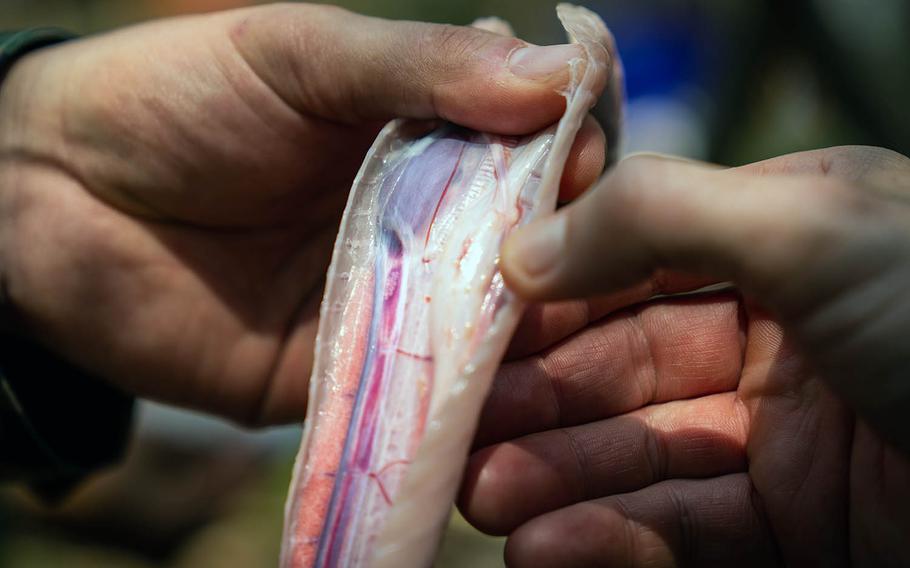 Cutting the heads off cobras and pouring their blood into the mouths of Marines doesn't sit well with at least two constituencies, cobras and the People for the Ethical Treatment of Animals.
PETA wrote the Marine Corps commandant, Gen. David Berger, on Wednesday objecting to "the crude killing of animals during the annual Cobra Gold 2020 military exercise."
The letter from Shalin Gala, PETA vice president for international laboratory methods, cites accounts in the Daily Mail, a British newspaper, that during Cobra Gold, "Marines kill chickens with their bare hands, skin and eat live geckos, consume live scorpions and tarantulas, and decapitate cobras and drink their blood."
A Marine spokesman working with the exercise did not immediately respond to a request for comment Wednesday by Stars and Stripes.
Cobra Gold is an annual, multinational, military exercise co-hosted by the U.S. and Thailand and staged in Thailand. The 10-day exercise concludes Friday.
This year, the 39th replay of the exercise, militaries from 29 nations took part in a range of activities, from stifling the spread of emerging diseases to large-scale disaster response.
But service members posted to the Indo-Pacific region may know Cobra Gold best from the survival training put on by Thai military instructors. Those sessions are among the most photographed events during the exercise.
Still photos and videos abound on the Defense Department's own media information site of U.S. service members chowing down on jungle flora and fauna on Cobra Gold survival training day. Drinking cobra blood is a "last resort" that provides nutrition to help a body stay alive, according to a Defense Department news release.
However, PETA urged the Marines commandant to halt the practice, and its request is not without precedent, according to Gala's letter.
In 2011, the Marine Corps Mountain Warfare Training Center in California curtailed its use of live animals in survival training after discussions with PETA, the letter states. And prior to that, the U.S. Army Dugway Proving Ground in Utah did the same after PETA appealed to then-Secretary of Defense Les Aspin.
However, the U.S. Air Force refused a PETA request in 2016 to refrain from using live rabbits in survival training for cadets at the Air Force Academy in Colorado, according to a report on the We Are The Mighty military news blog.
In his letter, Gala suggested the Marines turn to other training options, including interactive video games and virtual reality that survival experts use to train Air Force pilots.
"There are also vegan options too with the jungle being rich in fruit and other lush, edible vegetation," he wrote.
ditzler.joseph@stripes.com Twitter: @JosephDitzler
---
---
---
---