Pentagon to double size of ID team as analysis of Korean War remains begins
by
Corey Dickstein
August 2, 2018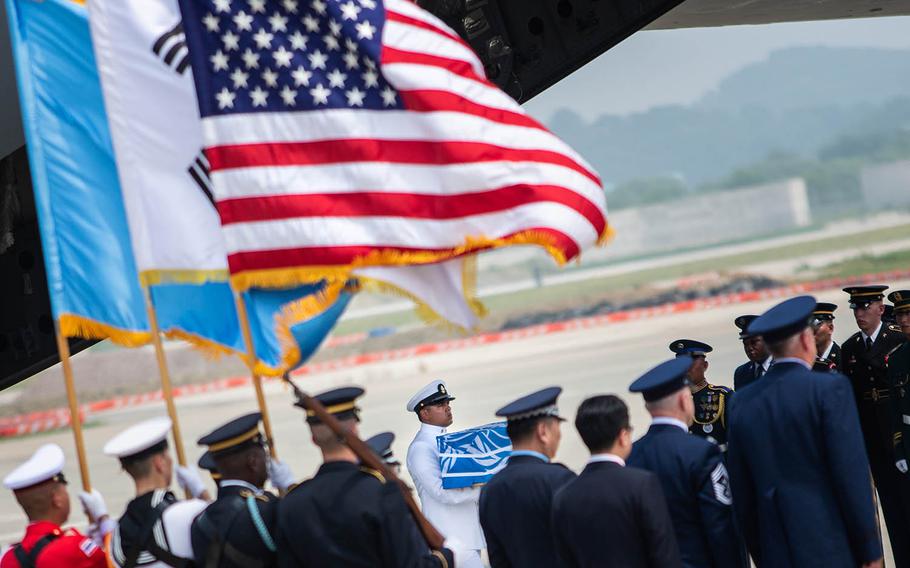 WASHINGTON – The Pentagon said Thursday that it is doubling the size of its Hawaii-based team responsible for identifying Korean War remains after North Korea turned over 55 boxes last week believed to contain missing U.S. troops.
The Defense POW/MIA Accounting Agency will expand its Korean War Program team of scientists from five to 10 people after receiving the first transfer of remains from North Korea in more than a decade, said Kelly McKeague, the director of the DPAA, the organization charged with searching for and identifying missing troops and prisoners of war. The team has already begun collecting DNA samples and examining teeth and bones to begin the process of identifying the individuals, McKeague said.
That process could take anywhere from a couple of months to several years, he said, noting some remains recovered in the 1990s still have not been positively identified.
The transfer, which took place July 27, followed an agreement made by North Korean leader Kim Jong Un and President Donald Trump when they met in June in Singapore. It was the largest unilateral turnover of remains from the North Koreans to the United States on record, but it was not immediately clear how many individuals were contained in the 55 boxes, said Dr. John Byrd, director of scientific analysis for DPAA.
"It's too early to tell," he said. "You should not assume that one box is one person. There are many possibilities … including that one person may be in two boxes."
In addition to human remains, Byrd said the boxes contained several artifacts that appeared to belong to American servicemembers who served in the Korean War, including canteens, boots and metal parts of uniforms.
One set of military dog tags included in the boxes will be returned to the family of a missing soldier next week, though Byrd warned the inclusion of the soldier's identification tags did not indicate his remains were among the materials returned.
Many of the boxes turned over last week contained remains recovered from the North Korean village of Sinhung-Ri, a town just east of the Chosin Reservoir, Byrd told reporters. American soldiers and Marines fought in November and December of 1950 along the infamous reservoir against Chinese troops during a brutal and frigid battle that cost thousands of lives.
Among the roughly 5,300 missing American servicemembers believed to remain in North Korea, at least 1,600 are believed to be in the vicinity of the Chosin Reservoir.
Byrd and McKeague expressed hope North Korea and the United States would soon reach an agreement to allow DPAA military teams to return to the North to conduct search operations alongside North Korean troops for the first time since 2005.
A veteran of dozens of such search operations, Byrd said he hoped to return to North Korea to help in those searches, noting the North Koreans sounded open to restarting such a relationship after the joint mission fizzled in 2005 amid tensions.
The recovery missions are considered humanitarian and American troops deployed as part of the DPAA teams do not wear military uniforms or carry weapons, McKeague said. That means they must rely on North Korean soldiers for protection.
McKeague said restarting such a relationship would require major security guarantees from North Korea.
But Byrd said that in all his years conducting the joint operations with North Korea's military, he never felt any concern for his safety.
"It was a slightly stiff relationship but professional," he said. "It was challenging but very successful."
An agreement to allow American military teams back into North Korea to search for its combat missing would signal that Kim Jong Un is serious about improving his country's standing in the world.
"This is an opportunity for them to again be a responsible partner in the international community," Byrd said, adding cooperation could help with the "normalization process" between to the two nations.
dickstein.corey@stripes.com Twitter: @CDicksteinDC