Pentagon: North Korean missiles pose 'clear, grave threat' to US
---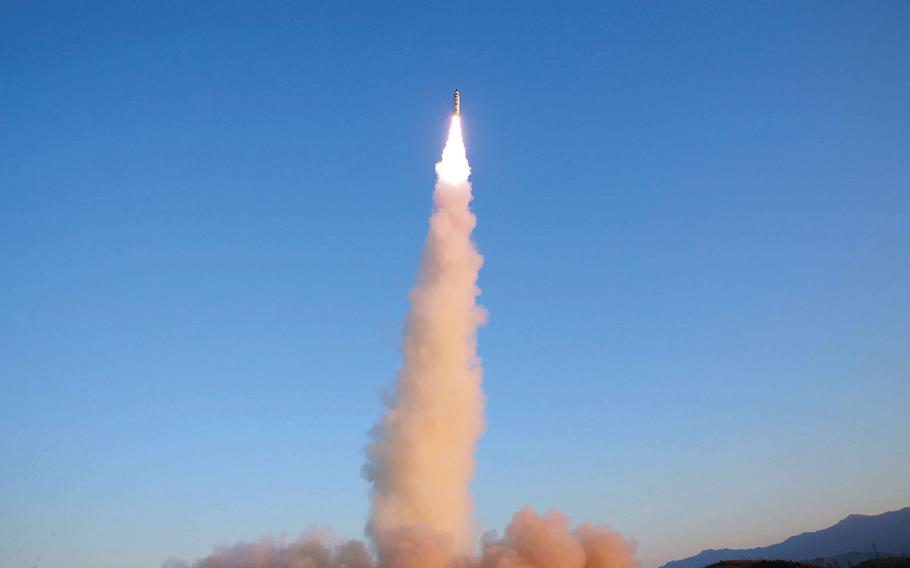 WASHINGTON — North Korea's latest missile launch showed the country has made progress in developing weapons that pose a danger to the United States, a Pentagon spokesman said Monday.
North Korea's ballistic missiles represent "a clear, grave threat to our national security," Navy Capt. Jeff Davis told reporters at the Pentagon. "North Korea openly states that its missiles are intended to deliver nuclear weapons to strike cities in the United States, the Republic of Korea and Japan."
North Korea's use of a tracked, motorized system and solid-state fuel to launch an intermediate-range ballistic missile Saturday showed the country's continued development of its capabilities, he said.
The missile is believed to be a land variant of the KN-11 submarine-launched missile, Davis said, and it traveled about 300 miles before coming down in the Sea of Japan.
He said this was the first time that U.S. officials have seen the North Koreans use a Tracked Erector Launcher, which is a system that allows the missile to be moved through harsh terrain, making it harder to detect.
Video from the launch, which showed a white plume behind the rocket, also revealed the North Koreans had launched the missile using solid-state fuel, another dangerous development, Davis said.
"This is the longest flight they've done with solid-state fuel," he said.
Unlike liquid fuel, solid-state fuel gives North Korea the "ability to launch without notice," Davis said, because the solid propellants stay in the rockets, unlike liquid fuel, which is less stable and is only injected prior to a launch.
"Solid-state propellants gives them the ability to hide more and a greater element of surprise," he said.
President Donald Trump was dining Saturday with Japanese Prime Minister Shinzo Abe at Trump's Mar-a-Lago estate in Florida at the time of the missile launch. Several guests at the dinner posted photos on Facebook of the president discussing the situation with staff and Abe. Trump and Abe made a brief statement to the media after the launch.
"The United States of America stands behind Japan, its great ally, 100 percent," Trump said.
After previous North Korean launches, the United States has responded with a show of force with flyovers of South Korea by its strategic and conventional bombers or fighter aircraft. Last week, at least four B-1 bombers deployed from Dyess Air Force Base in Texas to Andersen Air Force Base in Guam to support U.S. Pacific Command.
copp.tara@stripes.com Twitter: @TaraCopp
---
---
---
---