Pentagon: Latest North Korean missile is 'not one we've seen before'
---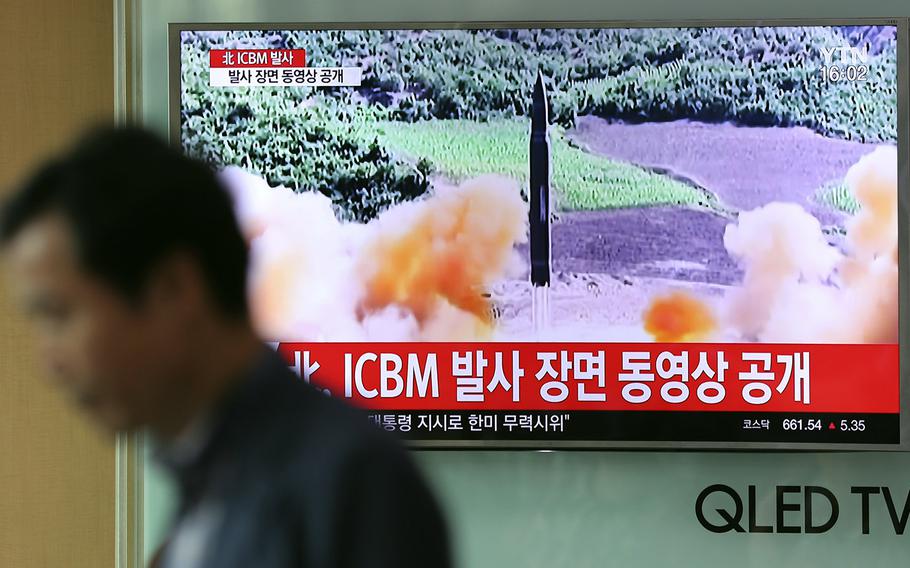 WASHINGTON — The two-stage missile launched by North Korea on Tuesday was not one that the U.S. had known about, Navy Capt. Jeff Davis said Wednesday.
The Pentagon spokesman said that several elements of the first-ever launch of an intercontinental ballistic missile by North Korea were worrisome, including that the missile was launched into busy commercial airspace with no warning. The missile was fired from a mobile launcher from Panghyon Airport in northwest North Korea, which has not been used in previous missile launches.
"It's not one we've seen before," Davis said of the missile, which could have the capability to hit Alaska. "This was a place they have not launched from before, so that was new to us in that sense as well."
The missile could travel more than 5,500 kilometers (3,420 miles), Davis said, which is what classified it as North Korea's first intercontinental ballistic missile launch.
The missile was tracked by the destroyer USS Momsen and the radar ship USNS Howard O. Lorenzen. It flew for 37 minutes before splashing down within Japan's 250-mile economic zone, Davis said.
Davis said the missile landed west of the Tsugaru Strait, which lies between the Japanese islands of Honshu and Hokkaido.
The launch threatened commercial aircraft that frequently travel in the area, Davis said. He did not say whether there were any aircraft in the vicinity at the time.
copp.tara@stripes.com Twitter: @TaraCopp
---
---
---
---