Pentagon: China's military budget continues rapid rise amid tensions
---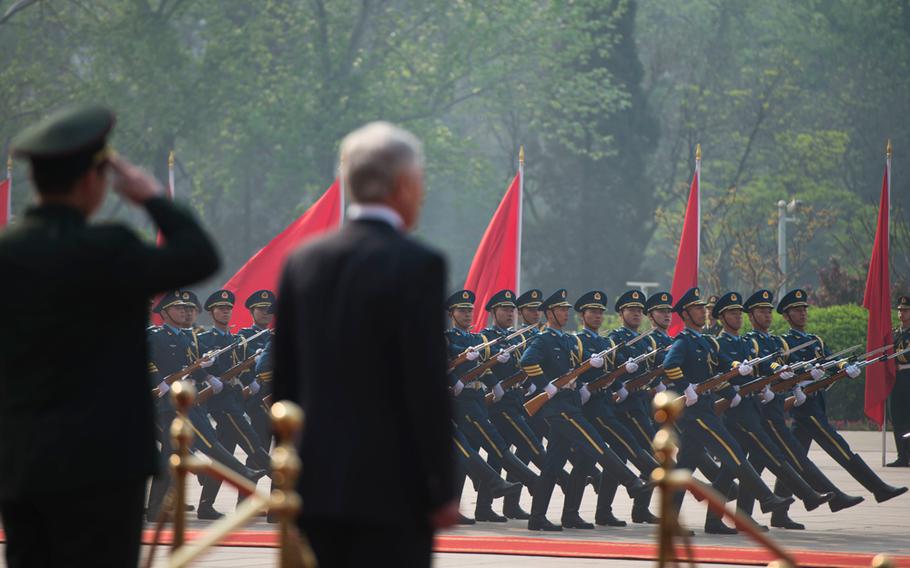 WASHINGTON — China's military budget rose to more than $145 billion last year, as the country continues to build more advanced weapons that could target U.S. forces, the Pentagon said in its annual report to Congress on security developments involving China.
The unclassified version of the report, released Thursday, noted that China's official defense budget rose 5.7 percent to $119.5 billion last year. But once defense-related spending that isn't part of the official military budget is taken into account, the Pentagon estimates that the actual amount is north of $145 billion.
"China has the fiscal strength and political will to support defense spending growth at comparable levels for the foreseeable future," the report states.
In comparison, the Pentagon's base budget in Fiscal 2013 was $496 billion. However, once you factor in defense-related spending on things such as the war in Afghanistan, nuclear weapons-related activities conducted by the Department of Energy, and the Department of Homeland Security, that number climbs to well over $600 billion.
Much of the report echoed what was stated in last year's China assessment. Highlights include:
Preparing for potential conflict in the Taiwan Strait remains "the focus and primary driver of China's military modernization program," but steadily increasing tensions in the East China and South China Seas, along with growing interests and influence abroad, have caused "a substantial uptick in the PLA's preparations for a range of missions beyond China's immediate periphery." The People's Liberation Army is investing heavily in its ground force, emphasizing the ability to deploy campaign-level forces across long distances quickly. It is also developing a more rapid, flexible special operations force equipped with advanced technology. The PLA Air Force is "pursuing modernization on a scale unprecedented in its history and is rapidly closing the gap with Western air forces across a broad spectrum of capabilities." China's first fifth-generation fighter, the multi-role J-20, could enter service as early as 2018. The PLA Navy will likely build multiple aircraft carriers over the next 15 years. The first Chinese-built carrier will likely be operational sometime at the beginning of the next decade. The Chinese government and its military continue to target U.S. computer systems for intrusions focused on stealing information. U.S. bases on Okinawa are in range of a growing number of Chinese medium range ballistic missiles, and Guam could be reached by air-launched cruise missiles. Chinese missiles have also become far more accurate and are now better suited to strike regional air bases, logistics facilities and other infrastructure. As part of its planning for military contingencies, China continues to develop measures to deter or counter intervention by the U.S. by developing the capability to conduct long-range attacks against military forces that might deploy to or operate in the western Pacific. In the coming years, instability on the Korean Peninsula could produce a regional crisis involving China's military. "I don't think that there's really any part of the [PLA] today that's not undergoing some type of reform, modernization and transformation. It truly is a comprehensive modernization effort," according to a senior U.S. defense official, who spoke to reporters on condition of anonymity so that he could more freely discuss China's military advancements.
However, the report states that, "China would face several shortcomings in a near-term conflict with the U.S.," due to weaknesses in its missile targeting, anti-submarine warfare, and fighter jet systems.
harper.jon@stripes.com Twitter: @JHarperStripes
---
---
---
---