VIDEO
Pence in Japan: 'All options are on the table' regarding North Korea
by
Erik Slavin
April 19, 2017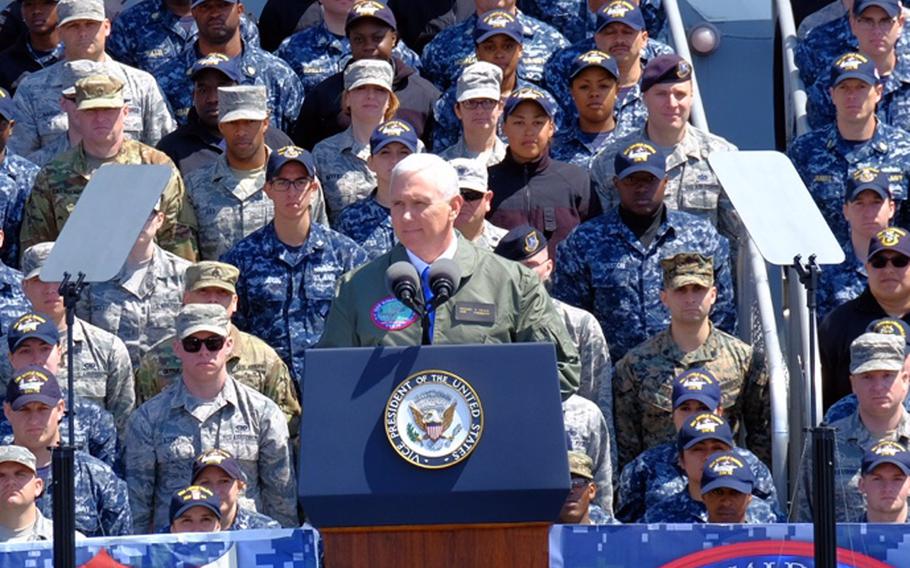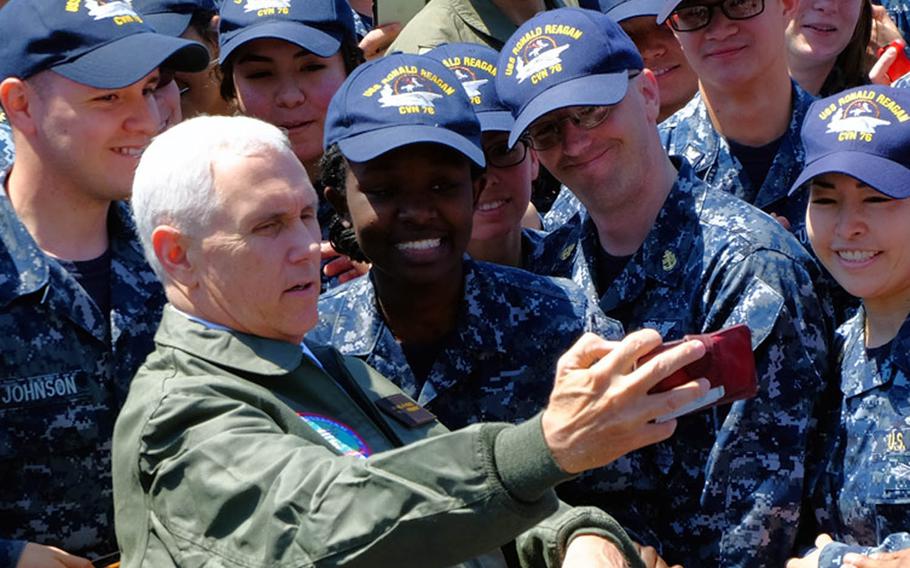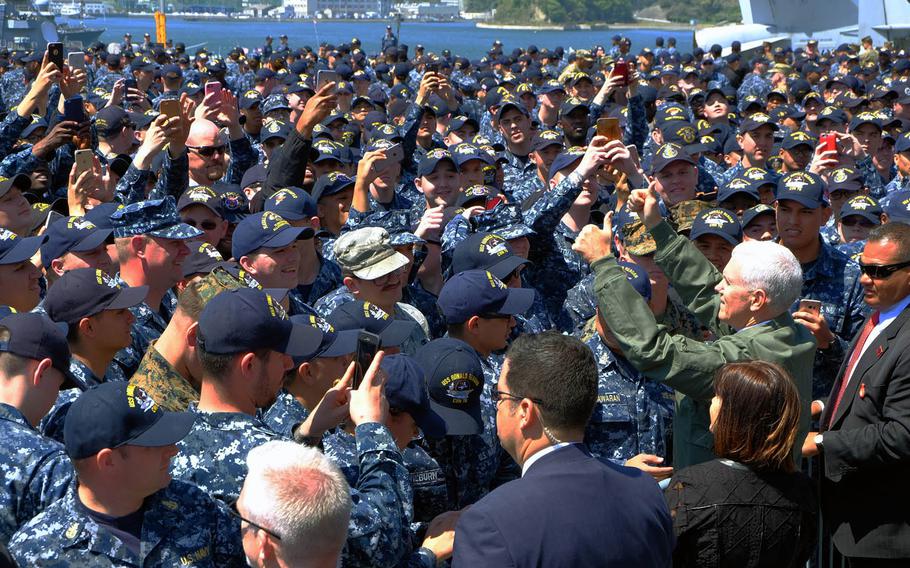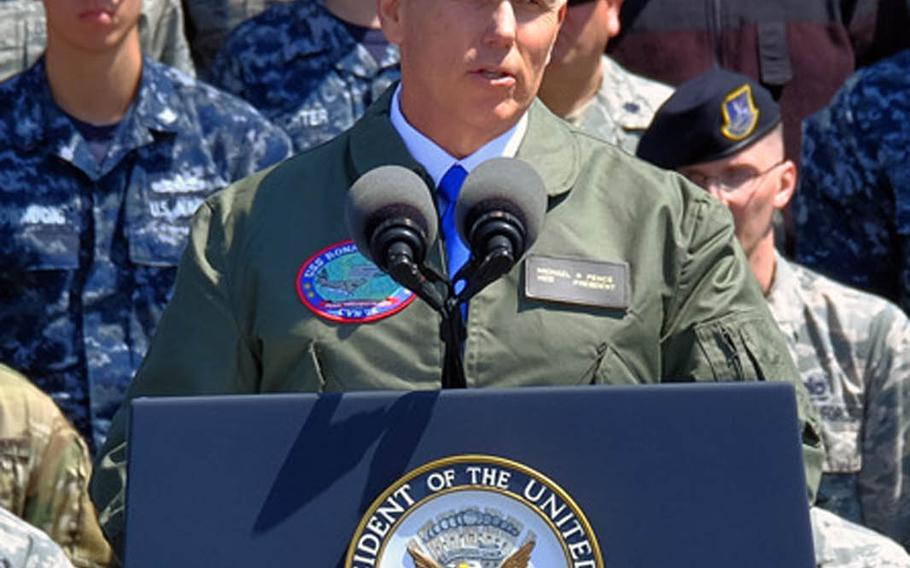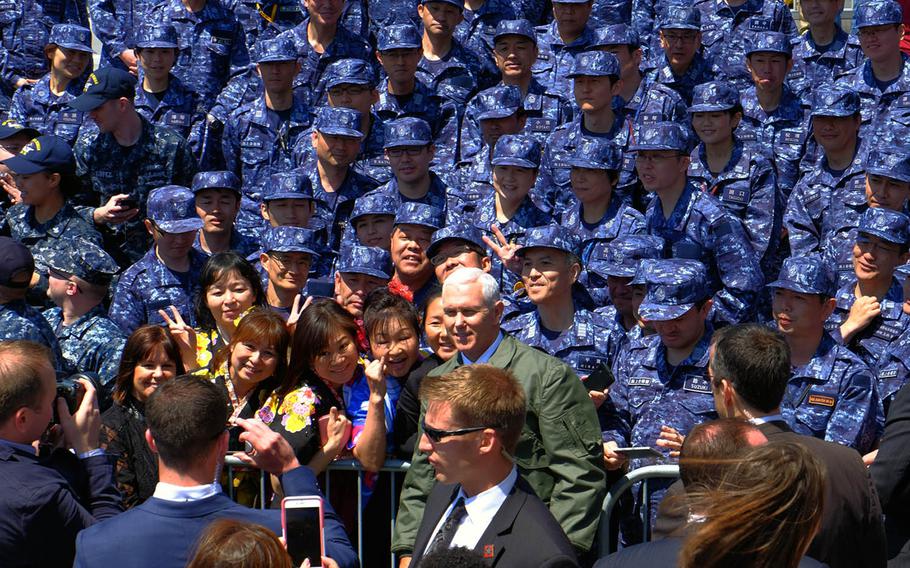 YOKOSUKA NAVAL BASE, Japan — Vice President Mike Pence said "all options are on the table" as North Korea continues to develop its nuclear-weapons and ballistic-missile programs, during a speech Wednesday aboard the aircraft carrier USS Ronald Reagan.
Pence also told gathered servicemembers from both U.S. and Japanese forces that Tokyo will "assume a larger role and responsibility" within its security alliance with Washington.
Pence arrived in Japan on Tuesday and met with Prime Minister Shinzo Abe for discussions on security and trade. Both leaders agreed that China must take on a larger role in dealing with North Korea, Japanese officials said.
The U.S. will continue to pursue diplomatic and economic solutions in concert with other nations to end North Korea's ambitions, Pence said.
"But as all of you know, readiness is the key and you, the instruments of American policy, should know: all options are on the table," Pence told servicemembers aboard the ship. "Those who would challenge our resolve or our readiness should know: we will defeat any attack and meet any use of conventional or nuclear weapons with an overwhelming and effective American response."
Pence once again said the era of "strategic patience" is over, referring to a policy attributed to some Obama administration officials in dealing with the communist state.
"The United States and our allies have worked tirelessly to peacefully dismantle North Korea's nuclear program and alleviate the suffering of its people," Pence said Wednesday. "But at every step of the way, North Korea answered our overtures with willful deception, with broken promises and nuclear and missile tests, including a failed missile test they attempted this past Sunday."
While Japan is barred by its constitution from waging an offensive war, its proximity to the Korean peninsula makes it a critical ally in the event of any regional conflict.
Citing remarks by Abe and President Donald Trump, Pence said that Japan's alliance role would grow as both nations "expand our cooperation for our common defense."
Pence called the U.S. commitment to Japan unwavering, adding that its agreement to defend Japanese territory will continue to include the Senkaku Islands, which China also claims as its own.
Pence added that the U.S. would continue to protect freedom of navigation and overflight in the South China Sea, in a message aimed at Asian nations concerned by China's militarization of islands and reefs claimed by several neighboring countries.
Pence ended his remarks by thanking the servicemembers aboard for their efforts and wishing the Reagan crew well on its "imminent deployment."
The ship has been undergoing a restricted availability maintenance period since January. It is preparing for an upcoming deployment, but the carrier isn't expected to depart before May.
While Reagan prepares for its scheduled Asia-Pacific patrol, the USS Carl Vinson strike group is in the region and has extended its deployment to steam toward the Korean peninsula, Navy officials said on Vinson's official Facebook page Wednesday.
Pence's visit aboard the Reagan comes amid heightened concerns that North Korea will attempt a nuclear weapons test, which would be its sixth since 2006. The tests have grown in sophistication each time, U.S officials said.
Pence's first stop on his scheduled 10-day Asia tour was South Korea, where he spoke with leaders and visited the Korean Demilitarized zone. His next stop is Indonesia, where he will meet with President Joko Widodo and leaders from the Association of Southeast Asian Nations.
The last vice president to visit the Reagan was Joe Biden in 2009, Navy officials said.
slavin.erik@stripes.com Twitter:@eslavin_stripes
---
---
---