PACOM commander Harris starting 6-day trip to Korea, China
---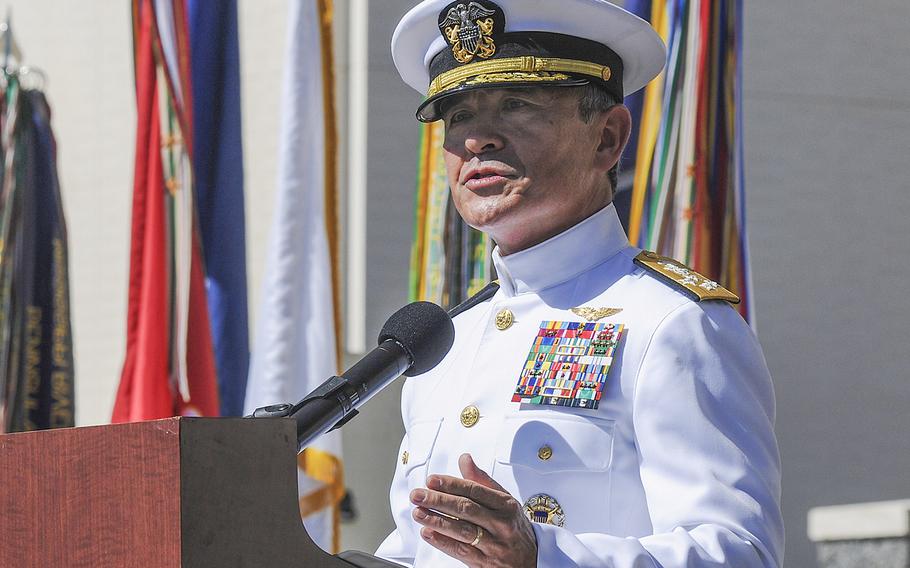 FORT SHAFTER, Hawaii — Just as Beijing is fuming over U.S. naval patrols in the South China Sea, the head of U.S. Pacific Command is heading to China for a series of pre-scheduled meetings with military leaders.
Adm. Harry Harris leaves Hawaii on Friday morning for a six-day trip that starts in South Korea for a meeting of top U.S. and South Korean defense officials at the 2015 Military Committee Meeting and Security Consultative Meeting, according to PACOM.
He will be joined in Seoul by Defense Secretary Ash Carter, Chairman of the Joint Chiefs of Staff Gen. Joseph F. Dunford Jr. and U.S. Forces Korea commander Gen. Curtis M. Scaparrotti for the bilateral gathering focused on enhancing readiness.
Harris is also expected to meet with American troops stationed in South Korea, then heads to China, where he is expected to meet with U.S. Ambassador Max Baucus, said Maj. Dave Eastburn, a PACOM spokesman.
Chinese Vice Foreign Minister Zhang Yesui summoned Baucus on Tuesday to protest the USS Lassen passing close to one of China's man-made islands in the South China Sea in a "freedom of navigation" mission. China and several Southeast Asia nations have overlapping claims of sovereignty over some atolls in the sea, a few of which are little more than the tops of reefs during low tide.
The U.S. has objected to China dredging sand to expand the size of some of these features, where it has built runways and other structures in what American officials have characterized as "militarization."
This is the first official visit to China for Harris since he became PACOM commander in May. He was there as commander of U.S. Pacific Fleet in April 2014 for the Western Pacific Naval Symposium, where he helped lead the Navy delegation that approved the code for unplanned encounters at sea, Eastburn said.
"We regularly conduct exercises and exchanges of forces to build trust, enhance transparency and improve interoperability to mitigate risk," Eastburn said. "That's why these talks have been scheduled for so long."
Asked whether Harris was expected to talk with Chinese military leaders about U.S. patrols through disputed parts of the South China Sea, Eastburn said, "It's not on the agenda."
"He'll probably spend three days doing engagements with senior military leaders — his counterpart and other senior leaders of the [People's Liberation Army] — and he's also going to visit some Chinese military installations," Eastburn said. "He's going to discuss future mil-to-mil engagements, ways to further our military relationship, an example of which would be RIMPAC."
China sent to ships to the RIMPAC, or Rim of the Pacific, exercise last year for the first time.
Harris will be accompanied by his wife, who studied in Shanghai as a Cox Scholar in the 1980s, according to PACOM statement.
olson.wyatt@stripes.com Twitter: @WyattWOlson
---
---
---
---