Pacific Fleet orders 14-day gap between port visits for 7th Fleet ships during coronavirus outbreak
by
Caitlin Doornbos
February 28, 2020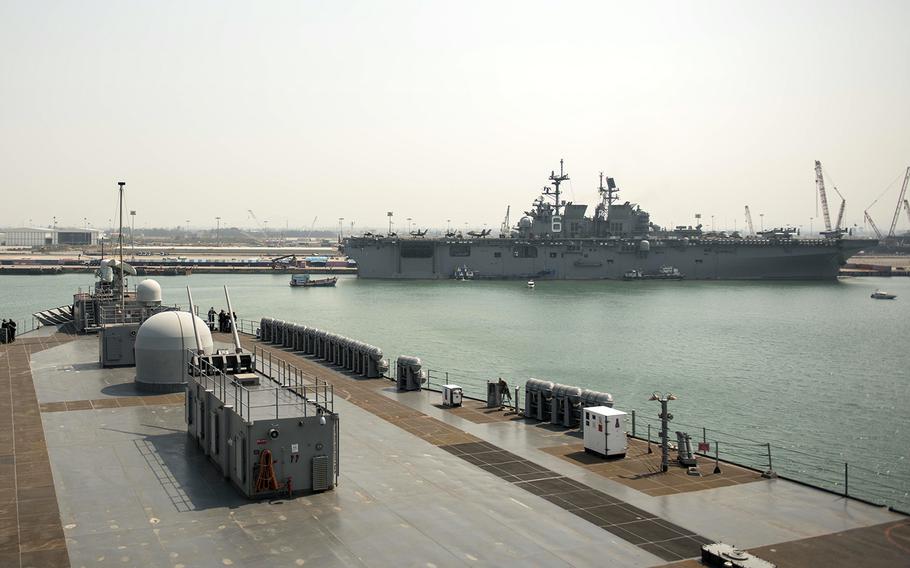 YOKOSUKA NAVAL BASE, Japan — Ships in the 7th Fleet must spend at least 14 days at sea between port visits as nations in the region battle outbreaks of the new coronavirus, a Navy official told Stars and Stripes on Friday.
The directive was issued to the vessels Wednesday "out of an abundance of caution" to monitor crews and prevent the spread of COVID-19, said the official, who declined to comment on the record.
No 7th Fleet sailors have tested positive for coronavirus, according to the official.
"This is about protecting the force and preventing spread to our allies and partners," the official said.
The move allows time to monitor crews for symptoms as they leave one port for the next.
The 7th Fleet last week began having its ships plan for nine days between each port visit "to allow symptoms of COVID-19 to present prior to arrival to a new post," according to a Feb. 20 unclassified 7th Fleet document obtained Friday by Stars and Stripes.
Pacific Fleet's extended quarantine is better aligned with the time it typically takes for coronavirus symptoms to appear — between two to 14 days after exposure, according to the Centers for Disease Control and Protection.
"Close working and living quarters in military and shipboard operations demand vigilant public health measures to prevent to acquisition, activations and spread of COVID-19," 7th Fleet said Feb. 15 in an unclassified email to its forces that Stars and Stripes obtained Friday.
The Yokosuka-based 7th Fleet's area of responsibility spans 124 million square miles from the International Date Line to the India-Pakistan border and from the Kuril Islands to the Antarctic. Most COVID-19 cases have been reported in countries within this region.
In China, where the outbreak originated, 78,630 people had tested positive for the coronavirus as of Thursday, according to the World Health Organization. Another 2,133 cases had been confirmed in 12 countries in the 7th Fleet's area of responsibility: 1,766 in South Korea; 186 in Japan; 93 in Singapore; and 23 in Australia.
Forty cases had been reported in Thailand, where the 7th Fleet flagship USS Blue Ridge made a port visit Monday, according to WHO.
Should a sailor at sea show symptoms of COVID-19 symptoms — sneezing, coughing and shortness of breath — the Navy will isolate the crew member and test them for the virus. The test will then be sent to a lab for review in accordance with CDC guidelines, the Pacific Fleet official said.
The 7th Fleet is also screening all personnel accessing its warships and aircraft for coronavirus exposure and symptoms, spokesman Lt. Joe Keiley said Monday. The checks include questionnaires, self-reporting opportunities and other medical screening.
doornbos.caitlin@stripes.com Twitter: @CaitlinDoornbos