Pacific allies set their sights on drone development
by
Hana Kusumoto Matthew M. Burke
November 22, 2012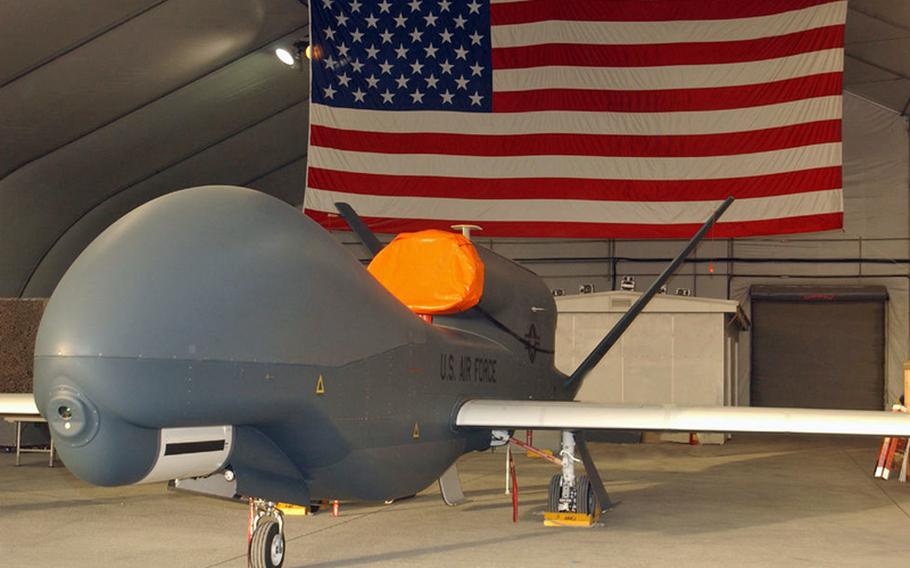 SASEBO NAVAL BASE, Japan — With the U.S. military's increased reliance on unmanned aircraft, it was just a matter of time before allies South Korea and Japan saw the potential benefits, too.
In South Korea, drones are already monitoring borders and surrounding seas, according to a Ministry of National Defense spokesman, who requested anonymity. The country also is working to get offensive drones in preparation for a possible North Korean provocation.
Procuring such drones is still a few years away, the spokesman said. The ministry recently started making plans to obtain them, but nothing has been decided.
"We can't get them in the very near future because drones are usually very expensive," the spokesman said. "Possessing them will add to our military strength."
Following a review of North Korea's ballistic missile launch in April, Japan's Ministry of Defense requested 3 billion yen — about $38 million — over the next four years for research to develop homemade drones with sensitive infrared sensors, according to a ministry spokesman, speaking on the customary condition of anonymity.
They would be able to detect launches and pick up missiles at higher altitudes — and therefore earlier — than the current system, which includes land-based tracking facilities, Patriot missile batteries and Aegis destroyers, the spokesman said. It is the first time the ministry has sought research funds for an unmanned, high-altitude, long-endurance aircraft.
"The ministry concluded that it is necessary to positively consider the unmanned drones after the recent missile launch by North Korea," the spokesman said.
The request was made in September as part of the ministry's budget for next year, but drone research was first approved in December 2010, according to Japanese defense and budget documents. Officials hope to conduct test flights by fiscal 2017 and go operational after fiscal 2019.
"I think it's just a logical interest in new technologies," Robert Dujarric, director of Temple University's Institute of Contemporary Asian Studies in Japan, told Stars and Stripes by email. "How much money they're willing to put in it is the key question."
In addition to picking up incoming missiles, defensive drones can monitor forces or positions undetected for extended periods. Japan hopes to develop ones that can fly for 22 hours at 4,500 feet.
Japanese officials said they will be homemade, but experts believe the technology will ultimately come from the United States.
"The United States has spent a long time developing [these aircrafts] and has the technology and knowledge," said Toshiyuki Shikata, a retired Japan Ground Self-Defense Force lieutenant general and professor at Teikyo University in Tokyo.
Shikata predicts Japan will end up buying something like Northrop Grumman's Global Hawk from the U.S. government.
The U.S. military used a Global Hawk drone from Guam to monitor the Fukushima Dai-ichi nuclear power plant following the earthquake and tsunami in March 2011, Shikata said.
"Japan will work in developing domestic-made [drones], but at the end, the U.S. will say that they will sell theirs to Japan, like in the case with the fighters," he said.
American officials acknowledged the two allies are having early-stage talks about drones.
"The U.S. government is discussing the use of remotely piloted aircraft in general with Japan, but no formal decisions have been reached by either party," Defense Department spokesman Marine Capt. Bradlee Avots wrote in an email to Stars and Stripes.
"We continue to work with Japan to upgrade alliance intelligence, surveillance and reconnaissance capabilities."
The drones the Japanese are seeking are different from the offensive ones that carry out devastating U.S. airstrikes against terror targets in the Middle East, Avots said. However, Shikata could see drone use expanding to include assessing disaster damage and monitoring Japanese territories and waters for infiltrators.
"It will make Japan more strategic," Shikata said. "[Occupiers] can hide if they see and hear aircrafts flying over them. But with these, they can't tell that they are being watched since it monitors from high altitude."
The move is sure to generate controversy. Japan is involved in contentious island disputes with China and South Korea. But many in Japan are unapologetic about the improved military capabilities that Shikata called "necessary for Japan."
"No matter what surrounding countries might say, we need to defend our country," said Yamato Inoue, chairman of the territorial issues awareness commission at Junior Chamber International Japan, a group for young professionals dedicated to addressing social challenges. "It's necessary from the standpoint of protecting the people."
Inoue said maritime security is a pressing issue for Japan, and not just because of the island disputes. He said most of Japan's electricity is coming from fossil fuels shipped in after nuclear plants were shut down after the 2011 earthquake.Stars and Stripes reporters Yoo Kyong Chang and Ashley Rowland contributed to this report.burkem@pstripes.osd.milkusumotoh@pstripes.osd.mil