Owner of burned South Korean brothel doesn't want soldier punished
by
rowlanda@pstripes.osd.mil Ashley Rowland
April 24, 2012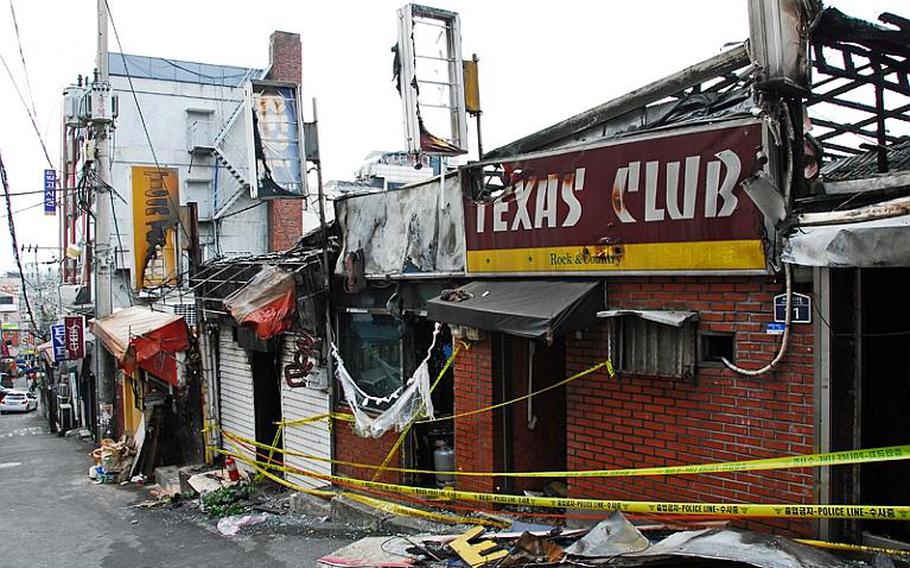 SEOUL - The owner of a Hooker Hill brothel testified Tuesday that she believes the U.S. soldier charged with burning down her business in November did so unintentionally and does not want him to be punished.
Lee Seo-yoon told the Seoul Central District Court that she feels sorry for the soldier, Pfc. Marcos Pedraza-Pascual, because he is young and doesn't have the money to pay for the damages to Tiger Tavern. The Itaewon-area establishment has been off-limits to U.S. troops since 2003 because of its suspected involvement in prostitution and human trafficking.
Lee also said that the 21-year-old Pedraza-Pascual has apologized for the fire, which began late on the night of Nov. 14 or early the next morning.
Pedraza-Pascual, who is stationed at K-16 Air Base, testified last month that he drank 10 beers before accidentally knocking over a lit candle that was sitting on a bed. After realizing he had started the fire, the soldier said, he ran out of the building to look for a fire extinguisher, and didn't return.
Appearing in court in a sweatshirt, jeans and sneakers, Lee described the atmosphere at the tavern's bar that night as "peaceful" and "friendly," and told the court Pedraza-Pascual was singing, dancing and joking. She let the 8th Army soldier stay past closing time because he was drunk, but eventually joked that she would call the military police if he didn't leave - a mock threat she said she uses often with lingering U.S. troops, who know they could face punishment not only for visiting the tavern but for violating an off-post curfew, she testified.
Pedraza-Pascual laughed and asked her not to call the police, but wasn't angry and appeared to understand that she was teasing him, Lee said through a translator.
He then went into a bathroom, and after he came out, she smelled smoke and realized the building was on fire. The soldier then ran out of the building, Lee testified.
The fire came about a month after U.S. Forces Korea commander Gen. James Thurman placed the military under a curfew following several highly publicized crimes involving servicemembers.
No one in the courtroom Tuesday referred to the Tiger Tavern as a brothel, an omission that is not unusual in a country where sex for hire is easily available but not openly discussed. The judges and Pedraza-Pascual's attorney referred to the business, which Lee said opens at 6 p.m. and closes between 2 a.m. and 3 a.m., as a "store" or "shop."
Judges said Tuesday that if Pedraza-Pascual, who is assigned to the Headquarters and Headquarters Battalion, is not convicted of arson, he could be convicted on a lesser charge of negligence.
A police officer, along with a second woman who was in the Tiger Tavern when the fire began, are scheduled to testify at the next hearing on May 22. Video footage showing Pedraza-Pascual will also be shown.
Stars and Stripes translator Yoo Kyong Chang contributed to this report.
---
---
---
---