Outgoing Pacific Air Forces chief has seen major changes in how China uses airpower
by
Wyatt Olson
June 24, 2020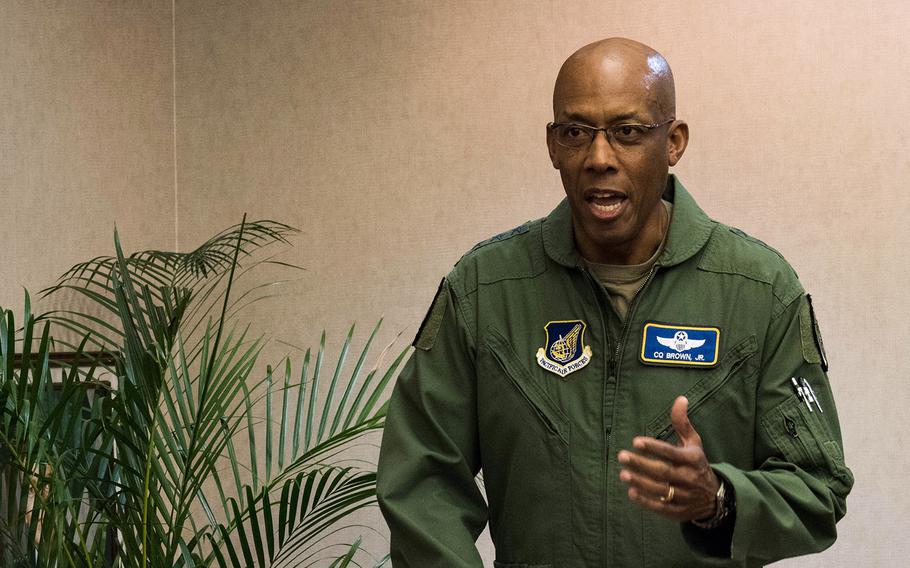 As Gen. Charles Brown, commander of Pacific Air Forces, prepares to leave the Pacific theater for the service's top job next month, he takes with him a firsthand sense of China's military ambitions in the region.
"I'm concerned by increasingly opportunistic activity by [China] to coerce its neighbors and press its unlawful maritime claims while the region and the world is focused on addressing the pandemic," Brown told reporters during a conference call Wednesday. COVID-19 is the respiratory disease caused by the coronavirus.
"We are committed to upholding the rules-based international order to maintain a free and open Indo-Pacific that protects the sovereignty of every nation, ensures the peaceful resolution of disputes without coercion and promotes free and reciprocal trade."
Earlier this month, the Senate confirmed Brown's nomination to become the 22nd Air Force chief of staff, making him the first African American to serve as top officer of a military service. He will replace Gen. David Goldfein, who is expected to retire in the coming weeks.
Brown is slated to turn over the Pacific command to Gen. Kenneth Wilsbach on July 8.
Brown told reporters the changes he has seen in China's air force go beyond technological advances. Just as significant, he said, are the number and types of activities China's aircraft now conduct in the region.
"It's not only the capability, but it's the intent and how they use it," he said.
Brown said China rarely made overwater flights with its H-6 bombers when he assumed command in July 2018.
"Now it's an everyday occurrence," he said.
In April, the U.S. Air Force stopped deploying B-52 bombers to Guam, ending the series of six-month rotations after 15 years in favor of less predictable missions from varying locations around the globe.
"Our tempo for number and quantity and locations from where we're flying bombers is pretty much the same as when we had the B-52s in Guam all the time," Brown said. "It's pretty transparent to our partners. But I will tell you, we have a lot more flexibility in the approach we're taking."
He cited the recent return of B-1 bomber sorties to the Pacific region after a two-year hiatus. The B-1s have launched from both Guam and the continental United States for missions in recent weeks, he said.
Last week, three B-52s that had only recently deployed to Alaska, trained over the Sea of Japan — known as the East Sea in Korea — with Japan Air Self-Defense Force fighter jets.
olson.wyatt@stripes.com Twitter: @WyattWOlson