Operation Backpacks delivers supplies, toys to kids in disaster zone
by
Charlie Reed
April 8, 2011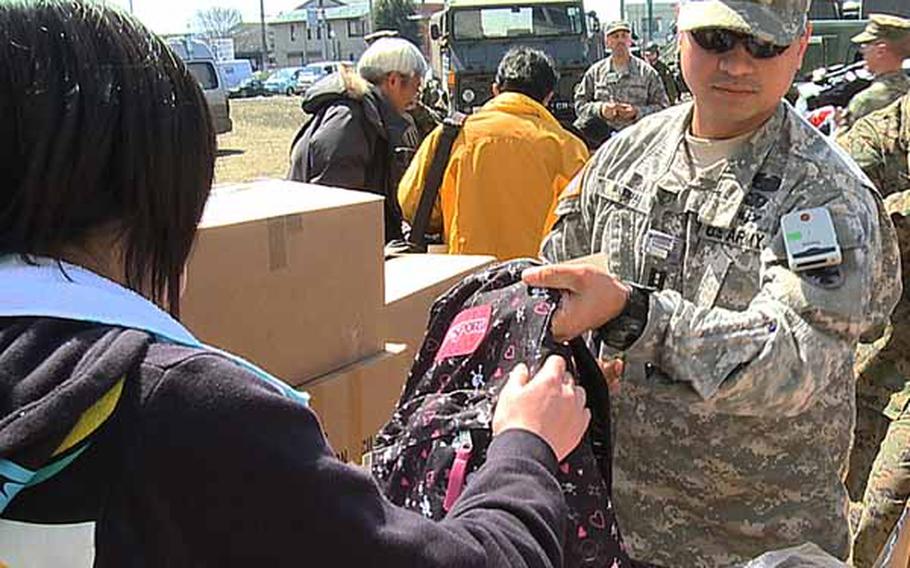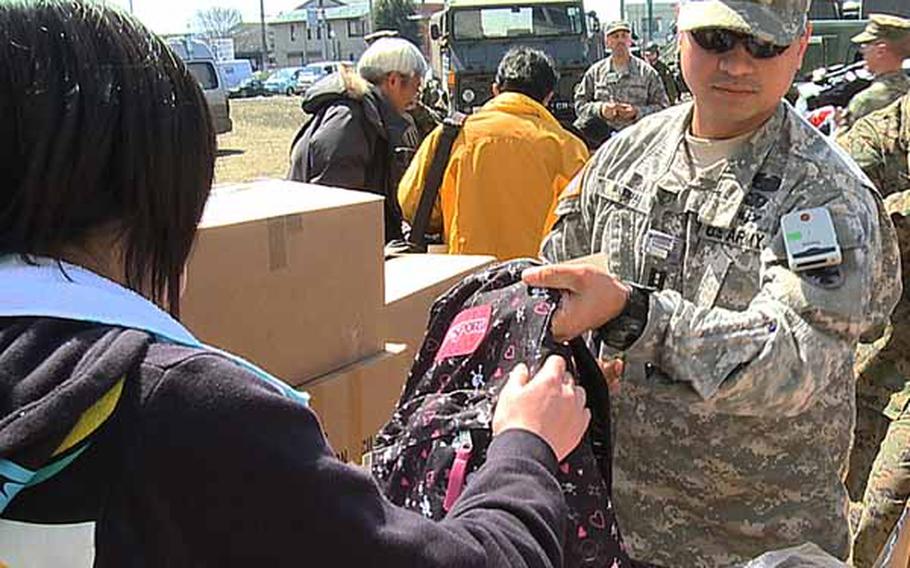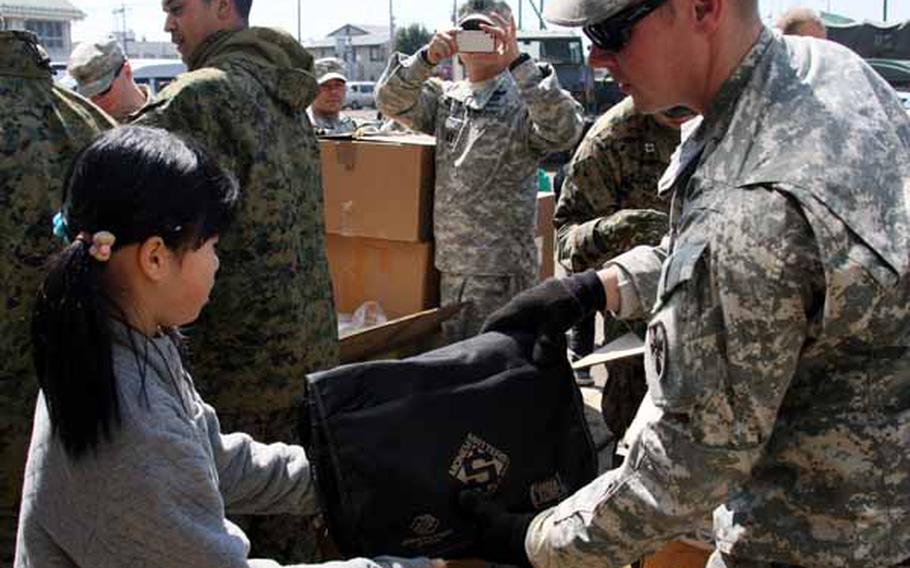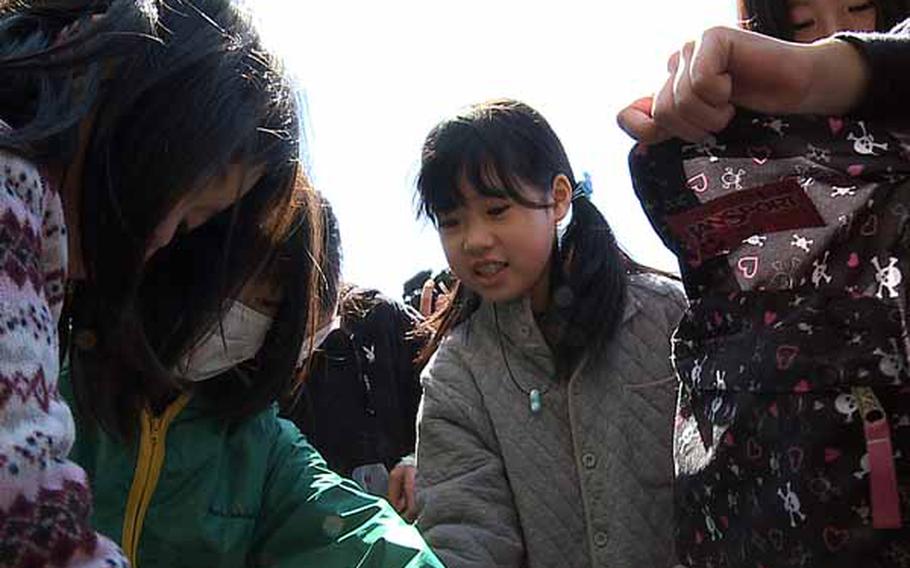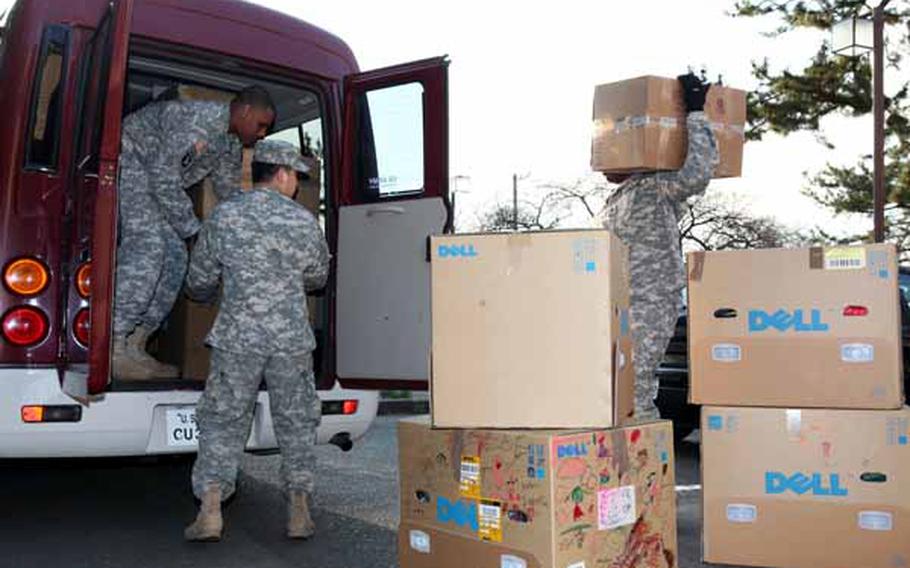 YOKOTA AIR BASE, Japan – Chock-full of schools supplies, personal hygiene kits, snacks and toys, nearly 900 backpacks from Camp Zama have made it into the hands of homeless children along the tsunami-ravaged coastline by Friday.Operation Backpacks got off the ground just days after the March 11 earthquake and tsunami struck Japan. A collective effort by the Girl Scouts, Boy Scouts, Cub Scouts and Venture Crew at Zama, the program has since picked up momentum with scouts from around the world chipping in to help Japan.Within a week, the kids, their scout leaders and Japanese and American volunteers from around Camp Zama and the local community outside the gates have collected enough supplies to fill 300 backpacks, said April Snyder, the overseas committee chairwoman for the bases scouting program.The first batch reached schools along the devastated northeastern coast last week, and the packs continue to be delivered on a space-available basis through supply convoys heading north from Camp Zama, home to U.S. Army Japan and I Corps Forward.The backpacks are only a small fraction of the massive aid packages pouring into Japan but symbolize the genuine concern Americans kids have for the tens of thousands of tsunami survivors struggling in the north, Snyder said."It's a message of love and comfort and friendship," said Snyder, the mother of five, all in scouting, and the wife of a lieutenant colonel deployed in Sendai as part of Operation Tomodachi.Scouts from Misawa Air Base have also adopted the program on their end, which Snyder said sprung from a similar backpack project the scouts have done for wounded U.S. servicemembers.While helping Japanese children in need, the project is also cathartic for the Americans, a group of kids which has grown to include the siblings, schoolmates and friends of scouts who want to help, Snyder said. In all, about 100 kids have participated in Operation Backpacks.Helping others is "an opportunity for the kids to heal and have an active role in what's happening in their environment," Snyder said. "Instead of something bad happening to them, they're causing something good to happen."
Despite the hard work, the kids seem to be enjoying themselves.
"My favorite part is choosing what age group (to assemble backpacks for) and picking out stuff that they would actually use," said 8-year-old Maya Carter, a girl scout whose 12-year-old brother is also helping with the effort.
Their active-duty father is one of the roughly 300 U.S. troops on the ground in hard-hit Miyagi Prefecture helping with aid and relief operations, including delivery of the Zama backpacks.
"It's cool because we're here and (my dad is) giving the stuff we that we made to (the tsunami victims)," Maya said. "If I was there in Sendai, I would be happy if people got me stuff, (so) we're doing the same thing." "Helping gives (children) a sense of empowerment," said Barbara Hill, CEO for the western Pacific division of Girl Scouts USA Overseas based at Zama. The region includes roughly 1,600 Girls Scouts from 15 military installations throughout Japan and South Korea."Even young children want to know that they can do," Hill said. And efforts like Operation Backpacks "is something tangible, something that makes a difference."For more information on Operation Backpacks including how to donate, log onto www.zamagirlscouts.org or www.misawagirlscouts.org.reedc@pstripes.osd.mil