One person in custody after bomb threat causes evacuations, rush-hour road closures at Yokosuka Naval Base
by
Caitlin Doornbos
November 6, 2019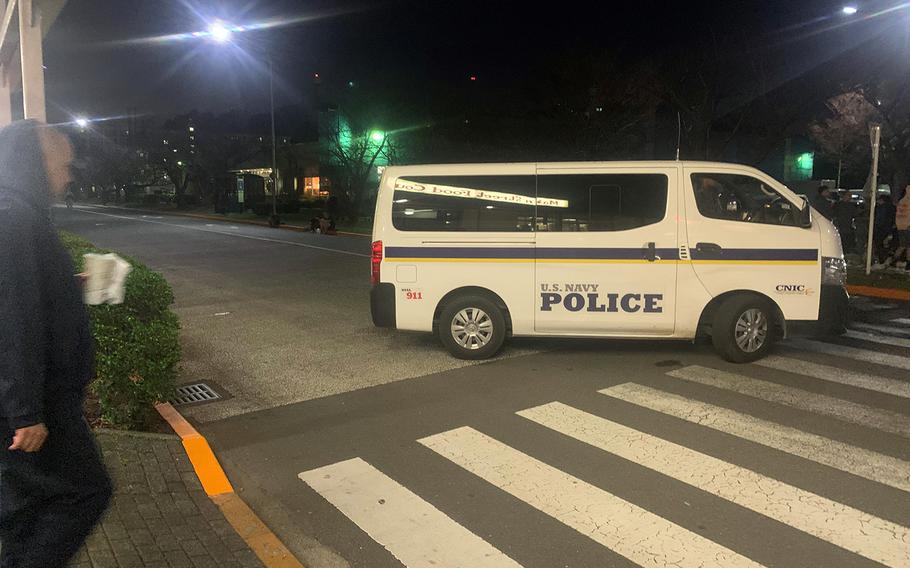 YOKOSUKA NAVAL BASE, Japan — One person was in custody Wednesday following a bomb threat that spurred evacuations and closed off some areas for several hours at the home of the Navy's 7th Fleet south of Tokyo, officials said.
The threat came in at 3:58 p.m. targeting a barracks for single sailors near the Personnel Support Detachment building, according to Yokosuka spokesman Randall Baucom. Officials evacuated the area and closed nearby roads for about five hours "out of an abundance of caution," he said.
No explosives were found in the barracks or surrounding area, Baucom said.
The all-clear was issued at about 8 p.m.
As military working dogs swept the barracks at about 6 p.m., sailors and family members waited just outside the closed-off area, which included Clement Boulevard from Nimitz Boulevard to the base bowling alley about two blocks away.
Seaman Cameron Hardrick, a 21-year-old culinary specialist assigned to the USS Blue Ridge, said he had just started doing laundry at a nearby barracks when his roommate told him about the evacuation order.
"Yeah, I'm going to have some wet clothes [when I return home]," he said. "I'll probably be up all night."
Standing in a group of sailors near the closed road, Hardrick said the incident would make for a difficult morning.
"I work at [4 a.m.]," he said. "I need at least 7 to 8 hours of sleep to be effective."
Baucom would not say how the bomb threat was received, citing an active Naval Criminal Investigative Services investigation into the incident.
"Fleet Activities Yokosuka takes all threats of this nature very seriously and will take all precautions to protect the community," he said.
doornbos.caitlin@stripes.comTwitter: @CaitlinDoornbos