Okinawans sue Japan government over U.S. aircraft noise
by
Chiyomi Sumida
April 28, 2011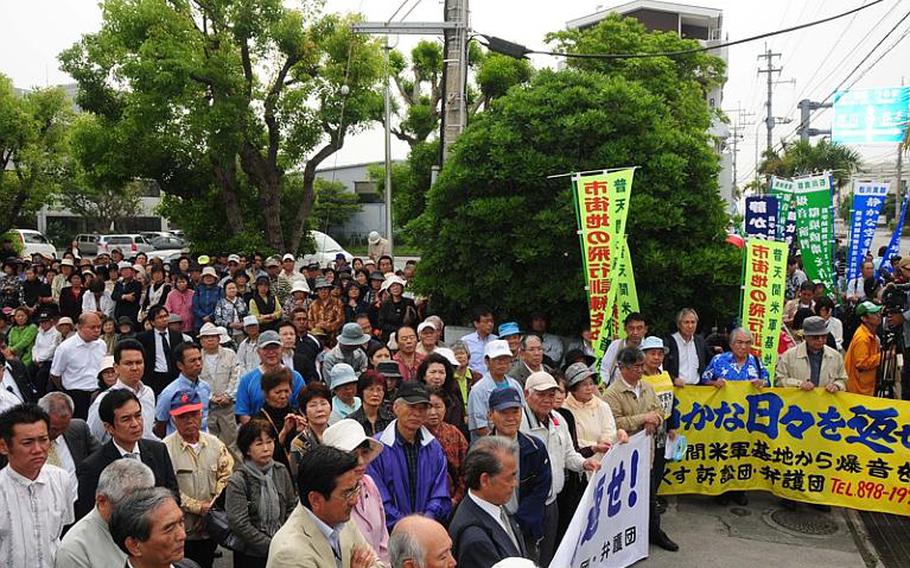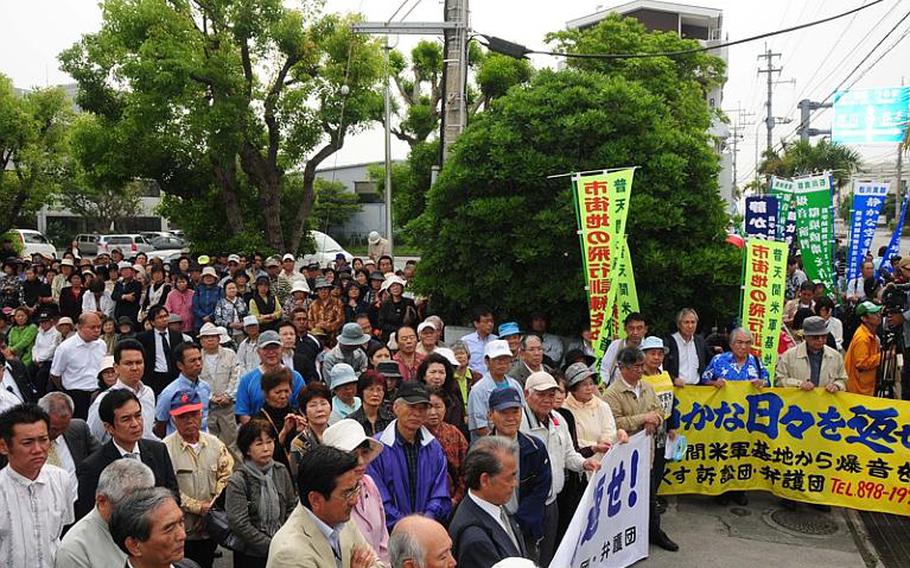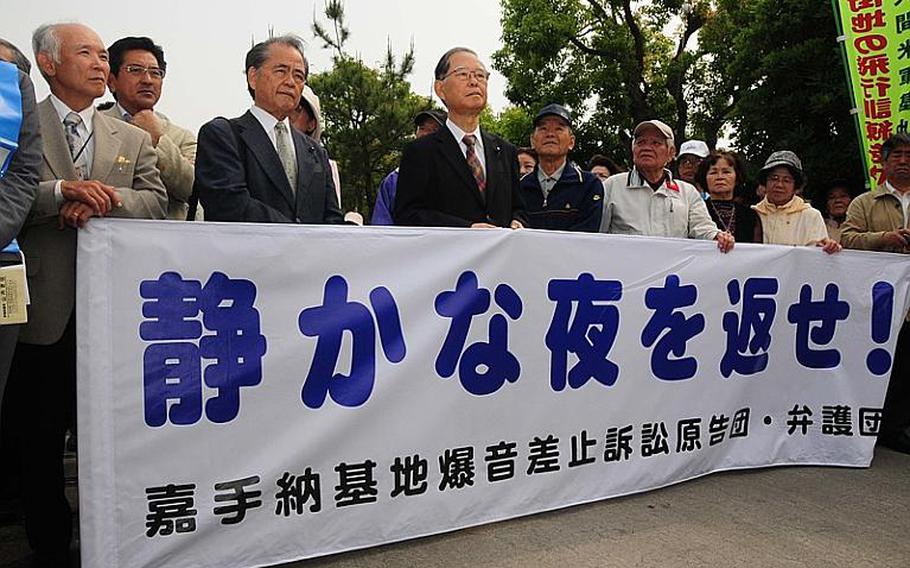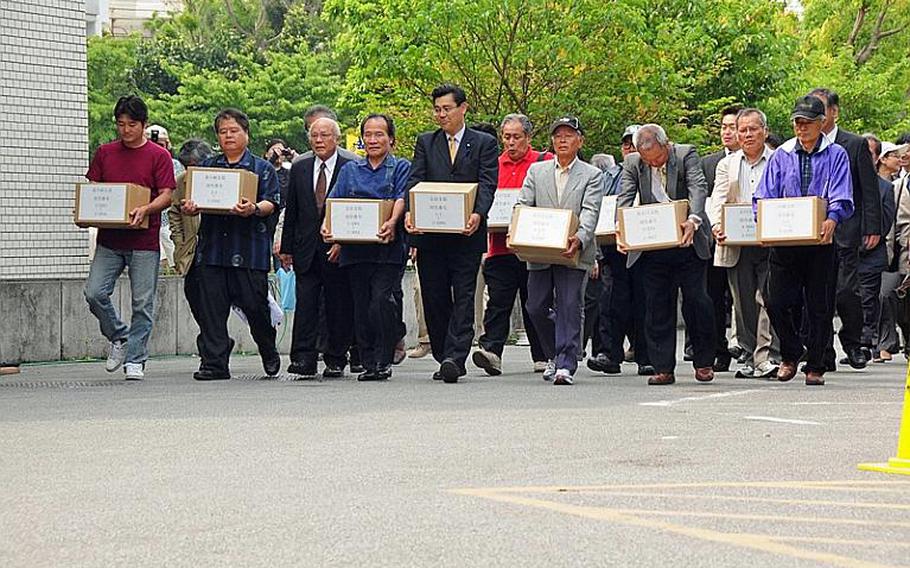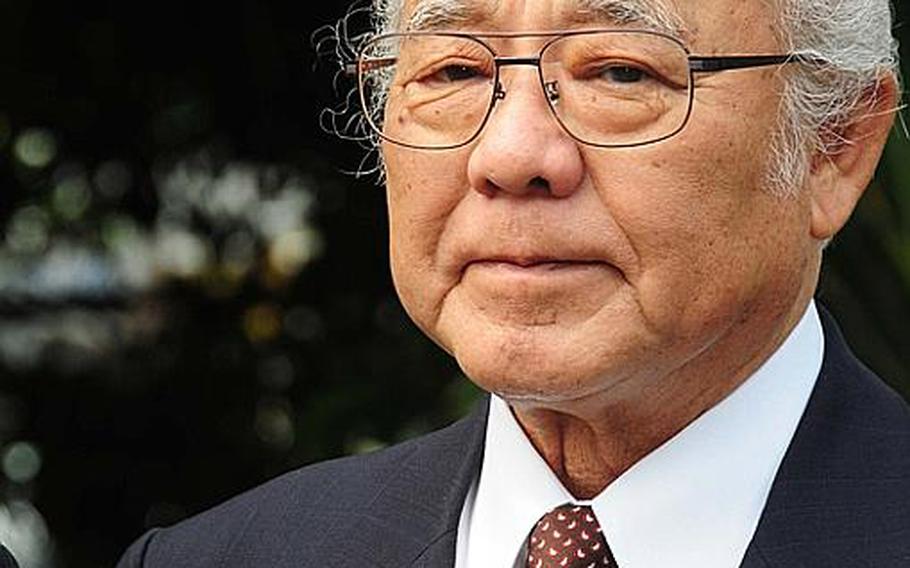 OKINAWA CITY, Okinawa — More than 22,000 residents filed a class-action lawsuit against the government of Japan on Thursday over noise from U.S. aircraft here.
The lawsuit against the Japanese Ministry of Defense is the third attempt by Okinawans to use the court system to stop the nighttime U.S. flight operations at the sprawling Kadena Air Base.
Residents from communities nearby the air base including about 5,000 from Kadena Town – about one-third of the town's population – are demanding $544 million in compensation from the Japan government and suspension of aircraft operations between 7 p.m. and 7 a.m.
"Since the end of World War II, we the people of Okinawa have been forced to live with the [aircraft] noise," said Shusei Arakawa, who led more than 600 protesters in a rally in front of the Okinawa City branch of Naha District Court on Thursday. "From the cradle to the grave, we have been exposed to the noise. This is certainly not normal and absolutely unjust."
The 18th Wing at Kadena Air Base declined to comment on the noise lawsuit.
Fighter jets and their roaring engines are a regular occurrence in the skies over central Okinawa, though the U.S. agreed in 1996 to an abatement plan that aimed to limit nighttime operations and noise.
In 2009, a Japanese court ruled in favor of thousands of Okinawa residents who claimed their health had suffered due to jet and other aircraft noise and awarded the group more than $68 million in compensation. But the court dismissed the plaintiffs' demand that flight activities between 7 p.m. and 7 a.m. be suspended, saying the air traffic is part of a bilateral U.S.-Japan military agreement and is beyond the reach of the judiciary. That decision was upheld by Japan's highest court in January.
Mitsu Murayama, 70, of Uruma City, was among the protesters Thursday. After living in the area and dealing with the U.S. air traffic for almost 20 years, she said she decided to join the noise litigation for the first time because of her grandchildren.
"After my grandchildren were born, I began to wish for a more peaceful environment for the sake of their healthy upbringing," she said. "My 1-year-old grand-daughter cries when she wakes up by noise at 6 a.m. She would then be woken up again after 9:00 p.m. by jet noise."
The Japan Ministry of Defense's Okinawa defense bureau said it would not comment on the lawsuit Thursday because it had not yet received the legal complaint.
"When we receive the complaint, we will respond appropriately after reviewing it," Ro Manabe, director of the defense bureau, said during a news conference Thursday.
---
---
---