Okinawans protest slaying outside base gate
By
Chiyomi Sumida Matthew M. Burke
May 22, 2016
---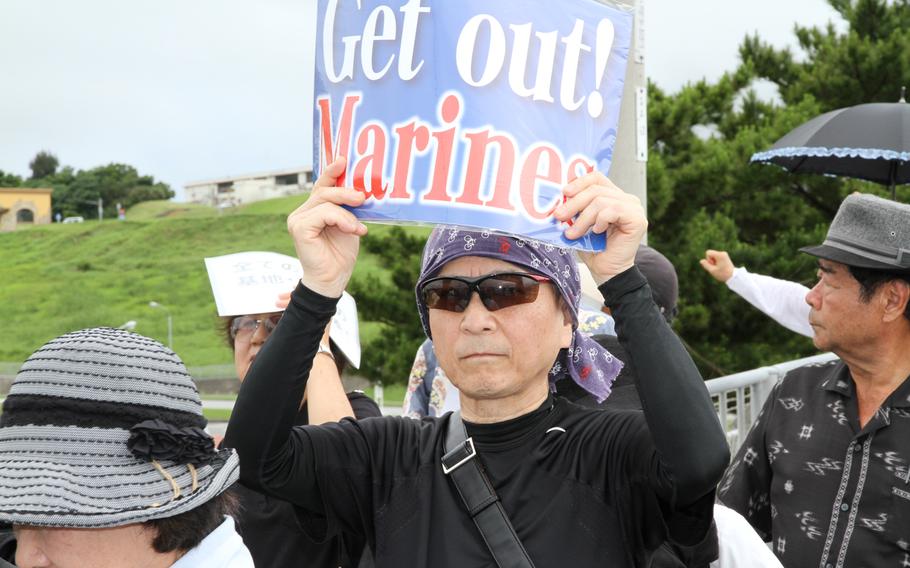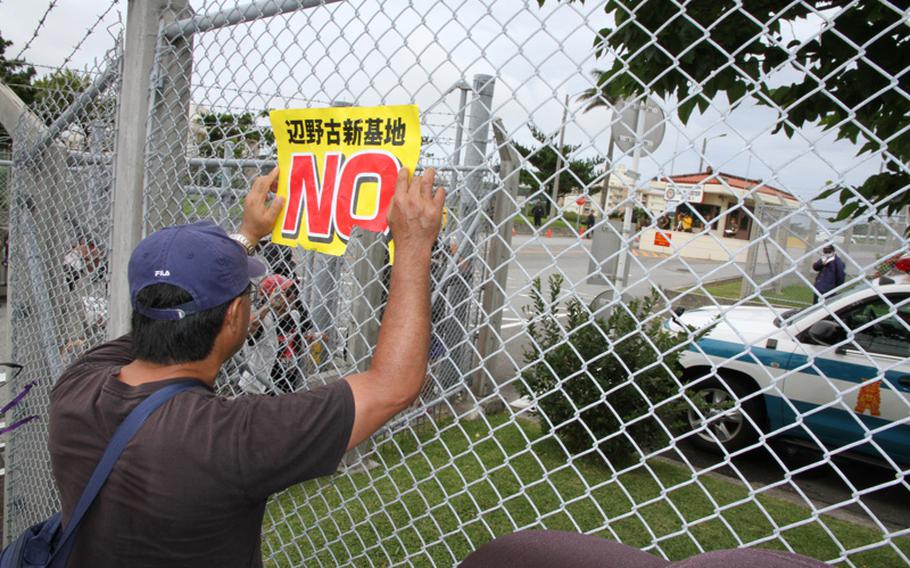 CAMP FOSTER, Okinawa — About 2,000 people attended a protest rally in front of the main gate of the Marine Corps headquarters on Camp Foster armed with signs that read "Never forgive Marine's rape," "You, Killer, Go Home" and "Withdraw all the U.S. forces from Okinawa."
The protesters – made up of 36 women's human rights advocacy groups from the island, including the Okinawa Woman Act Against Military Violence - chanted anti-American slogans and sang songs in response to the brutal slaying of 20-year-old Rina Shimabukuro. An American civilian working on the island, Kenneth Franklin Gadson — a former Marine who goes by his Japanese wife's name of Shinzato — has admitted to police to killing her and dumping her body.
Rallies such as the one Sunday are expected to intensify in the coming days while Japan awaits the visit this week by President Barack Obama for the G7 Summit. The murder of Shimabukuro threatens to strain relations between the two allies.
"I am so sad and just cannot take it anymore," said Yoko Zamami, 63 of Naha, her eyes blinking with emotion. "We, Okinawan people's human rights have been taken so lightly in the past and still today. How many times is enough to voice our protest? Wasn't it only March that the top leader of the military here offered an apology to our governor?"
Zamami was referring to an alleged rape that occurred in March in a Naha hotel. A U.S. sailor stands accused in the incident.
Izumi Fuchaku, 41, of Okinawa said she could not help but to join the rally.
"Media reports of the incident are very disturbing and upsetting," Fuchaku said as she wiped away tears. "I joined the rally because I really don't know who I should be mad at."
Suzuyo Takazato, a representative of Okinawa Women Act Against Military Violence, said the purpose of the rally was to mourn the death of Shimabukuro and to renew their fight to remove all the military bases from Okinawa. Protesters had pictures of butterflies on the backs of their signs. In Okinawa, it is believed that butterflies usher the dead to heaven.
"This incident is a prime example of the violent nature of the military," Takazato said. "The incident reminds us that it can happen to any women on Okinawa, us, our daughters or granddaughters. Reducing the presence of the military is not good enough. All the military bases must go."
Shigekichi Oshiro, 64 of Haebaru said that the ultimate solution is to get rid of all the military bases, not just U.S. but Japan's Self-Defense Forces' bases as well, from Okinawa.
"All the military bases must be closed, including Kadena Air Base and White Beach. Henoko is unthinkable," he said referring to a planned relocation of flight operations from Marine Corps Air Station Futenma north to Camp Schwab at Henoko. "Any apologies from military leaders sound empty because nothing has ever worked, and we, Okinawan people, all know it. Enough is enough. All the military bases must be closed."
Police and defense attorneys for Shinzato released no new details on Sunday.
---
---
---
---