Okinawa requests halt to additional Osprey deployment
by
Chiyomi Sumida Travis J. Tritten sumida.chiyomi@stripes.com tritten.travis@stripes.com
July 9, 2013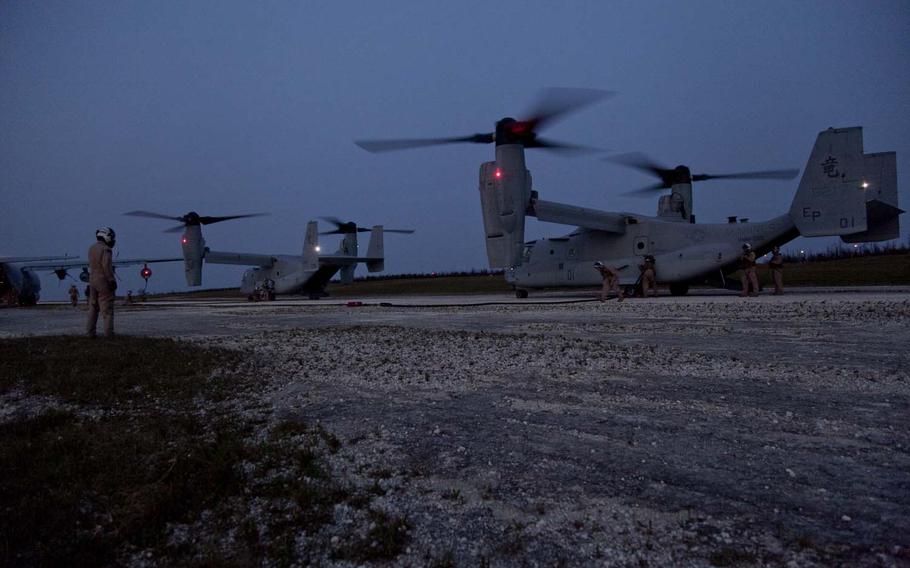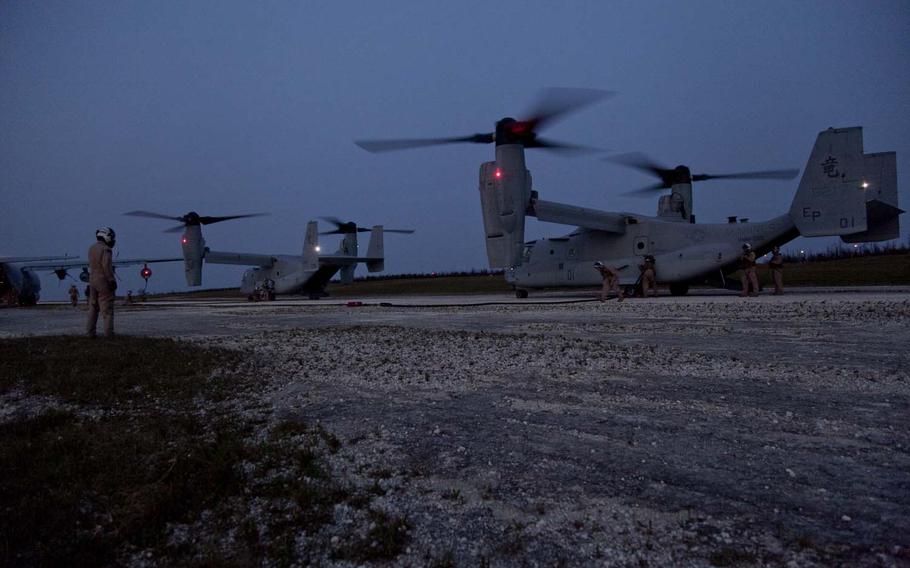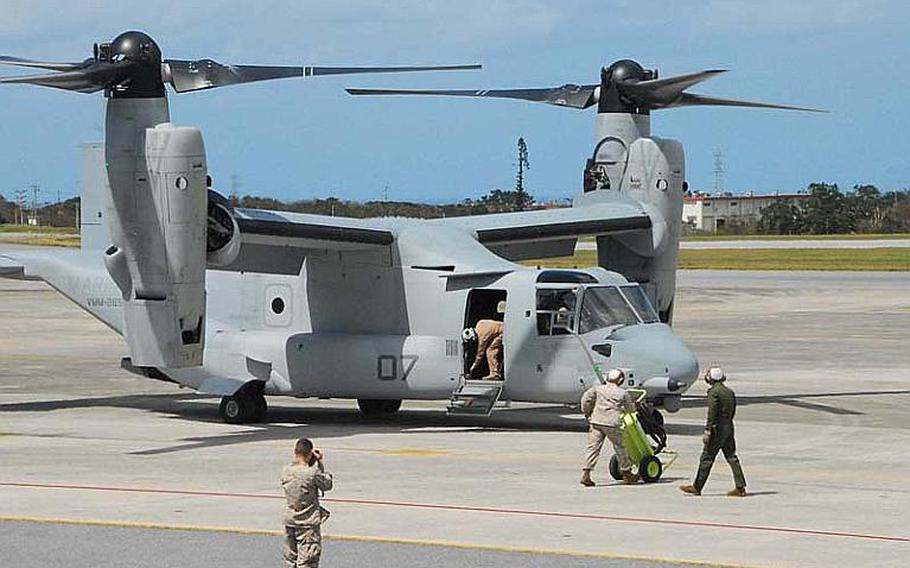 CAMP FOSTER, Okinawa — The Okinawa government has asked Tokyo to halt the planned deployment of a second squadron of U.S. Marine Corps Osprey aircraft to the island.
Okinawa Gov. Hirokazu Nakaima made the plea to Minister of Foreign Affairs Fumio Kishida on Monday and planned to meet with Japan's defense minister Tuesday during a visit to the capital.
The Marine Corps confirmed last month that another dozen MV-22 tilt-rotor aircraft will arrive for testing at Marine Corps Air Station Iwakuni near Hiroshima at the end of July. From there, the Ospreys will be permanently deployed to Okinawa, where the arrival of a squadron last fall sparked months of protests over safety concerns.
Nakaima told Kishida that the local concerns about the aircraft's safety have not yet been addressed, according to a spokesman for the prefectural government's military affairs office.
The Osprey deployment is part of a global upgrade of the Marine Corps fleet. The high-tech hybrid aircraft can fly farther and carry more cargo than the service's Vietnam-era dual rotor helicopters.
The Osprey's role in the Pacific was touted earlier this year by Defense Secretary Chuck Hagel. Japan's Ministry of Defense said this week the MV-22s on Okinawa have helped shore up security in the region.
"Its deployment to Okinawa will strengthen the deterrence of the U.S. Forces Japan as a whole and greatly contribute to the peace and stability of the region," according to the ministry's White Paper, an annual assessment of the nation's security published Tuesday.
But the Osprey's public reputation in Japan — especially on Okinawa — was sullied by deadly crashes during the aircraft's early development and recent global operations.
Early last year, two Marines were killed in an Osprey crash in Africa, and Air Force crew members were injured in a Florida crash.
Japan and the United States conducted independent safety investigations into the incidents. Both blamed crew errors, not faulty machinery. The Marine Corps has repeatedly said the Osprey is among its safest aircraft.
It is unclear if Okinawa's request to abandon the upcoming deployment will affect on the U.S.-Japan plans. After completing the safety studies, the two allies proceeded with the deployment last summer despite a similar request from the island, which hosts the majority of U.S. forces stationed in Japan.
The move triggered protests in October that threatened to close down the air station, along with months of vigils by opponents.
For now, the Marine Corps said it is uncertain when Marine Medium Helicopter Squadron 262, the Flying Tigers, may arrive on Okinawa. Last year, testing at the Iwakuni base took about two months.
tritten.travis@stripes.com sumida.chiyomi@stripes.com