Okinawa prosecutors decline to charge Marine pilot at fault in 2016 Osprey crash
by
Matthew M. Burke and Aya Ichihashi
December 13, 2019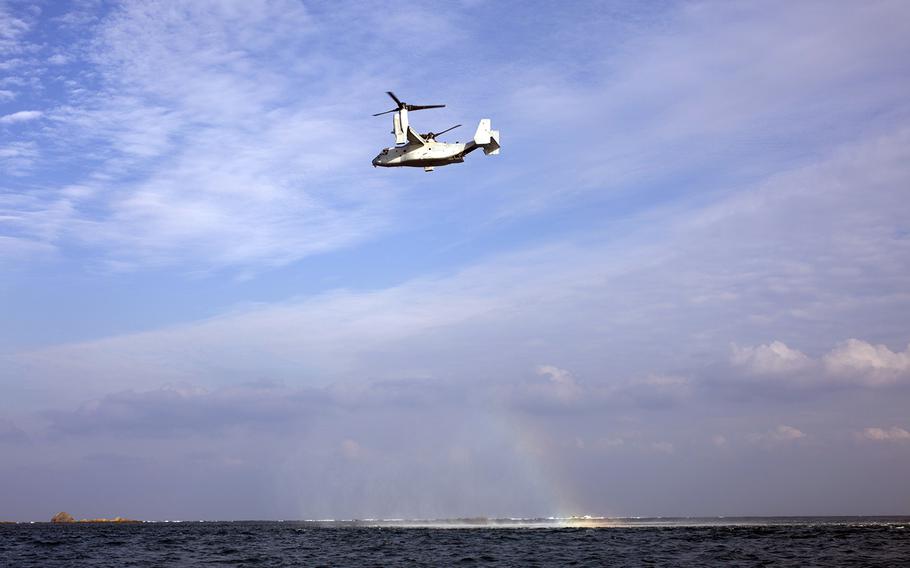 CAMP FOSTER, Okinawa — Prosecutors on Okinawa declined this week to charge a Marine helicopter pilot found to be at fault for an MV-22 Osprey crash off Okinawa in 2016.
The Naha District Public Prosecutors Office dismissed the case against the unnamed pilot Wednesday, a spokesman from the Nakagusuku Coast Guard Office told Stars and Stripes Thursday, without providing further details.
Some government officials in Japan customarily speak on condition of anonymity.
The crash occurred Dec. 13, 2016, during nighttime aerial refueling after one of the helicopter-airplane hybrid's propellers clipped a thick hose on an Air Force C-130 tanker, officials said at the time. The pilot was able to limp 18 miles back to Okinawa and put the tilt-rotor aircraft down into the sea rather than fly over a residential area to reach Marine Corps Air Station Futenma.
A charge of negligence resulting in an aircraft crash, under Japanese aviation law, was referred to prosecutors by the Nakagusuku Coast Guard Office on Sept. 24. The pilot faced three years in prison or up to $1,863 in fines.
The pilot was spared prosecution thanks to the status of forces agreement between the countries, which gave jurisdiction for punishment to the U.S. military because the pilot was on duty at the time of the crash, the Mainichi newspaper reported Wednesday. U.S. officials reportedly told the government of Japan in September that the pilot had been disciplined.
Officials from the prosecutor's office did not immediately respond to requests seeking comment Thursday.
Officials from the Okinawa Defense Bureau, which represents Japan's defense ministry on the island, declined to comment.
burke.matt@stripes.com Twitter: @MatthewMBurke1
ichihashi.aya@stripes.com Twitter: @AyaIchihashi