Okinawa police: Sailor who stabbed woman in apparent slaying-suicide had a history of domestic violence
by
Aya Ichihashi Matthew M. Burke
April 15, 2019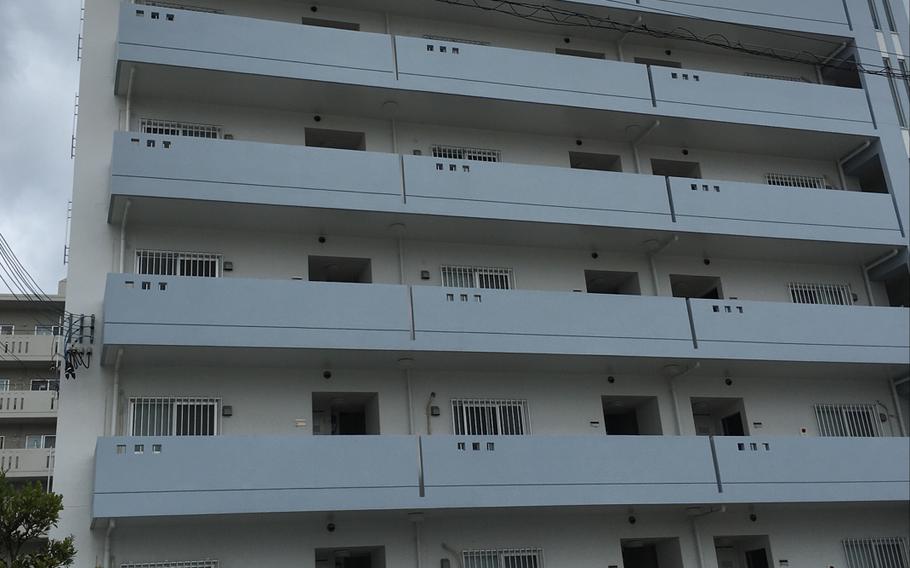 CAMP FOSTER, Okinawa — The 3rd Marine Division sailor apparently responsible for killing a woman and then himself on Okinawa over the weekend had a pattern of domestic violence known to local and military police.
Petty Officer 3rd Class Gabriel A. Olivero, a 32-year-old Navy corpsman from North Carolina, fatally stabbed a 44-year-old Japanese woman he was allegedly in a relationship with Saturday morning inside a six-story apartment building in the Kuwae district of Chatan, according to an Okinawa Prefectural Police spokesman. Olivero then apparently turned the knife on himself.
Olivero had a history of domestic violence allegations, and the woman he killed had reported him to U.S. military police in January for sexually assaulting her during a breakup, the spokesman said. The woman's name has not been released.
The woman told Okinawa police in February that she did not wish to press charges as the incident was being handled by base officials.
Lt. Gen. Eric Smith, commander of the III Marine Expeditionary Force, made an appeal to servicemembers on Okinawa to keep a low profile to show respect in a letter dated Sunday. Smith said in the letter, made available to The Associated Press on Monday by a U.S. military official, that what had happened will provoke "strong feelings," and asked all to show respect to a community in mourning.
The bloodied bodies of Olivero and the woman were found in bed, along with a knife, after police were called at 7:26 a.m. Saturday, the spokesman said. The woman's child was present when the incident occurred and called a relative, who then reported it to police.
The woman suffered multiple stab wounds to her neck and had defensive injuries on her hands, the police spokesman said.
Olivero's injuries are not known, but an autopsy was scheduled for Monday.
The Naval Criminal Investigative Service is supporting the Okinawa police investigation, said III Marine Expeditionary Force spokesman 1st Lt. David Mancilla.
Okinawa Police received a call from U.S. military police about a domestic dispute between Olivero and the woman back in January, the police spokesman said. The woman said Olivero sexually assaulted her during a breakup.
The woman came to the station in February and was told to press charges against Olivero, but she declined, saying the issue was being handled by base officials, the spokesman said. Police contacted her again in March to see how she was doing. She told the officer she was fine and there had been no trouble.
Olivero had been at the woman's house since Friday, the Okinawa Times newspaper reported.
The woman was described as "very sincere and charming" by her co-workers, the report said. She came to work on Friday morning as usual and told everyone "see you tomorrow" when she left the office.
Co-workers and neighbors were stunned.
"She was a hard-working single mother and I am very concerned for her child left behind," an unnamed neighbor told the newspaper.
The incident occurred almost three years to the day of the 2016 murder of Uruma office worker Rina Shimabukuro by Kadena Air Base worker and Marine veteran Kenneth Gadson.
Gadson — who used his wife's surname, Shinzato — was convicted and sentenced to life in prison with hard labor in December 2017.
That slaying rocked Japan and triggered massive anti-American protests. Okinawa is home to about half of the more than 50,000 U.S. troops based in Japan.
Following Saturday's deaths, Okinawa's anti-base Gov. Denny Tamaki received a phone call from Smith offering his condolences, a prefectural spokesman said Monday. While Tamaki appreciated the call, he expressed his "strong anger" for another local national being killed by a U.S. servicemember.
"I am furious and disappointed that another local was killed and we lost a precious life," Tamaki told Smith, according to Tamaki's office. "Okinawa has demanded that U.S forces on Okinawa regulate and teach servicemembers about ethics and morals every time a crime is perpetrated by them. The Uruma incident is still fresh in our memory and then this incident happens. I don't see any disciplinary systems working properly."
burke.matt@stripes.com; ichihashi.aya@stripes.com