Okinawa Marines say they've contained coronavirus' spread, announce 13 new cases
by
Hana Kusumoto Matthew M. Burke
July 23, 2020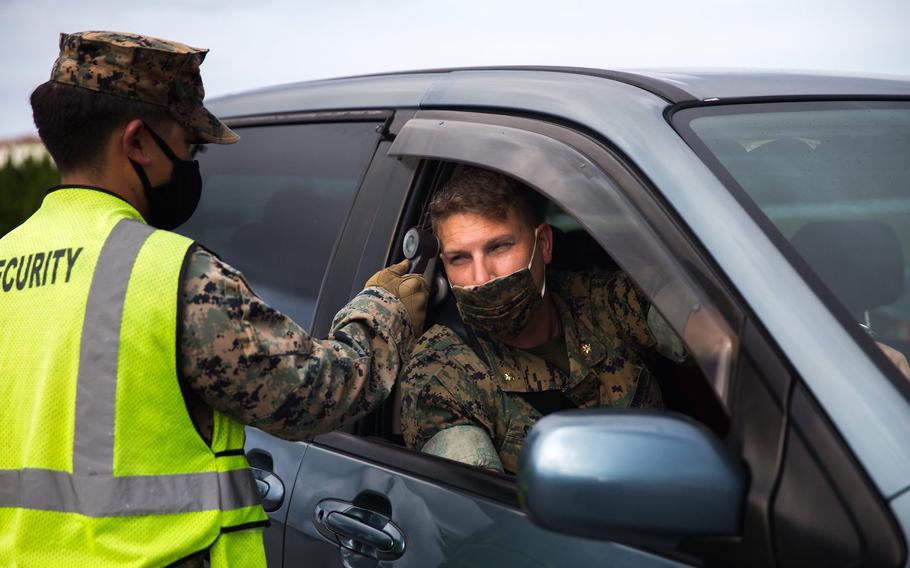 Stars and Stripes is making stories on the coronavirus pandemic available free of charge. See other free reports here. Sign up for our daily coronavirus newsletter here. Please support our journalism with a subscription.
CAMP FOSTER, Okinawa — The Marine Corps on Okinawa reported 13 new coronavirus cases Thursday, bringing the total from two clusters discovered after Fourth of July weekend to 155.
The latest infections were discovered "within the last 24 hours" at Camp Hansen through the Marine Corps' trace-and-test process, Marine Corps Installations Pacific wrote in a statement on its Facebook page Thursday afternoon. Those "members of the MCIPAC and III [Marine Expeditionary Force] family on Okinawa" have been in quarantine since July 15.
Meanwhile, the first Japanese base employee on the island has tested positive, the Okinawa Times newspaper reported Thursday. The individual works at Kadena Air Base, according to the report.
Despite the steady increase of positive results three weeks after the cluster outbreaks, a Marine spokesman said restrictions put in place have allowed the military to "identify and isolate" the virus' spread.
"These restrictions combined with restriction of movement requirements and a phased approach to [health protection condition] reductions will allow us to contain this virus quickly," Marine Corps Installations Pacific spokesman Maj. Ken Kunze wrote Thursday in an email to Stars and Stripes.
Kunze said more than 1,000 service members, Defense Department employees, civilian contractors and their families had been tested "over the past few days" and that less than 2% were positive.
"When we began testing the rate was 6%," he wrote. "This drop in positivity rate is a testament to how aggressively we have been testing large groups of individuals with and without symptoms."
The 13 individuals reported Thursday were tested July 15, Kunze wrote.
"A very large batch of tests were conducted late last week which delayed some of the results over the weekend," he said. "Our last large round of batch testing is due back in the next few days which will give us a better understanding of sustained future COVID testing."
COVID-19 is the respiratory disease caused by the coronavirus.
The service also reported Thursday that another six Marines infected during the outbreak have recovered and were released from isolation, according to an official Facebook post. Earlier in the week, 21 other Marines were released.
The week started with eight new cases at Camp Hansen and Marine Corps Air Station Futenma. The Marines have reported 73 coronavirus cases at Hansen and 82 at MCAS Futenma.
The Marines have released contact tracing information via the "COVID Trace Tracking map" on the Marine Corps Installations Pacific website. The map shows which buildings on Marine bases the infected individuals visited and when.
The Okinawa Times reported five new cases were identified in the off-base community Thursday. That brings the prefectural total for Okinawa, not counting the U.S. military, to 162 cases.
Prefectural officials were not available to comment Thursday due to a Japanese holiday.
burke.matt@stripes.com Twitter: @MatthewMBurke1
kusumoto.hana@stripes.com Twitter: @HanaKusumoto