Okinawa announces one-day high of 83 coronavirus cases; Marines report 12 new infections
by
Aya Ichihashi Matthew M. Burke
August 4, 2020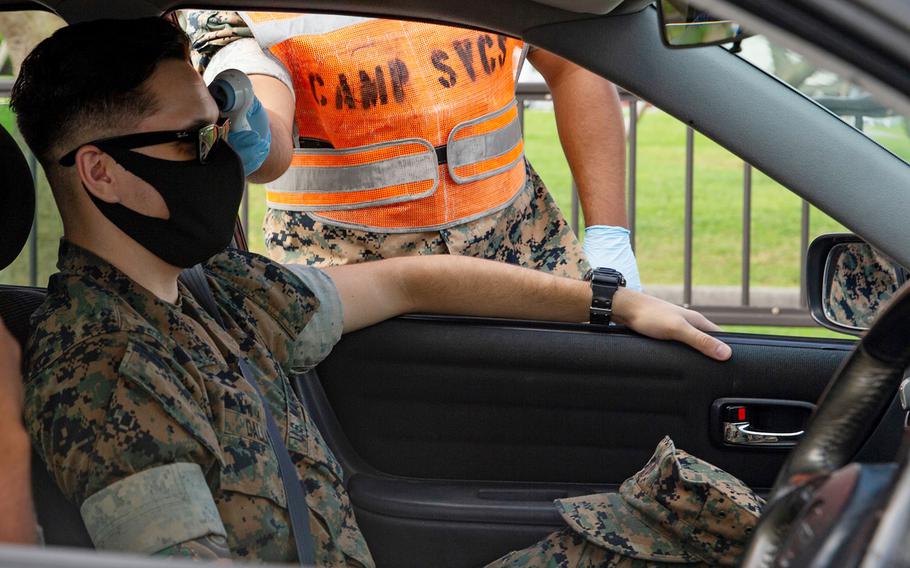 Stars and Stripes is making stories on the coronavirus pandemic available free of charge. See other free reports here. Sign up for our daily coronavirus newsletter here. Please support our journalism with a subscription.
CAMP FOSTER, Okinawa — A coronavirus surge on Okinawa continued Tuesday with 83 new cases among the local population and 12 among the Marine Corps, according to official statements.
The number of new local infections is the highest reported on one day since July 31, when the island prefecture counted 71 cases. Okinawa has reported 638 cases since the pandemic began.
The prefecture, which tries to isolate every infected individual, will allow some to stay home if they have mild or no symptoms, a prefectural health official told Stars and Stripes on Tuesday. Okinawa is struggling with more coronavirus cases than it has rooms or beds to accommodate.
The prefecture on Monday had 221 patients waiting on a place to isolate, according to its website. Another 122 people were hospitalized, with two in critical condition. Another 50 were in hotel rooms and five at home.
As of Monday, nearly half of Okinawa's local cases were in the prefectural capital, Naha City, the website said.
With 12 new coronavirus cases reported at Camp Hansen on Tuesday, the Marine Corps' total from two clusters discovered after Fourth of July weekend rose to 268.
The affected individuals tested positive for the virus as they neared the end of their quarantine period, according to a Facebook post Tuesday by Marine Corps Installations Pacific.
None showed symptoms prior to the tests, according to an email Tuesday from Maj. Ken Kunze, a spokesman for the command. The Marines did not specify whether the individuals are service members, Defense Department civilian employees, contractors or family members.
A total of 284 people affiliated with the U.S. military in Okinawa have tested positive for coronavirus since the pandemic began; 281 of those infections were announced after July 1.
Also, a Japanese barber on Camp Kinser tested positive for the coronavirus, according to a separate Facebook post by the installations command Tuesday. Anyone who received a haircut at the camp's main barbershop between July 27 and July 31 must self-quarantine and contact their command, according to the post.
So far, six Japanese employees of the U.S. military have tested positive for the coronavirus. Two are from Kadena Air Base, two are from Camp Foster and one is from Marine Corps Air Station Futenma.
Kunze wrote that Marines are monitoring the rising number of off-base cases, which could factor into a decision to impose greater restrictions on U.S. personnel.
However, the Marines believe they have the cluster outbreaks at Camp Hansen and MCAS Futenma under control, he added.
"We are cautiously optimistic that we have curbed the spread among the two clusters that we identified at the beginning of July at MCAS Futenma and Camp Hansen," he wrote. "Those clusters were largely contained in a few units that arrived from the US in mid-June."
The outbreaks most likely stemmed from asymptomatic service members arriving on Okinawa from the U.S. and being released at the end of quarantine without being tested, Kunze said by phone Tuesday. That practice stopped in early July when the clusters were discovered.
Kunze said individuals must now be tested before they leave quarantine. He added that all the new cases arose in those already being monitored due to their contacts or because of planned batch testing.
Nearly 75% of all cases the Marines have discovered since early July have been individuals without symptoms, according to the Marines' Facebook post. Kunze said all the cases have come with only mild symptoms; none required a hospital stay.
The Marines conduct hundreds of tests per day, Kunze wrote in his email. They surpassed 6,500 tests last week, of which 5% were positive for the coronavirus.
"That number has been decreasing as we continue to test," Kunze wrote. "The total number of tests conducted per day fluctuates, but it is in the hundreds and will remain in the hundreds as we test individuals arriving on island and as we test units prior to departure with the 31st [Marine Expeditionary Unit]."
Kunze declined to comment on the number of Marines in quarantine for security reasons. He said the Marines are focused on educating incoming personnel on movement restrictions and quarantine procedures.
Another three individuals affiliated with the Marine Corps were released from isolation on Tuesday, according to Marine Corps Installations Pacific, for a total of 210 released thus far.
burke.matt@stripes.com Twitter: @MatthewMBurke1
ichihashi.aya@stripes.com Twitter: @AyaIchihashi