Officials update Okinawa, Guam realignment plans
by
Erik Slavin slavin.erik@stripes.com
October 3, 2013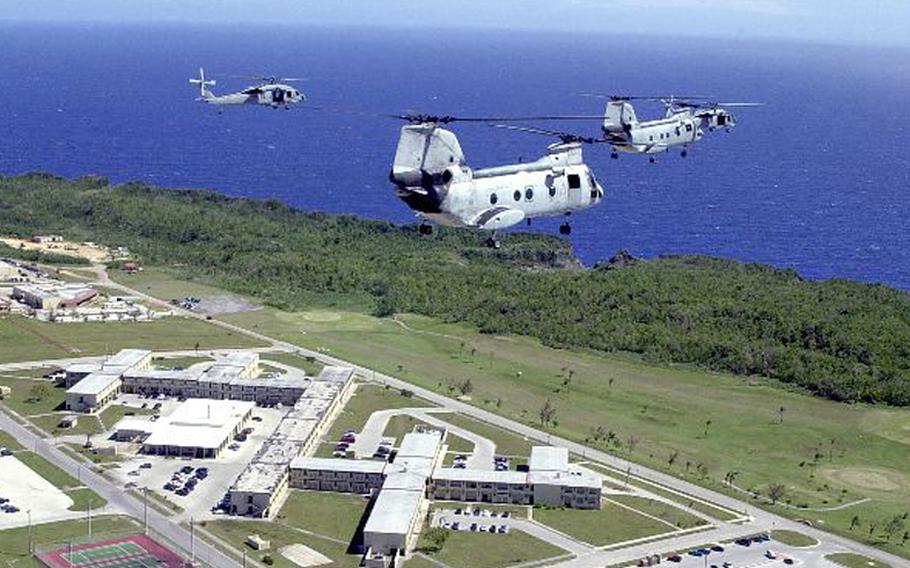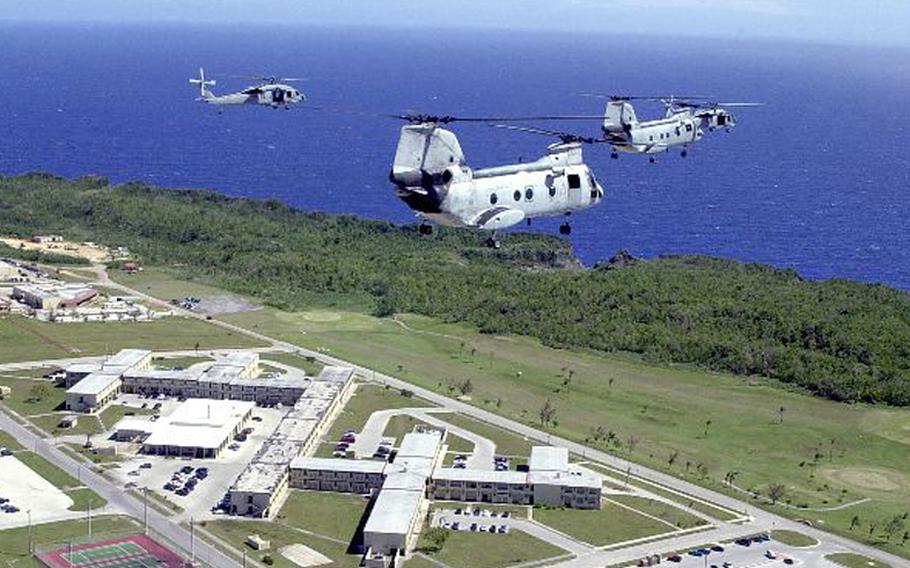 TOKYO — The delay-plagued realignment of U.S. troops from Okinawa to Guam will go forward with up to $3.1 billion in funding from Japan, officials said Thursday.
Secretary of State John Kerry and Secretary of Defense Chuck Hagel reaffirmed Japan's commitment to the movement of Marines from Okinawa to Guam after meeting with their Japanese counterparts, Foreign Minister Fumio Kishida and Defense Minister Itsunori Onodera.
The troop movement — once envisioned to send more than 8,000 troops to Guam by 2014 — now plans to send about 4,000 Marines to the U.S. territory, beginning in the early 2020s, officials told a news conference.
Japan, which also plans to use Guam for joint training with U.S. forces, has already agreed to pay for runway upgrades on the island, among other improvements.
"The U.S. particularly welcomes Prime Minister [Shinzo] Abe's commitment to realign our forces in Japan," Kerry said. We are very confident we can continue to make progress in this area."
In another piece of the realignment, Kishida added that Tokyo will exert "strong will" in moving the controversial Marine Corps Air Station Futenma to the Henoko area of Okinawa.
"There should not be indefinite use of the Futenma air station, and this has to be avoided at any cost," Kishida said.
The air station, located in a highly populated area, has been a lightning rod for anti-U.S. military protests on Okinawa, a Japanese island of about 1.2 million people.
Some demonstrators and local politicians have called for Futenma to be moved off Okinawa entirely. Such a move would complicate Marine movements in the event of a conflict in the region, military officials have said.
The two nations also announced several timelines for advanced aircraft to the region:
--Beginning in spring 2014, the U.S. will begin rotating its Global Hawk surveillance drones to Japan, officials said. The high-altitude, unmanned aircraft have a range of about 9,000 nautical miles.
--The Poseidon P-8 maritime surveillance aircraft, which the Navy announced its intention of deploying last year, will gradually begin replacing the older Orion P-3 aircraft in December.
--The Marine Corps plans to begin deploying the F-35B Joint Strike Fighter in 2017, making it the first for the aircraft outside the United States.
slavin.erik@stripes.com Twitter:@eslavin_stripes