Off-base alcohol rules relax for sailors in Japan
by
Erik Slavin
July 11, 2016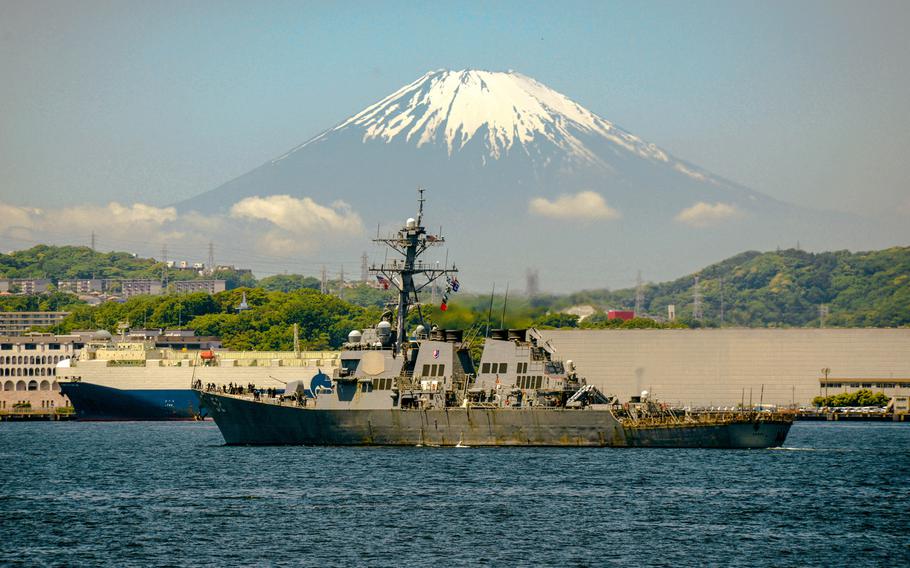 YOKOSUKA NAVAL BASE, Japan – Sailors in Japan are once again allowed to drink alcohol off-base until midnight, following more than a month of restrictions stoked by a series of arrests involving servicemembers and base civilians.
The Navy announcement coincides with a new U.S. Forces Japan liberty policy for all services expected to be released soon, military officials said Monday.
The latest order eases a restriction that placed a 10 p.m. cutoff on off-base alcohol consumption. Sailors in pay grades E-5 and below will still be required to go out with a "liberty buddy" when drinking alcohol on or off base, according to a Navy statement Monday.
However, sailors will no longer be required to file daily plans detailing off-base activities, officials said.
Ships and other units still retain the authority to levy restrictions.
"We expect individual commanding officers to aggressively and proactively identify sailors who lack the maturity to go on liberty and address problems before they occur," Rear Adm. Matthew Carter, commander of Naval Forces Japan, said in a statement.
For about four days in June, the Navy barred sailors from all non-essential off-base travel. Sailors also were banned initially from drinking alcohol anywhere – including their own homes – while command officials conducted talks with the roughly 18,600 sailors in Japan, emphasizing the effect of arrests on regional security relations.
Monday's order largely brings to a close the restrictions that came on June 6, one day after a sailor was arrested on Okinawa on suspicion of drunken driving. Police said Petty Officer 2nd Class Aimee Mejia, 21, struck two vehicles and caused injuries while driving on the wrong side of a highway.
Mejia has since been charged by Japanese authorities with dangerous driving resulting in injuries, which carries a maximum penalty of 15 years in prison.
That incident came during a military enacted period of mourning in memory of Rina Shimabukuro, 20, whose body was found in a forest on Okinawa. Kenneth Franklin Gadson, a U.S. civilian base worker, has been charged with murder and rape resulting in death in the case.
The recent incidents spurred some of the largest protests in decades on Okinawa, where about half of all U.S. forces in Japan are based.
slavin.erik@stripes.com Twitter: @eslavin_stripes
---
---
---