'Oasis in a desert': Some US military communities in Japan resume in-person worship services
by
Caitlin Doornbos
June 2, 2020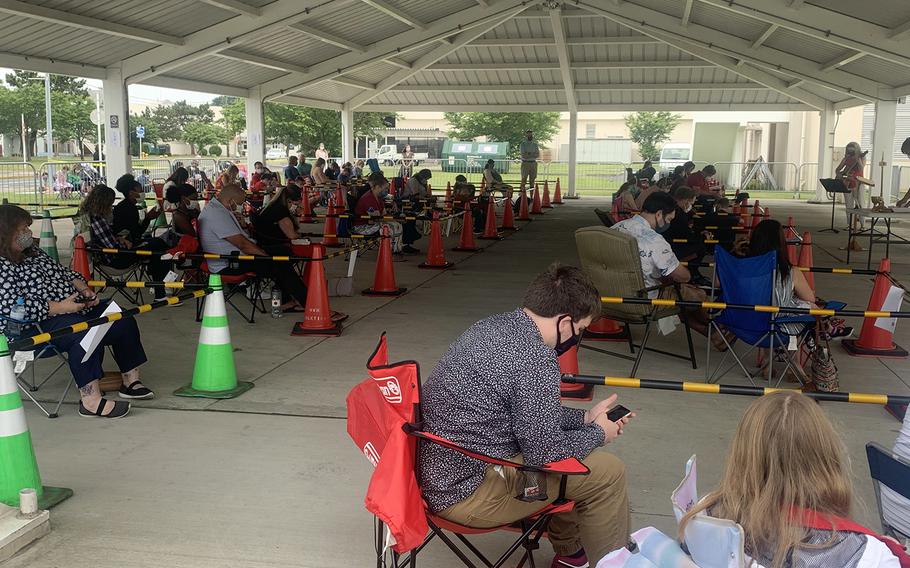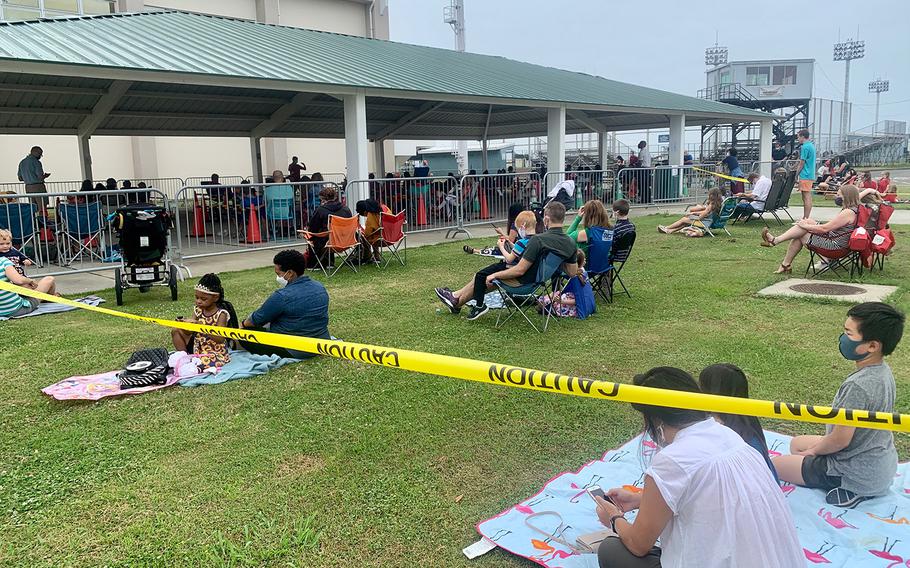 Stars and Stripes is making stories on the coronavirus pandemic available free of charge. See other free reports here. Sign up for our daily coronavirus newsletter here. Please support our journalism with a subscription.
YOKOSUKA NAVAL BASE, Japan — Donning masks and sitting on lawn chairs and picnic blankets six feet apart, about 150 churchgoers here gathered under an outdoor pavilion near the base's ballpark Sunday for the first in-person Christian worship services in 12 weeks.
Across Japan, U.S. military chapels ceased in-person religious services in March to prevent the coronavirus' spread. U.S. military chaplains have been working since to meet the religious needs of the service members and civilians stationed here amid a pandemic.
Yokosuka's Chapel of Hope suspended in-person services March 16. On March 27, the base issued a shelter-in-place order that continues to keep service members, civilian workers, contractors and families isolated from those outside their household.
That changed Sunday, when five of Yokosuka's 11 religious communities held in-person services modified to prevent the coronavirus's spread. Each of the programs — four Protestant services and a Catholic Holy Communion offering — were well attended, the base's senior chaplain, Capt. Philip King, said in an email to Stars and Stripes on Monday.
"They came out in bigger numbers than we expected, and did their best to observe the mitigation guidelines, despite the palpable exhilaration of sharing in worship together again as a community," King said.
There were no handshakes, hugs or fellowship. Services were held outdoors — on soccer fields and under picnic pavilions — families sat six feet away from one another. There was no singing either, as it could have spread the nose and mouth droplets that carry the virus into the air.
Some of the larger faith groups are instead still holding worship opportunities online. For instance, while the Catholics offered Holy Communion, Mass was still celebrated virtually.
It's unclear when a return to more traditional religious services will be possible, but the chapel at Kadena Air Base on Okinawa took a step toward normalcy Sunday when services were offered indoors. Pews were marked to ensure proper social distancing and Bibles were removed to prevent the virus' spread, according to the chapel's Facebook page.
The pandemic has "forced [chaplains] to adapt and embrace technology," in part by streaming regular religious services live online, U.S. Forces Japan Chaplain (Lt. Col.) Dale Marlowe in a May 21 interview with Stars and Stripes.
Military chapels have also gotten creative with establishing safe opportunities to worship. For example, Naval Air Facility Atsugi chaplains have been producing online resiliency and workout videos to keep spirits high, and the Misawa Air Base chapel on Sunday held a "park and praise" drive-in style Christian music concert.
"Though we're physically distant how do we connect socially?" Marlowe said. "It's not good for people to be alone. That does take a general toll on people. We're relational people."
Chaplains have also been using video chats, the telephone and limited physically distant in-person exchanges to counsel those experiencing stress, grief and anxiety associated with coronavirus isolation, Marlowe said.
"There has been more of a need of people wanting to talk to chaplains through this time," he said.
Still, some who came to the live services Sunday in Yokosuka said there's no true substitute for worshipping together as a congregation.
"This has been a godsend, especially with the chaos in the world," said Navy spouse Lori Ann Chavez-Garcia, choking back tears. "This is an essential service. I consider it as essential as food and water."
King likened the break from in-person services to the spiritual practice of fasting.
"Fasting can be arduous, and during this time of fear and uncertainty with the pandemic, going without a life sustaining act like public worship has been especially difficult," he said.
King said that while the online services provide opportunities for private devotions, returning to public worship, even in a mitigated form, "has been an oasis in a desert."
doornbos.caitlin@stripes.com Twitter: @CaitlinDoornbos