Nuclear talks with North Korea may affect US military posture, Dunford says
---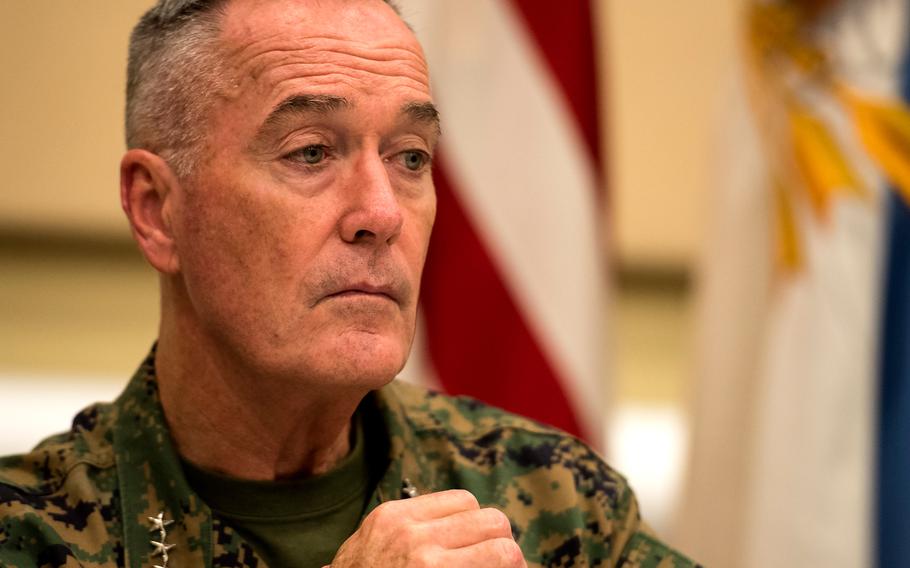 SEOUL, South Korea — The United States will have to change its military posture on the Korean Peninsula if nuclear talks with North Korea advance, the chairman of the Joint Chiefs of Staff said.
The comments came as Secretary of State Mike Pompeo confirmed he plans to meet with North Korean leader Kim Jong Un's right hand man Thursday in New York in a bid to jump start efforts to persuade the North to give up its nuclear weapons.
The U.S.-led United Nations Command also held another round of military talks with North and South Korea Tuesday in the truce village of Panmunjom, which sits in the heavily fortified border that bisects the peninsula.
Gen. Joseph Dunford, chairman of the Joint Chiefs of Staff, said the military remains ready to respond to any threats from North Korea but stressed its main role is to support the diplomatic process that began earlier this year.
"Frankly, the more successful we are in the diplomatic track, the more uncomfortable we will be in the military space," he said Monday during a question-and-answer session at Duke University.
"Because over time this negotiation will take a form where we're going to have to start making some changes to the military posture on the peninsula," he added. "And we're prepared to do that in support of Secretary Pompeo and make sure that we get to the desired end state, which is a peaceful denuclearization of the Korean Peninsula."
Dunford didn't elaborate. The U.S. already has suspended large-scale joint war games with the South to avoid provoking Pyongyang while talks are ongoing.
But the longtime allies, which fought together in the 1950-53 Korean War against the communist-backed North, have insisted that the presence of some 28,500 U.S. troops in the South is not up for negotiation.
President Donald Trump and Kim Jong Un agreed to work toward the "complete denuclearization of the Korean Peninsula" during their June 12 summit in Singapore.
But the U.S. administration has said it will maintain sanctions and other pressure on the North until it agrees to concrete measures toward that end. Pyongyang, meanwhile, has called for measures such as lifting sanctions or declaring a formal end to the war to reciprocate for steps it already has taken such as ceasing missile and nuclear tests.
Pompeo and the main U.S. envoy for North Korea, Stephen Biegun, will discuss with North Korean envoy Kim Yong Chol measures to achieve "the final, fully verified denuclearization" of the communist state, according to the State Department.
North Korea raised concern over the weekend when it warned it may resume nuclear development if the U.S. maintains punishing economic sanctions against it.
The foreign ministry statement, published on state-run media, stopped short of threatening to abandon talks with Washington.
Dunford pointed to progress as tensions have eased since the diplomatic process began earlier this year leading to the unprecedented U.S.-North Korea summit.
Trump has said he expects to hold another meeting with Kim early next year.
The North has not conducted a missile test since it fired an intercontinental ballistic missile toward Japan in late November. It also says it has destroyed its main nuclear testing site after conducting its sixth and most powerful underground blast in September 2017.
But skeptics have expressed doubt that Kim Jong Un will be willing to abandon his hard-won nuclear weapons.
"I don't expect we'll have an immediate solution diplomatically, but we've ceased the testing and the nuclear development," Dunford said. "What has not changed is the missile capability that North Korea possesses or the nuclear capability that North Korea possesses."
gamel.kim@stripes.com Twitter: @kimgamel
---
---
---
---