North Korean leader visits China in possible prelude to second summit with Trump
by
Kim Gamel
January 8, 2019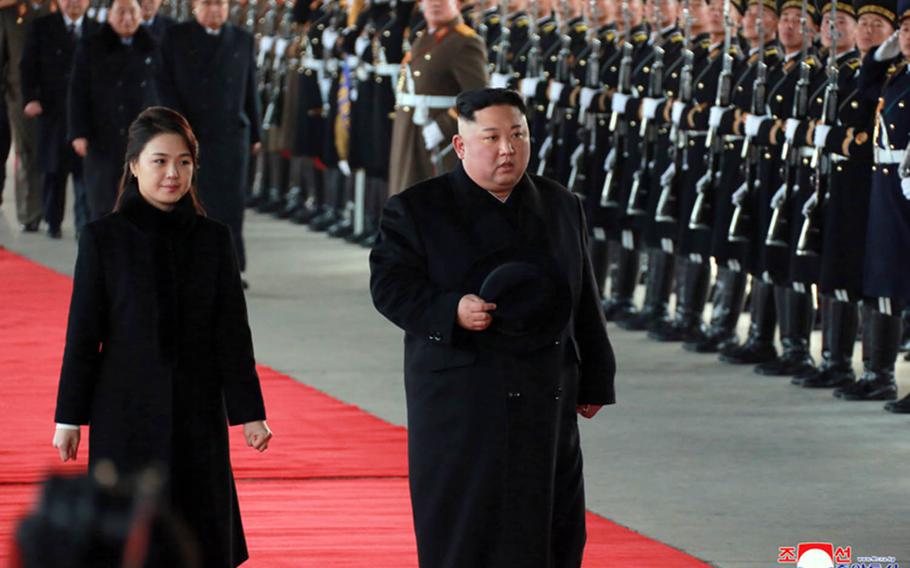 SEOUL, South Korea — A week after saying he was ready to meet with President Donald Trump anytime, North Korean leader Kim Jong Un arrived in Beijing on Tuesday for his fourth summit with China's president in a reminder that he has other powerful friends.
The trip, which coincided with Kim's birthday, came days after Trump said the U.S. is negotiating with the North on a venue for a second summit between their countries to try to break a deadlock in nuclear negotiations.
China is North Korea's main ally and trading partner and the high-profile visit offers him a chance to lobby President Xi Jinping for support in easing U.S.-led sanctions — a major sticking point in talks with Washington.
Kim left for China on Monday on a special train with his wife, Ri Sol Ju, and top officials, including main nuclear negotiator Kim Yong Chol, at Xi's invitation, state-run media reported. China's official Xinhua news agency also confirmed the visit in a brief dispatch.
A motorcade that included motorcycle escorts was seen Tuesday leaving a Beijing train station shortly after the arrival of the North Korean train.
Kim later met with Xi for about an hour to discuss the possible summit with Trump and ways to strengthen ties, the Yonhap News Agency reported, citing unidentified sources. It said Kim and his wife also apparently attended a dinner hosted by Xi and his wife at the Great Hall of the People.
The third generation leader, who is believed to have turned 35 on Tuesday, was due to remain in the neighboring country until Thursday.
South Korea, a U.S. ally that has moved toward improving relations with the North despite stalled nuclear talks, expressed hope that meetings between Xi and Kim would "contribute to the complete denuclearization of the Korean Peninsula and the establishment of lasting peace."
"Particularly, we hope these exchanges between North Korea and China will be a stepping stone to the second Pyongyang-Washington summit," presidential spokesman Kim Eui-kyeom told reporters.
Trump and Kim reached a vague agreement to work toward the "complete denuclearization of the Korean Peninsula," during their first meeting on June 12 in Singapore. But talks have since faltered over disagreements about how to accomplish that.
Bonnie Glaser, a senior adviser on Asia at the Washington, D.C.-based Center for Strategic and International Studies, said both Xi and Kim have an interest in showing solidarity amid delicate negotiations with Washington.
She said Kim is likely to ask Beijing for help in easing U.S.-led economic sanctions as well as advice in dealing with Trump.
"Kim is trying not to put all of his eggs in one basket," she said. "Obviously showing that he has good relations with others, keeping China on his side, and South Korea to some extent, on his side, I think, is a good play."
"I think from Xi Jinping's point of view, there is a desire to remain relevant on the peninsula, to ensure that China's interests are being protected," she added.
China and the U.S. also have seen relations worsen during a trade war, although Trump and Xi agreed to a pause during their meeting last month at the G-20 summit in Argentina.
"Kim is eager to remind the Trump administration that he does have diplomatic and economic options besides what Washington and Seoul can offer," Harry Kazianis of the Center for the National Interest, a U.S. think tank, said in an emailed statement.
"Xi also gains from a summit with Kim – and the timing could not be any better," he said, citing the trade dispute. "It shows Beijing clearly has a North Korea card to play if it sees fit."
The North Korean leader made his first trip abroad since assuming power in 2011 to China before his first summit with Trump — a sign of Beijing's influence as an ideological ally and economic lifeline for the North. He also traveled to Beijing two other times in May and June.
Kim said in his New Year's Day address that he was "ready to meet the U.S. president again anytime," but warned the United States against pushing ahead with economic sanctions.
The U.S. administration insists on maintaining the punishing measures aimed at forcing the North to give up its nuclear weapons. But Pyongyang seeks a reciprocal approach, with rewards including eased sanctions for steps already taken.
Those steps included a nuclear and missile testing moratorium, which has helped ease tensions that had raised fears of a nuclear war before the diplomatic push began in force last year.
Experts have said those measures are probably reversible and recent satellite images suggest the North is continuing with its development of nuclear weapons.
Trump told reporters outside the White House on Sunday that his administration is "doing very well" with North Korea, citing the lack of missile tests as progress.
State Department officials also discussed a possible second summit with North Korean counterparts during recent meetings in Hanoi, fueling speculation that the Vietnamese capital could host the event, a South Korean newspaper reported Monday.
Munhwa Ilbo cited unnamed diplomatic sources in Seoul and Washington. It noted that Vietnam has diplomatic relations with both sides and has the symbolic value of being a communist country that has reformed its economy.
gamel.kim@stripes.com Twitter: @kimgamel