North Korea test-fires missile hours after announcing plans for new nuclear talks
By
Yoo Kyong Chang Kim Gamel
October 1, 2019
---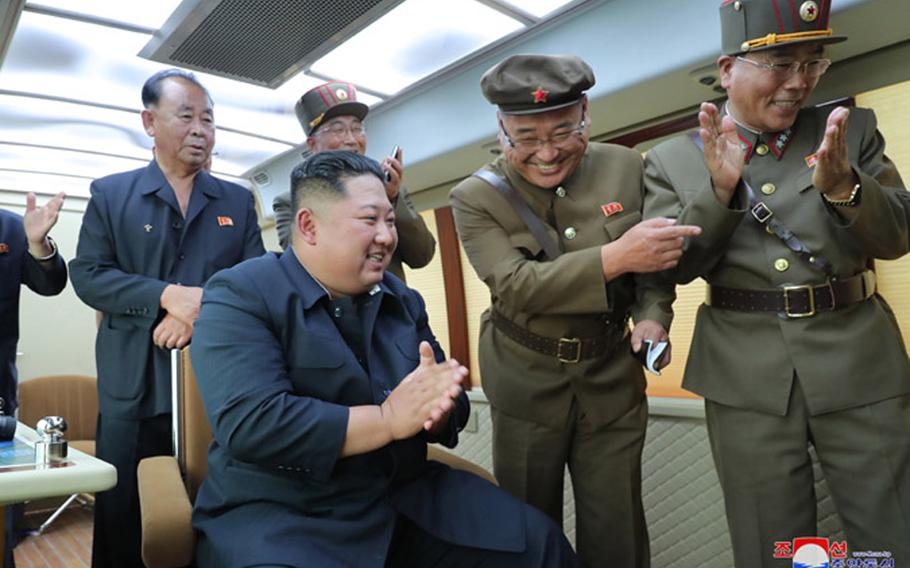 SEOUL, South Korea — North Korea fired a ballistic missile that appeared to have been launched from a submarine on Wednesday, South Korean officials said, hours after the communist state announced it has agreed to resume nuclear talks with the United States this weekend.
The missile flew about 280 miles from the waters off its eastern coast near the town of Wonsan and reached an altitude of 565 miles, South Korea's Joint Chiefs of Staff said.
That would make it the highest apogee for a missile tested since the North fired an intercontinental ballistic missile toward Japan in November 2017 amid rising tensions over its nuclear weapons program.
The National Security Council in Seoul held an emergency meeting and said it "placed weight" on the likelihood that the North had "tested an SLBM" though South Korean and U.S. intelligence officials were still analyzing precise details.
The latest launch marked an escalation from the recent short-range, land-based missile tests that President Donald Trump has dismissed as small-scale and therefore not a threat to diplomacy.
Experts say the communist state is likely trying to project strength ahead of new negotiations to wring concessions from Washington. The weapons tests also show that the North has continued to develop its weapons programs as talks have stalled.
Japan initially said there had been two missiles but later clarified that only one had been launched and likely broke into two pieces that crashed into the sea, according to the Kyodo news agency.
Officials said the missile followed a "lofted trajectory," suggesting it was launched at an angle to reach a high altitude without threatening populated areas.
"The launch of this type of ballistic missile is a violation of United Nations resolution," Japanese Prime Minister Shinzo Abe told reporters in Tokyo. "Japan strongly protests and condemns the action."
South Korea "expressed strong concern about Pyongyang's action" ahead of the resumption of talks and agreed to maintain efforts to keep the diplomatic process on track, according to a national security council statement.
Military officials said the North appeared to have fired a type of Pukguksong missile," a solid-fuel missile that was last fired from the sea in August 2016.
North Korea's nuclear submarine program is considered especially dangerous because submersible weapons are harder to detect in advance and have a broader range.
In July, North Korean leader Kim Jong Un inspected a new submarine that South Korean officials said had three missile-launch tubes.
The North said Tuesday that it has agreed with the United States to resume nuclear negotiations this weekend, seven months after diplomatic efforts broke down after a failed summit between Trump and Kim in Vietnam.
The State Department confirmed talks would be held but the location and other details were not released. Wednesday's launch also occurred a day after South Korea showed off newly acquired F-35 stealth fighter jets to mark its Armed Forces Day.
The North has frequently denounced Seoul's plans to purchase the war planes, saying they violate the spirit of an agreement to ease military tensions reached during a series of inter-Korean summits last year.
Trump and Kim agreed to restart talks during an impromptu June 30 meeting on the Korean border.
However, the North responded instead with several missile tests since May and angry rhetoric after the United States and South Korea conducted a joint military exercise.
Senior diplomat Choe Son Hui said Tuesday that North Korean delegates "are ready to enter" into working-level negotiations.
The two countries agreed to have preliminary contact on Friday and to hold working-level talks on Saturday, she said in a statement carried by the state-run Korean Central News Agency.
It's unclear how the latest missile launch will affect the talks.
Trump has played down the previous launches this year, saying they didn't violate Kim's promise to suspend long-range missile and nuclear tests, but he said he would like them to stop and suggested the resumption of longer-range missile launches may tip the scales.
Meanwhile, neither side has given any public indication of progress toward narrowing the gap in views about how to achieve their professed goal of the denuclearization of the Korean Peninsula.
The February summit in Vietnam broke down due to sharp differences over how much reward including sanctions relief should be given to North Korea for steps toward denuclearization.
However, the North has praised Trump's suggestion made last month that Washington may pursue an unspecified "new method" in the negotiations.
North Korea's ambassador to the United Nations, Kim Song, blamed Washington for the deadlock in his speech Monday at the U.N. General Assembly.
"It depends on the U.S. whether the DPRK-U.S. negotiations will become a window of opportunity or an occasion that will hasten the crisis," the ambassador said.
gamel.kim@stripes.com Twitter: @kimgamel
---
---
---
---