North Korea test-fires cruise missiles as South suspends THAAD deployment
by
Kim Gamel
June 7, 2017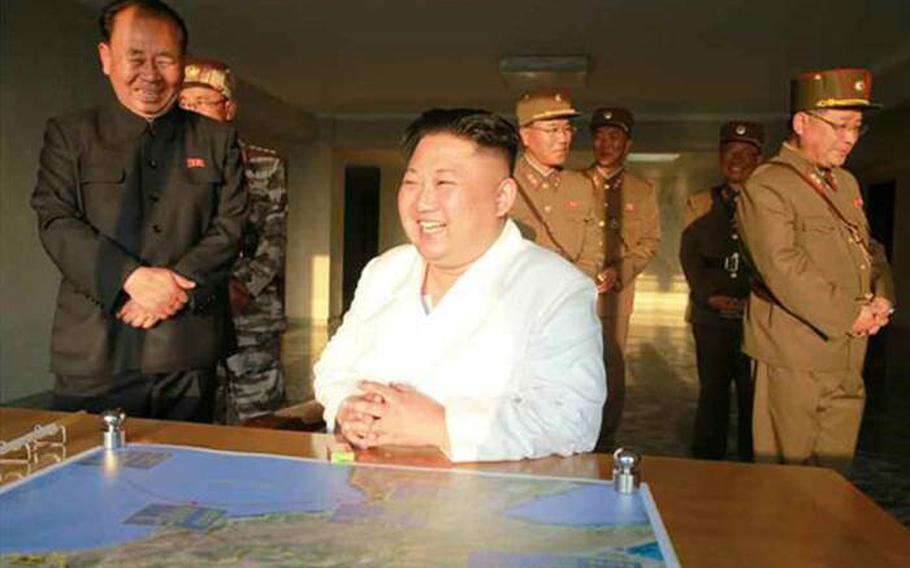 SEOUL, South Korea — North Korea fired a salvo of short-range cruise missiles into the sea Thursday in an apparent show of force aimed at protesting the recent deployment of U.S. aircraft carriers in the region, officials said.
It also came a day after South Korea's new president suspended the further deployment of a controversial U.S. missile defense system pending a full environmental impact assessment.
The test — the fourth since President Moon Jae-in took office last month — ratcheted up already-high tensions over Pyongyang's weapons program, which has the stated goal of developing a missile that could deliver a nuclear warhead to the U.S. mainland.
The U.N. Security Council voted unanimously last week to impose broader sanctions against the North to punish it for violating a ban on using ballistic technology. The new sanctions included a travel ban and asset freeze to more than a dozen people and North Korean entities, but similar efforts have failed to curb the communist state's ambitions.
The projectiles were assumed to be short-range, surface-to-ship cruise missiles launched from an area near the east coast city of Wonsan, the Joint Chiefs of Staff said. They traveled at an altitude of less than a mile and a distance of about 125 miles before crashing into the sea between the peninsula and Japan, spokesman Roh Jae-cheon said.
Officials were still analyzing details, including the type and number of missiles but said they were not believed to have used ballistic technology that has been banned by U.N. Security Council resolutions.
"We're estimating their intention was to do an armed protest in order to show off their various missiles and pinpoint strike capabilities against vessels in connection with the joint naval exercises involving U.S. aircraft carriers," Roh said during a press briefing.
He added it was likely part of an effort to boost North Korea's leverage in any future dealings with the U.S. or South Korea.
Testing Moon
The North's repeated missile tests pose an unwelcome test for Moon's goals of easing tensions and pursuing dialogue with North Korea. The left-leaning leader was elected May 9 in a snap election after ex-President Park Geun-hye was ousted and jailed over an influence-peddling and corruption scandal.
Moon, who seeks to renew economic engagement with the North, warned the impoverished country it was risking further isolation.
"They will lose their opportunities for development," he said during a meeting of his National Security Council. "I declare that our government will never back down or make concessions when it comes to our national security and the safety of our people."
The president also ordered the military "to maintain readiness to counter any armed provocation from the North," according to a transcript provided by his office.
Moon also promised to review his predecessor's decision to allow the U.S. to station a Terminal High Altitude Area Defense system, known as THAAD, in South Korea. His administration is investigating allegations the country's defense ministry — which is still run by a Park appointee — of failing to disclose the delivery of four launchers for the unit.
Officials said Wednesday that the two launchers already on THAAD's designated site in the southeastern area of Seongju will stay put, but the other four cannot be installed until a full environmental impact study is completed.
Washington worried
The U.S., which has some 28,500 servicemembers stationed in South Korea, also has become increasingly worried about North Korea's progress.
Last month, the U.S. successfully conducted its first missile-defense test involving a simulated attack by an intercontinental ballistic missile.
The U.S. military also sent two aircraft carriers – the USS Carl Vinson and the USS Ronald Reagan – to the waters off the peninsula in recent months. The USS Nimitz also was headed to the region.
The Carl Vinson and Ronald Reagan have left the area after concluding operations with the Japan Maritime Self-Defense Force in the Sea of Japan, according to the U.S. Pacific Fleet.
"While I won't discuss the future schedules of our vessels, I can confirm that Reagan is continuing their previously scheduled patrol in the Western Pacific and Vinson has begun the transit back to the United States," Pacific Fleet spokesman Lt. Cmdr. Matt Knight said Thursday in an email.
He added that the Nimitz Carrier Strike Group has started its deployment and is operating in the vicinity of the U.S. West Coast.
North Korea sees the presence of U.S. military hardware as proof that Washington and Seoul are rehearsing for an invasion, despite the allies' insistence that the moves are defensive.
Kim Tae-woo, a security expert and professor at South Korea's Konyang University, said Thursday's missile launches were directly related to the U.S. aircraft carriers.
"This is understood by North Korea clearly as a demonstration of muscle by the United States so they wanted to respond to that with power," he said.
Stars and Stripes reporter Yoo Kyong Chang contributed to this report.
gamel.kim@stripes.com Twitter: @kimgamel