North Korea shows off another missile as Trump predicts nuclear talks will resume
---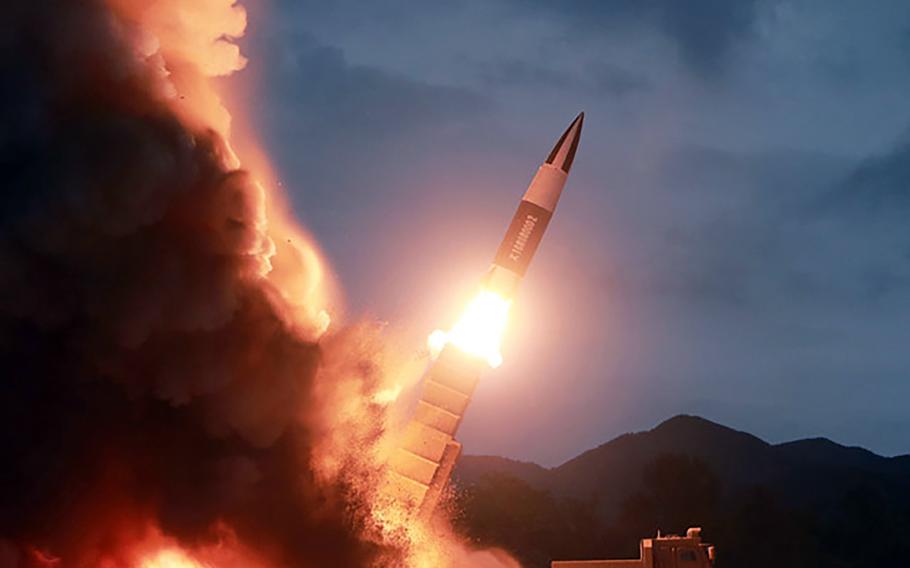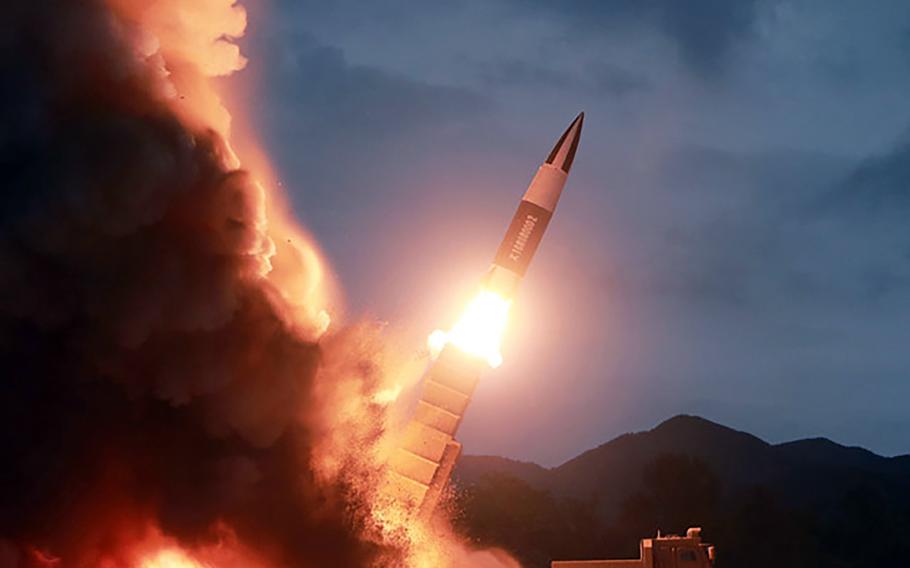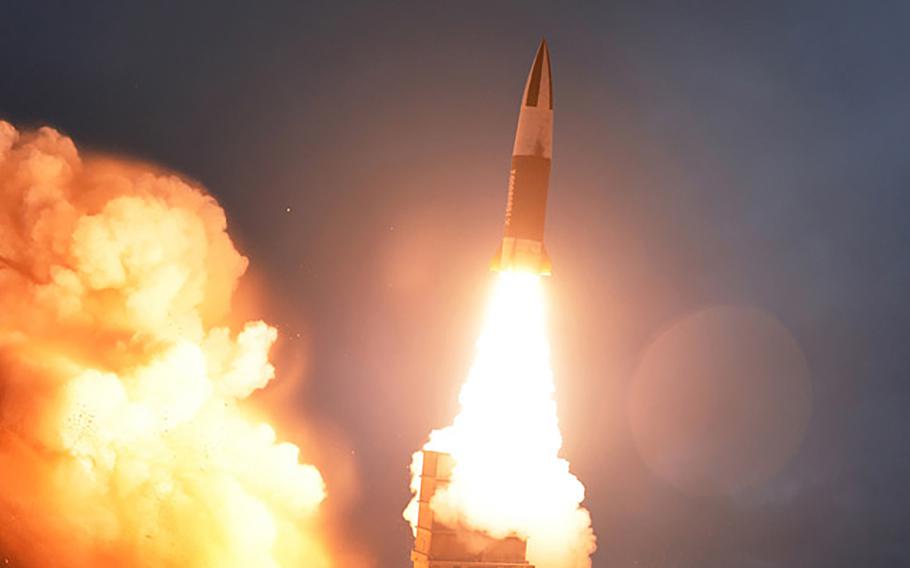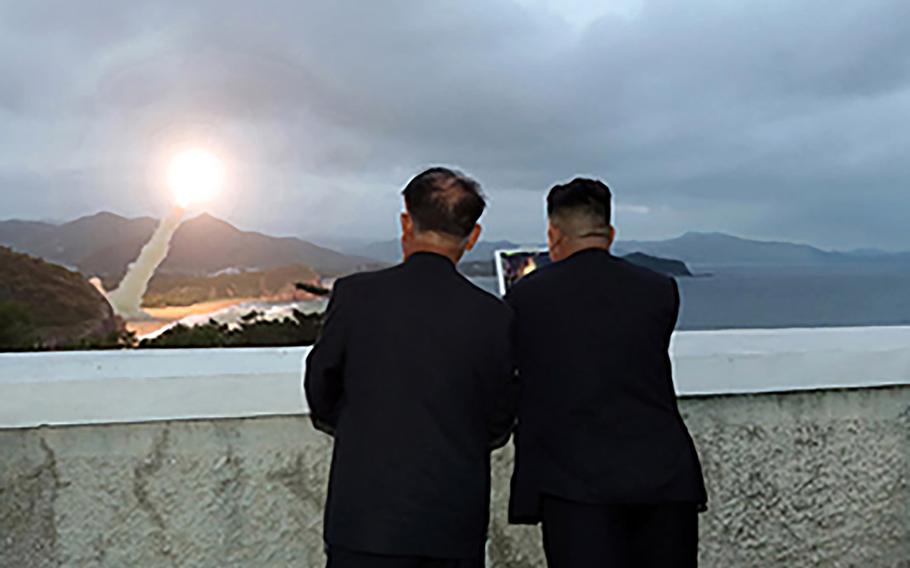 SEOUL, South Korea — North Korea showed off more missiles on Sunday, hours after President Donald Trump said he's not worried about the recent spate of launches and raised hope for new nuclear talks with the communist state.
The North's state-run news agency reported that leader Kim Jong Un supervised the missile launches on Saturday, the country's fifth weapons test in less than three weeks.
"The Supreme Leader expressed great satisfaction, being very pleased that another new weapon intended by the Party came into being," KCNA reported.
It also published photos showing the missiles and Kim watching as a ball of fire rises in the sky.
South Korea's military said it appeared that two short-range ballistic missiles fired by the North flew nearly 250 miles and reached an altitude of nearly 30 miles before splashing into the sea off the eastern coast.
The North has said other recent launches were to protest U.S.-South Korean military exercises that began last week, but experts say it also is likely trying to boost its leverage as Washington tries to restart talks aimed at persuading it to abandon its nuclear weapons.
Trump said Saturday that Kim wrote in a "very beautiful letter" that he wants "to meet and start negotiations as soon as" Seoul and Washington conclude the joint drill this month.
"It was a long letter, much of it complaining about the ridiculous and expensive exercises," the president wrote in a series of tweets. "It was also a small apology for testing the short range missiles."
Trump said Kim promised the testing would stop when the exercises end. "I look forward to seeing Kim Jong Un in the not too distant future!" he added.
North Korea has long denounced the annual exercises, which it considers rehearsals for an invasion despite allied assurances that the drills are defensive in nature.
Trump has changed the debate by adding his own criticism of what he has called "war games" as part of his demands that South Korea pay more for maintaining some 28,500 U.S. troops on the peninsula.
The allies have sharply scaled back the size and scope of the drills since Trump announced he was "stopping the war games" after his first summit with Kim last year. They also tried changing the names.
But North Korea mocked those efforts in a separate report on Sunday, although it focused on the South and avoided criticizing Trump.
"It is a miscalculation if they think that the very change of the name of the exercise can alter its aggressive nature or that we would make it pass off quietly," KCNA quoted a senior foreign ministry official as saying.
The current command post exercise is aimed at testing the South's capabilities as it hopes to assume operational control of the military from the U.S. should war break out.
The allies held "crisis management staff training" last week and began a 10-day "combined command post training" on Sunday, according to South Korea's Joint Chiefs of Staff.
North Korea's recent spate of tests began on July 25, when it launched two missiles that officials believe were modeled after Russia's Iskander and appear to be designed to avoid U.S. and South Korean defenses.
By only firing short-range missiles, the North is displaying a threat to South Korea and U.S. bases in the region while maintaining Kim's promise not to test long-range missiles or nuclear weapons.
Trump has signaled that would be a red line, although U.S.-led United Nations Security Council sanctions resolutions ban the North from using any ballistic missile technology.
Melissa Hanham, the deputy director of the Open Nuclear Network, said the tests show that North Korea has had two short-range ballistic missiles under development this year despite diplomacy.
"This is not denuclearizing, this is not even close," she wrote on Twitter.
Meanwhile, the North's director-general of the foreign ministry's department of American affairs, Kwon Jong-gun, warned Seoul that its participation in the exercise and denunciation of the recent missile tests put inter-Korean relations at risk.
He referred to Trump's recent comments, saying that "even the U.S. president made a remark which in effect recognizes the self-defensive rights of a sovereign state, saying that it is a small missile test which a lot of countries do."
"Given that the military exercise clearly puts us as an enemy in its concept … an inter-Korean contact itself will be difficult to be made unless they put an end to such a military exercise or before they make a plausible excuse" for the drills, Kwon said, according to KCNA.
South Korea's presidential office dismissed the saber rattling.
"It's our shared understanding among the two Koreas and the United States that resuming the stalled denuclearization negotiations continues to be the top priority," an official told the Yonhap News Agency on Sunday.
gamel.kim@stripes.com Twitter: @kimgamel
---
---
---
---