North Korea says Syria airstrikes justify its nuclear arsenal
by
Kim Gamel
April 9, 2017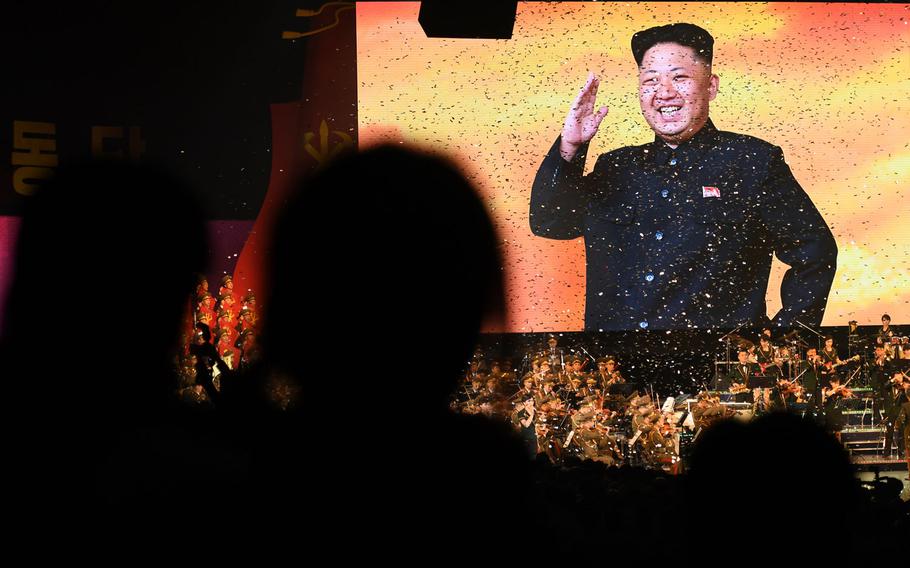 SEOUL, South Korea – North Korea lashed out at the U.S. missile strike on a Syrian air base, calling it an "absolutely unpardonable" act that only justifies its nuclear-weapons program.
The defiant statement came a day after Friday's attack, which was widely seen as a warning to Pyongyang and other rival states that President Donald Trump is not afraid to resort to unilateral military action.
Trump authorized the missile strike after the Syrian regime was blamed for a horrific chemical attack that killed dozens of people, including children. It marked the first time the United States has directly targeted government forces in the 6-year-old civil war.
North Korea's state-run news agency said a foreign ministry spokesman called the strike "absolutely unpardonable as it was an undisguised act of aggression against a sovereign state."
"The successive U.S. administrations have perpetrated strikes at those countries which do not have nukes only, styling themselves a superpower and the same is true of the Trump administration," the Korean Central News Agency said in a post on its English-language site.
"We will bolster up in every way our capability for self-defense to cope with the U.S. evermore reckless moves for a war and defend ourselves with our own force," KCNA added.
North Korea is known for its exaggerated and belligerent rhetoric in response to world events. But experts say the communist state is making progress toward its stated goal of developing a nuclear-tipped missile that could target the U.S. mainland.
The North has conducted five nuclear tests, including two last year, and test-fired nearly 30 ballistic missiles in defiance of U.N. Security Council resolutions banning it from using the technology.
The timing of the strike during a U.S.-China summit fueled speculation that it was also meant as a signal that Trump may act against North Korea if it doesn't curb its nuclear ambitions.
Trump has not yet unveiled his new North Korea policy but has said he would press China to do more to rein in its communist protégé and would consider unilateral responses if Beijing failed to step up.
China, North Korea's largest military and trade partner, has shown increasing annoyance with Pyongyang. It signed on to toughened sanctions and suspended coal imports from the North through the end of the year.
But Beijing is reluctant to go too far due to its fears that a North Korean regime collapse could lead to a refugee crisis and possibly bring U.S. forces closer to its borders.
Trump reportedly told Xi about the Syria strikes while they were finishing dinner Thursday at the start of the two-day summit in Florida.
U.S. Secretary of State Rex Tillerson said both sides agreed that the North Korean threat had reached a "very serious stage." He also reiterated that Washington was prepared to take its "own course" if China did not apply more pressure on Pyongyang.
But the official Chinese account of the talks in its state news agency Xinhua did not mention North Korea.
North Korea considers Syria to be one of its few allies. Before the missile strike, KCNA said leader Kim Jong Un and Syrian leader Bashar al-Assad had exchanged pledges of friendship and cooperation.
The new U.S. administration has repeatedly suggested it will take a harder line toward Pyongyang, saying ex-President Barack Obama's policies that relied on diplomatic pressure and economic sanctions have failed.
Trump and other administration officials have said all options are on the table, including military action. Underscoring that point, Washington has recently deployed numerous strategic assets to the peninsula as part of annual joint war games with the South. It also ordered the nuclear-powered USS Carl Vinson and accompanying ships to return to the waters around the Korean peninsula instead of heading for planned port visits in Australia, according to the Pacific Command.
"It does seem to suggest that Trump is more willing to pull the trigger than Obama," said Robert Kelly, a political science professor at South Korea's Pusan National University.
Others pointed out that the fact that North Korea already has nuclear capabilities and the potential threat to U.S. allies South Korea and Japan make it unlikely that Washington would risk military action.
The United States maintains about 28,500 servicemembers in South Korea and some 50,000 in Japan.
Still, North Korea has warned that it, too, is prepared to stage a pre-emptive strike, and the U.S. and South Korean militaries were on alert for a possible sixth nuclear test or other provocation this month even before the strike on Syria.
North and South Korea, which are divided by the world's most fortified bord
er, remain technically at war after the 1950-53 conflict ended in an armistice instead of a peace treaty.
The North also is known to have a large stockpile of chemical and biological weapons. It was accused of having its leader's half brother, Kim Jong Nam, assassinated with VX nerve agent at a Malaysian airport on Feb. 13. North Korea denied involvement in that attack.
Twitter: @kimgamel
---
---
---
---