North Korea's nuclear test challenges China and South Korea to react
---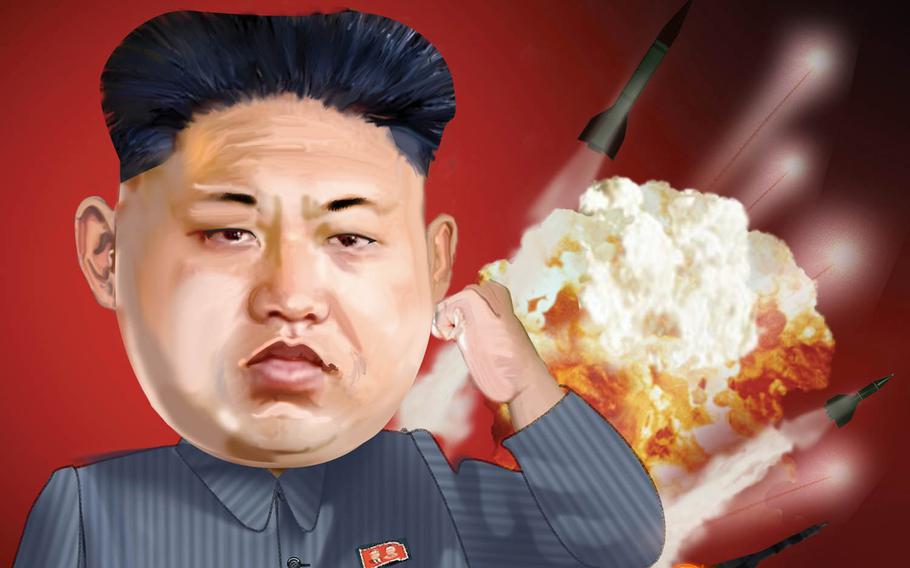 Pressure rose Thursday on China and South Korea to respond decisively to North Korea's latest nuclear test as skepticism rose about its claim to have detonated a hydrogen bomb for the first time.
With Pyongyang doggedly pursuing nuclear and missile programs despite past U.N. Security Council sanctions, it was unclear what would make the reclusive country back down. Suggestions focused on hitting the impoverished country in its wallet, including having primary ally China cut aid, trade and banking services.
Some South Korea legislators raised the possibility of requesting a nuclear arsenal from Washington or developing the country's own nuclear program. It might also accept a THAAD missile defense unit from the U.S., something Seoul had been reticent to do over fear of angering China and Russia.
"The test is a direct challenge to the 80 million lives of our people and peace on the Korean Peninsula," said Kim Young-woo, a spokesman of the ruling Saenuri Party.
Leaders of South Korea, the United States and Japan, including President Brack Obama, exchanged phone calls to agree on a united front as the Security Council worked on new sanctions.
North Korea first claimed to have developed nuclear weapons over more than a decade ago and has threatened to use them. Its boast Wednesday that it tested a hydrogen bomb — a much more powerful fusion device than the plutonium or enriched uranium fission bombs it has exploded before — would seriously raise the stakes, given its efforts to develop a missile capable of reaching the American mainland.
The U.S, Japan and South Korea were all looking for any clues about the bomb's makeup, with American military jets being dispatched to do air monitoring for possible radioactive debris in the air.
Masashi Nishihara, president of the Research Institute for Peace and Security in Tokyo and retired president of Japan's National Defense Academy, believes the North is exaggerating its capabilities, as it has done before.
"What they claimed to have successfully made a hydrogen bomb sounds a made-up story," he said. "What they want to do most now is miniaturization of a nuclear warhead. It's been awhile since the North said that they were working on it, and probably they had to show something new at this time.
"Being Kim Jong Un's birthday coming tomorrow, the regime had to do something to boost the morale of its people," he said.
Jonathan D. Pollack, a senior fellow at the John L. Thornton China Center and the Center for East Asia Policy Studies at the Brookings Institution, also doubted a hydrogen bomb was responsible for the 5.1 magnitude earthquake at the North's nuclear test site near the Chinese border.
"Based on the size of the seismic waves detected at various monitoring stations near North Korea, Pyongyang's claim to have successfully tested a thermonuclear device is not credible. It is more plausible that the test might have been a 'boosted' fission weapon, though this remains to be proven, as well," Pollack wrote in a report.
In South Korea, public reaction to the test ranged from serious concern among older residents who recall the horrors of the Korean War to near-indifference among younger people who have grown up with Pyongyang's periodic threats.
President Park Geun-hye, who has vowed strong response to North Korean provocations, has a lot of political capital at stake in how she deals with the situation.
"If provoked, the South will firmly retaliate against the North's provocations," she said.
Her first action was to restrict access to the Kaesong Industrial Complex, which the two Koreas jointly operate and which has been used by both sides to symbolically express displeasure at each other. The complex is a source of foreign exchange for North Korea, which provides about 54,000 workers — cheap labor — for factories producing goods for 124 South Korean firms.
The only country that seems to have any real leverage with the North is China, and there are questions about how much influence it really has. Beijing, which would prefer to keep a buffer with South Korea, has shown increasing impatience with Pyongyang, and the latest test was likely to make things worse.
China's Foreign Ministry said it would summon Pyongyang's ambassador to Beijing to lodge a formal protest.
"China's attitude is tough, but the means at its disposal are limited," Jin Qiang, a professor at Yanbian University's Institute of Northeast Asia Studies in Jilin province bordering North Korea, told The Associated Press.
"It seems that China has been put into a difficult position," Jin said. "All China's efforts are aimed at curbing North Korea to prevent the situation from deteriorating, but they've failed."
The Brooking Institution's Pollack suggested a banking crackdown to show the North that there is a real price to pay for its nuclear program.
"At present, North Korea's economic dependence on China continues to grow, even as Kim Jong Un defies (Chinese leader) Xi Jinping at every turn," Pollack said. "It seems likely that attention will soon turn to additional restrictions on international banking activity in North Korea, and the role of Chinese banks will be central.
"Major Chinese banks do not want to find themselves sanctioned for their activities in the North, and the day may not be too distant when these banks will need to choose: Do they sustain involvement in the North, even if it affects their much larger interests in international banking as a whole? The choice seems clear."
Stars and Stripes staffers Yoo-kyong Chang, Chiyomi Sumida and Hana Kusumoto contributed to this report.
---
---
---
---