Analysis
North Korea's latest nuclear test shows clear progress in weapons program
---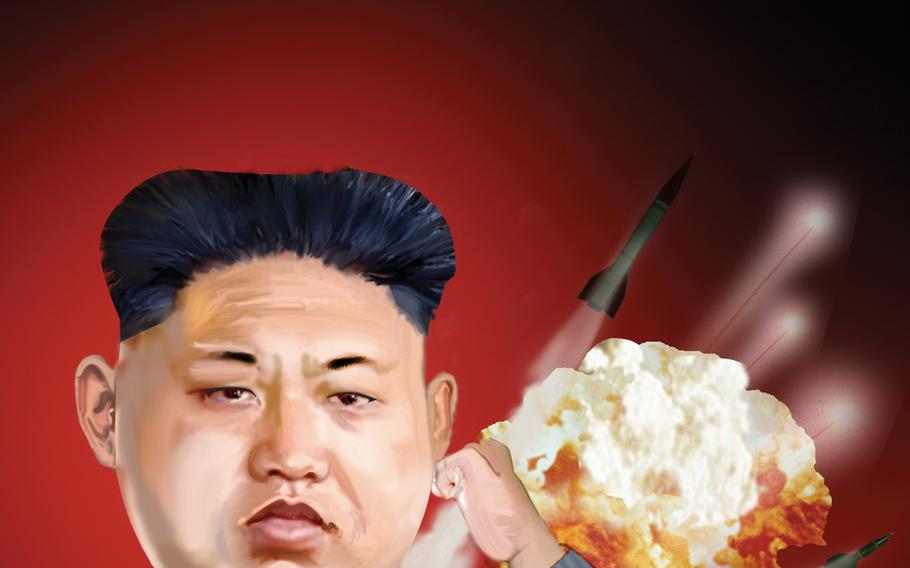 SEOUL, South Korea — North Korea sent a clear message with its fifth and most powerful nuclear test: It is moving closer to its goal of developing a nuclear weapon that could hit the U.S. mainland, though just how close remains uncertain.
What is obvious is that Pyongyang has become much more prolific with its provocations — the blast was the second in eight months — and is learning lessons from its parallel ballistic missile program.
The U.N. Security Council strongly condemned the test and vowed to pursue "significant measures" as it convened its second emergency session on North Korea in less than a week. It met earlier to denounce a triple missile test last Monday. But the council tightened sanctions considerably in March, raising questions about what more can be done.
Defying intense diplomatic pressure to stop, the reclusive regime has insisted on acceptance as a nuclear state as a precondition for any negotiations to ease the nearly yearlong crisis on the divided peninsula. In the past, it has used bellicose threats and exaggerated claims to wring concessions and food aid from the West.
President Barack Obama declared the United States "does not, and never will" accept North Korea as a nuclear state, but the U.S. election to replace him is looming in less than two months.
Pyongyang appears to be betting that its show of nuclear strength will give it more leverage and leave the U.S. and its allies with no choice but to engage.
"North Korea is taking this opportunity to demonstrate their nuclear capabilities with an eye to the next government," said Shunji Hiraiwa, a professor of contemporary Korean studies in Japan. "They are preparing to bring the next U.S. administration to the negotiation table by showing off their nuclear capabilities."
Joel Wit of the U.S.-Korea Institute at Johns Hopkins University's School of Advanced International Studies said the window for getting the North to back down is closing.
"As their nuclear deterrent grows, as it becomes more capable, of course the chances for denuclearization go down," he said. "But it also has the effect of raising the price of denuclearization."
The underground explosion occurred as North Koreans were celebrating the 68th anniversary of the founding of their communist state. South Korea's military said it was a 10-kiloton blast near the North's main Punggye-ri nuclear site. By comparison, the atomic bomb the United States dropped on the Japanese city of Hiroshima in 1945 was about 15 kilotons.
"This would kill about 80,000 people if they were to shoot it on a missile and aim it at Tokyo," said Bruce Bechtol, a political science professor at Angelo State University in Texas.
He said the fact that the North Koreans conducted two nuclear tests in the same year — following single blasts in 2006, 2009 and 2013 — showed they are accelerating their efforts on that front together with their missile advances.
Bechtol, a former Marine who has written several books on North Korea, pointed out that many of the missiles tested already have a range putting them within reach of Japan and the U.S. territory of Guam, not to mention neighboring South Korea.
"They can threaten both Japanese and U.S. assets in the region," he said in a telephone interview.
The timing also was a slap in the face to Obama, who was on his way home from his last presidential trip to Asia.
The administration's policy of relying on punishing measures to squeeze the North has so far failed to force the isolated country to relinquish its nuclear program.
Instead, tensions have intensified as the North condemned annual U.S.-South Korean war games held last month and unprecedented U.S. sanctions against its ruler Kim Jong Un.
North Korea has carried out 37 missile tests since the young leader took power after his father's death in 2011, according to a South Korean tally. That's more than twice as many as were conducted during Kim Jong Il's 17-year rule.
Many failed to launch or exploded in mid-air, but military officials have recorded increasing levels of success. The three mid-range missiles fired Monday flew about 620 miles before landing close to each other in the sea near Japan.
Other apparent accomplishments include successful missile launches from road-mobile platforms and even from a submarine, all of which would be harder to detect in advance. The North also is believed to have developed a new solid-fuel rocket engine that is quicker to prepare for launch than the previous liquid-fuel models.
Democratic presidential nominee Hillary Clinton said it was time for a "rethinking" of America's strategy toward North Korea.
Clinton, who spoke after meeting Friday with a bipartisan group of national security experts in New York, agreed that North Korea must renounce its nuclear weapons program and promised to pursue stricter sanctions.
However, she also said sanctions "aren't enough" and multiparty negotiations such as those that led to the breakthrough nuclear deal with Iran earlier this year should be considered.
Donald Trump did not issue a public comment about the latest test. The Republican presidential nominee said previously he would hold talks with North Korea and press China to do more to contain the problem.
China, the North's traditional ally, signed on to the last round of sanctions and is key to implementation.
But disputes over plans to deploy an advanced U.S. missile defense system known as THAAD in South Korea and the South China Sea will likely limit further cooperation, experts said.
Beijing also fears a collapse of the North Korean regime would lead to instability on its border and eliminate a key buffer with democratic South Korea.
It issued a tepid statement Friday saying it "firmly opposed" the nuclear test but urged all parties to act cautiously and "avoid provoking each other."
North Korea boasted that the test showed it can now make warheads small enough to fit on a missile, and produce them in significant numbers.
"By standardizing and normalizing the nuclear warhead, we will be able to produce as many smaller, lighter and more diversified nuclear warheads as we need," the North said. "This has definitely put on a higher level (the North's) technology of mounting nuclear warheads on ballistic rockets."
Pyongyang has made such unprovable claims before. In March, state-run media published photos showing Kim posing with a silver globe that was purportedly a miniaturized warhead.
Many military experts believe North Korean scientists already are able to place nuclear warheads inside smaller missiles but say it will take years to be able to deliver the weapon effectively on an intercontinental ballistic missile.
Pyongyang insists its nuclear program is aimed at deterring an attack by the U.S. and South Korean forces stationed on the other side of the world's most heavily militarized border.
Some 28,500 U.S. servicemembers are stationed in the South, which remains technically at war with the North after the 1950-53 war ended with an armistice instead of a peace treaty.
North Korea's 32-year-old leader also has made a series of moves, including purges and executions within his inner circle, to consolidate his hold on power.
South Korea has cited a rising number of defections, including a senior diplomat from the country's embassy in London, as evidence the regime is struggling.
Jeffrey Lewis, of the Middlebury Institute of International Studies at Monterey, Calif., said the possession of a significant number of nuclear weapons could allow the North to strike ports and airfields to prevent the U.S. from amassing forces in the event of a war.
North Korea's intensified weapons program also poses new challenges for the allied defense strategy on the peninsula.
"Although South Korea is investing heavily in missile defenses – not just THAAD, but indigenous systems as well — North Korea appears to be developing a number of countermeasures to defeat defenses," Lewis wrote in a commentary for the Washington-based Center for Strategic and International Studies.
The U.S. and South Korea, meanwhile, dispatched planes equipped with radiation-detection equipment to collect samples near the test site to determine whether Friday's bomb was hydrogen or atomic, and to confirm the size.
Stars and Stripes staffers Yoo Kyong Chang and Chiyomi Sumida contributed to this report.
Twitter: @kimgamel
---
---
---
---