North Korea fires two short-range missiles; Trump says 'nobody's happy about it'
by
Yoo Kyong Chang Kim Gamel
May 9, 2019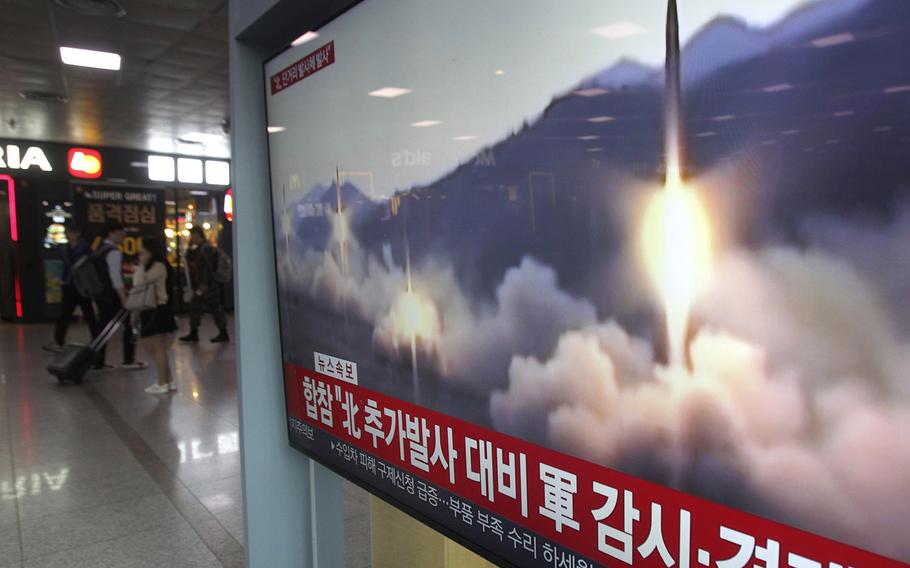 SEOUL, South Korea — North Korea conducted its second missile test in less than a week on Thursday, prompting President Donald Trump to express rare doubt about nuclear talks with the communist state.
The North fired two short-range missiles across the country from a northwestern area, five days after it sent another missile into the sea off its east coast.
"We're looking at it very seriously right now," Trump told reporters at the White House. "Nobody's happy about it, but we're taking a good look and we'll see, we'll see."
"The relationship continues, but we'll see what happens," he added. "I know they want to negotiate. They're talking about negotiating, but I don't think they're ready to negotiate."
The move came as the main U.S. envoy for North Korea, Stephen Biegun, was visiting Seoul in an effort to get stalled diplomatic efforts with the North back on track.
South Korean President Moon Jae-in, speaking hours later in a television interview, said his government and its ally the United States believe that short-range missiles had been fired, based on their flight distance.
However, he said it was too early to determine whether they had violated U.N. Security Council resolutions, which prohibit the North from using ballistic technology.
"I want to tell North Korea once again that it's not ideal to repeat actions that … risk throwing cold water on the atmosphere of dialogue and negotiations," Moon said in an interview with South Korean broadcaster KBS.
Thursday's launch was especially bittersweet for Moon as it occurred on the eve of the second anniversary of his presidential inauguration.
The son of North Korean refugees, Moon campaigned on a promise to pursue engagement with the North but he has been limited by sanctions.
Breaking the lull
The latest launches broke an 18-month lull, although they technically didn't violate the North's self-imposed moratorium on nuclear and long-range missile tests to facilitate talks.
"North Korea fired two unidentified projectiles presumed to be short-range missiles" in an eastern direction from the northwestern area of Kusong, South Korea's Joint Chiefs of Staff said.
The missiles flew more than 260 miles and 167 miles, respectively, for 20 minutes starting at 4:29 p.m., the statement said, revising an earlier assessment that said it was a single, unidentified projectile fired from Sino-ri.
The South Korean military has strengthened surveillance and security measures in case of more launches, it said, adding that Seoul and Washington were working closely together to maintain "full readiness."
Kusong is near Sino-ri, about 50 miles northwest of Pyongyang, which is home to a missile base and was the launch site for the North's first successful test of the Hwasong-12 intermediate-range missile in 2017.
On Saturday, North Korea fired several rockets and what experts said was likely a short-range ballistic missile that could have the potential to target U.S. forces and other targets in the South.
That was the first missile launch since November 2017.
Growing frustration
The resumption of testing poses a challenge to Trump, who has frequently cited the moratorium as a reason to remain optimistic about efforts to persuade the North to give up its nuclear weapons.
The adversaries have been unable to narrow the gap between Pyongyang's desire for sanctions relief and other rewards for disarmament steps already taken. Trump's administration insists punishing economic sanctions will remain in place until final, fully verified denuclearization is achieved.
Following Saturday's rocket firing, Trump tweeted that Kim "knows that I am with him & does not want to break his promise to me. Deal will happen!"
But North Korea has expressed increasing frustration over the lack of progress, calling on Washington to agree to a reciprocal approach to talks and urging Seoul to move forward with inter-Korean economic initiatives despite U.S.-led sanctions.
Moon told KBS that the missile tests seemed aimed at protesting against the lack of agreement during the second U.S.-North Korean summit in Vietnam.
"North Korea seemed to be discontented it could not reach a deal in Hanoi," he said.
North Korea said earlier Thursday that the salvos on Saturday were part of a "routine and self-defensive military drill" and mocked the South for criticizing them.
An unnamed spokesperson for the ministry of foreign affairs said the North has demonstrated "maximum patience" amid the lack of progress and mocked the South and other countries for criticizing Saturday's strike drill.
"The recent drill conducted by our army is nothing more than part of the regular military training, and it has neither targeted anyone nor led to an aggravation" of the situation in the region, the official said, according to the state-run Korean Central News Agency.
Diplomatic deadlock
Biegun, the U.S. envoy, met with South Korean officials in Seoul earlier Thursday in his first trip to the divided peninsula since the Hanoi summit collapsed in late February.
Senior U.S., Japanese and South Korean defense officials also held trilateral security talks in Seoul on Thursday.
The North conducted a series of nuclear and missile tests in 2016-17 that demonstrated strong progress toward its goal of developing a weapon that could target the U.S. mainland.
Trump and Kim also traded personal insults and threats of war during months of heightened tensions that only ebbed early last year when the North agreed to engage in diplomacy and held a series of summits with Trump and Moon.
Human rights criticism
North Korea, meanwhile, faced criticism on the human rights front during a five-year review of its record in Geneva.
"The human rights situation in North Korea is deplorable and has no parallel in the modern world," U.S. diplomat Mark Cassayre told the U.N. Human Rights Council as diplomats from several countries took turns speaking on the subject Thursday.
He said prison camps were holding tens of thousands of political prisoners, and he urged unrestricted movement for aid workers and tolerance for the possession of religious texts.
North Korea denied the allegations, with its delegate Han Tae Song saying "people's rights to life and fundamental freedoms are fully ensured."
Han told the 47-member forum that sanctions were harming North Koreans' lifestyles.
gamel.kim@stripes.com Twitter: @kimgamel