North Korea fires two rockets into eastern sea, Seoul says
by
Kim Gamel
November 28, 2019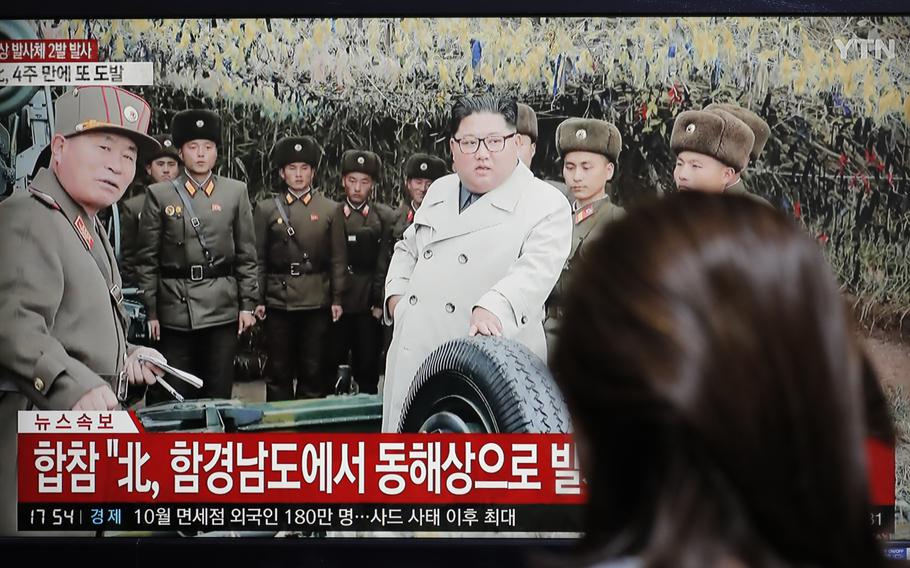 North Korea fired two rockets presumed to be from a multiple launching system on Thursday, Seoul said, in a fiery Thanksgiving message to the United States amid stalled nuclear talks.
The latest weapons test came as the clock ticks down to North Korea's end-of-year deadline for the United States to offer a new approach to negotiations, which broke down after a failed summit in February.
The projectiles were launched at a 30-second interval just before 5 p.m. Thursday from a northeastern province, according to South Korea's Joint Chiefs of Staff.
They flew nearly 240 miles and reached a maximum altitude of 60 miles before splashing into the sea off the peninsula's eastern coast, the military said.
It expressed "strong regret" about the launch, which came five days after North Korean leader Kim Jong Un oversaw an artillery firing drill near the disputed maritime boundary in the western sea.
South Korea sent a strong protest to the North over that incident, saying it violated a bilateral military agreement.
The JCS said it was maintaining readiness and on guard for the possibility of more launches.
"Our military … urges (North Korea) to immediately stop acts that escalate military tensions," Maj. Gen. Jeon Dong Jin, a senior operations officer with the JCS, told reporters Thursday.
The North has conducted more than a dozen missile tests as well artillery drills since resuming activity in May. Senior officials also have warned that the North is not interested in continuing diplomacy unless Washington abandons its "hostile policies" toward their country.
The latest launch took place as Americans were celebrating their Thanksgiving holiday.
The timing was also significant because it was the second anniversary of North Korea's test-firing of an intercontinental ballistic missile on Nov. 28, 2017.
That was the last ICBM tested by the North before it declared its nuclear program complete and began engaging in diplomacy with Seoul and Washington. The move eased tensions that had pushed the divided peninsula to the brink of another war.
North Korea has a track record of using high-profile occasions to step up its military activity and rhetoric as it seeks to show strength and improve its bargaining power in negotiations over its nuclear weapons program.
Japan's Prime Minister Shinzo Abe criticized Thursday's launch, although Tokyo said no projectile landed in the country's territorial waters.
"North Korea's repeated launching of ballistic missiles is a serious challenge for not just Japan but for the international community," he told reporters, according to a transcript on his office's website.
"We will make full efforts to … protect lives and property of Japanese citizens while continuing to cooperate with the international community, including the United States and South Korea," he said.
The resumption of weapons tests this year comes as the North has expressed growing frustration over the U.S. refusal to lift economic sanctions or offer other incremental rewards for denuclearization steps already taken.
Washington insists it remains committed to the diplomatic process but wants the North to agree to more extensive disarmament measures before relaxing the economic pressure campaign.
North Korea, which wants extensive sanctions relief and security guarantees, has stopped short of lifting its self-imposed moratorium on long-range missile and nuclear tests.
President Donald Trump, who is busy with domestic political woes including an impeachment hearing and reelection campaign, has largely dismissed the short-range launches as insignificant.
But Germany, France and Britain issued a joint statement earlier this month, saying the tests undermine regional security and violate U.N. Security Council sanctions resolutions that ban the North from conducting ballistic missile activity.
Experts also say that the North is continuing to produce material for nuclear weapons while perfecting the use of solid-fuel engines that could improve missile mobility.
Stars and Stripes reporter Hana Kusumoto contributed to this report.
gamel.kim@stripes.com Twitter: @kimgamel