North Korea conducts another test at long-range rocket site despite US warnings
by
Kim Gamel
December 14, 2019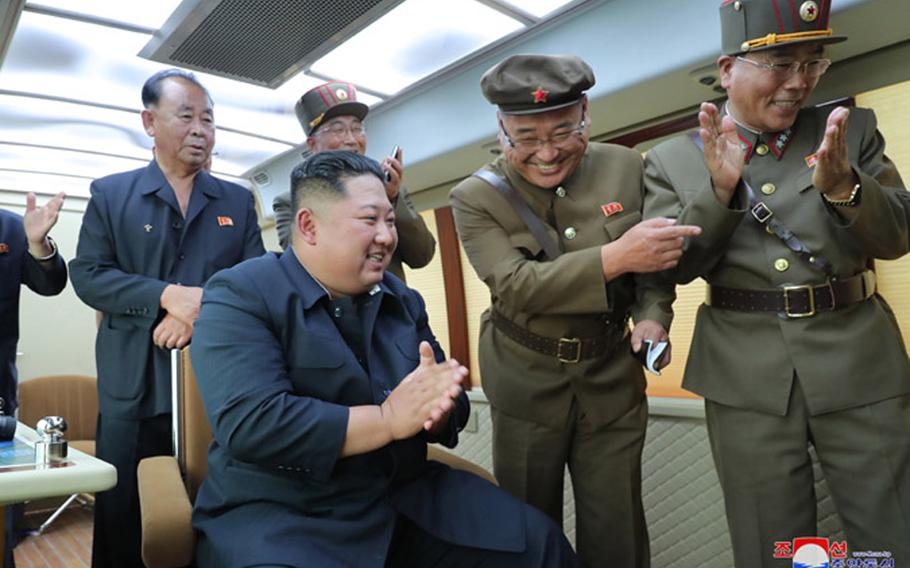 SEOUL, South Korea — North Korea conducted the second test in a week at a long-range rocket site, state-run media said Saturday, despite U.S. warnings that such activity threatens to close the door on nuclear talks.
The announcement occurred days after the United States led a U.N. Security Council meeting to express concern about the resumption of tensions with the North.
"Another crucial test was successfully conducted at the Sohae Satellite Launching Ground from 22:41 to 22:48" on Friday, the Korean Central News Agency reported, citing the Academy of Defense Science.
"The research successes being registered by us … will be applied to further bolstering up the reliable strategic nuclear deterrent of the Democratic People's Republic of Korea," it added, using the North's official name.
KCNA didn't provide more details, but the tests have raised fears that the communist state may be preparing to launch an intercontinental ballistic missile, which President Donald Trump's administration has signaled would cross a red line.
North Korea has given the United States an end-of-year deadline to offer concessions that would salvage nuclear negotiations, which have stalled after reaching a high point with a series of summits last year.
A senior diplomat also has said that it's up to the United States to decide what "Christmas present" it wants to receive.
Trump and North Korean leader Kim Jong Un agreed on a vague promise to "work towards the denuclearization of the Korean Peninsula" during their first summit in June 2018 in Singapore.
But the two sides have been unable to bridge the wide gap over what that means.
North Korea wants the United States to offer sanctions relief and security guarantees in exchange for limited disarmament steps already taken.
Washington has insisted it will maintain economic pressure until the North abandons its nuclear weapons program.
Experts have said the first test at Sohae, which occurred on Dec. 7, was likely a rocket engine that could be used in a long-range missile.
The North also has conducted 13 short-range missile tests since May as tensions rise with the breakdown of diplomatic efforts following a second summit between Trump and leader Kim Jong Un in February in Vietnam.
Trump has dismissed most of those because the North stopped short of lifting its self-imposed moratorium on nuclear and long-range missile tests. However, the president has shown increasing frustration as the activity continued.
On Wednesday, the U.S. ambassador to the United Nations called the missile tests "deeply counterproductive."
"These actions also risk closing the door on this opportunity to find a better way for the future," she said, while stressing that the Trump administration is "prepared to be flexible" and take concrete, parallel steps toward an agreement.
North Korea was not appeased by the signal of flexibility, calling Craft's comments and a "hostile provocation."
Friday's test at Sohae came as the North's ruling Workers' Party is preparing to hold a plenary session of its central committee, which could signal plans for Kim Jong Un to announce a major policy shift in his traditional New Year's Eve address.
gamel.kim@stripes.com Twitter: @kimgamel